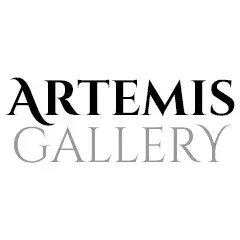 Maya Death Gods and Dinosaur Eggs Highlight Fine Antiquities, Ethnographic & Fine Art Sale
Dec 03, 2020 10:00 EST
Updated on
A complete clutch of Therizinosaurus eggs highlights Artemis Gallery's upcoming Fine Antiquities, Ethnographic & Fine Art sale. The Therizinosaurus is known for its scythe-like claws; its name, in fact, means "Scythe Lizard." Because it is unlikely that a predator could steal an entire clutch of eggs, the auction house believes that a mother Therizinosaurus lost them as the result of a natural disaster.
Among the pre-Columbian pieces on offer is a Maya drinking vessel decorated with a depiction of God "A." One of the gods of death, God "A" is seen here with rotting flesh and wearing an extra eyeball atop his head. The vessel might have been used for drinking cocoa, which was particularly common among the wealthy.
Viking enthusiasts will find a silver and amber brooch from the Norse seafarers. The piece is decorated with intertwining animals in the Jellinge style, popular among Vikings around 900 CE. Those interested can register to bid in the Fine Antiquities, Ethnographic & Fine Art sale on LiveAuctioneers.
Price Range:
$600 - $45,000
Interesting lots include:
| Item Image | Item Name | Estimate |
| --- | --- | --- |
| | Ancient Greek Gold Necklace w/ Stoetzer Report | Estimate: $30,000 - $45,000 Starting Bid:$15,000 |
| | Therizinosaurus Egg Clutch, 70 to 120 Million Years Old | Estimate: $25,000 - $40,000 Starting Bid:$10,000 |
| | Incredible Maya Cylinder - God A and Eyeball | Estimate: $17,000 - $25,000 Starting Bid: $9,500 |
| | Moche Gilt Portrait Pendant w/ Lapis & Turquoise Inlays | Estimate: $11,000 - $16,500 Starting Bid:$5,000 |
| | 10th C. Viking Silver / Amber Brooch Jellinge Animals | Estimate: $10,000 - $15,000 Starting Bid:$5,000 |
Contact Info
Artemis Gallery

PO Box 714, Erie, Colorado 80516
720-890-7700