Toomey & Co. Auctioneers Will Hold Back-to-back Sales On June 8-9
Oak Park, IL — On June 8 and 9, Toomey & Co. Auctioneers will offer over 700 lots total by esteemed artists and makers who were largely active in the early 20th century. Fine Art + Furniture & Decorative Arts on Wednesday, June 8 will be followed by Keramics & Rookwood: American & European Art Pottery — Curated by Riley Humler on Thursday, June 9. The June 8 sale includes paintings, prints, sculpture, furniture, lighting, glassware, silver, jewelry, and more. The June 9 sale features art pottery, with vases, bowls, plates, jardinieres, wall plaques, and other forms. Preview and bidding details follow the highlights below.
Highlights of Fine Art + Furniture & Decorative Arts on June 8
Paintings, Drawings, and Prints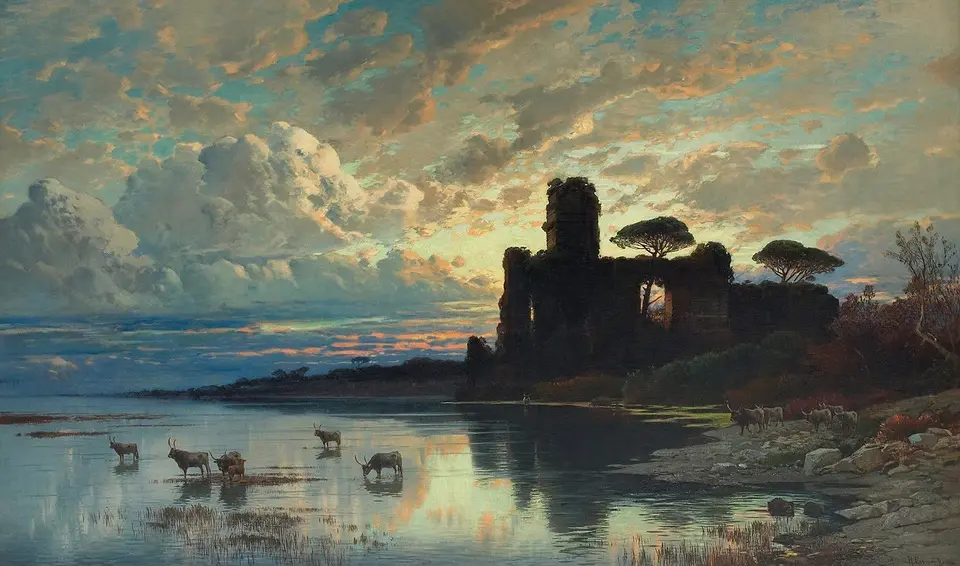 Two impressive oil on canvas works stand out within the fine art section on June 8: Italian painter Hermann David Salomon Corrodi's Landscape with Ruins, Roma, circa 1880 (estimate $40,000-60,000) and American realist John Sloan's Fireguard, 1925 ($15,000-25,000). The sale also has seven paintings by Milwaukee artist Francesco Spicuzza and a forest landscape by Impressionist Carl Krafft (highest $1,500-2,500). Further highlights consist of a pencil drawing by Midwestern Regionalist John Steuart Curry, two color woodcuts and a watercolor and pencil work by Margaret Jordan Patterson, and prints by Martin Lewis, Reginald Marsh, Howard Norton Cook, and others (highest $2,000-3,000).
Decorative Arts, Furniture, Jewelry, and Silver
Bridging the fine and decorative arts is a rare sextile tableau by Dutch artist Adolf LeComte for De Porceleyne Fles Delft ($10,000-20,000). Important glasswork includes an Émile Gallé marquetrie de verres ou cristaux vase and a Louis Comfort Tiffany monumental vase with elaborate pulled designs (higher $30,000-50,000). The auction has a light fixture attributed to Frank Lloyd Wright, possibly from Browne's Bookstore in Chicago, and three building elements from Dankmar Adler and Louis Sullivan projects (highest $10,000-20,000). Several American Arts and Crafts furniture designs will be up for bid, such as an inlaid shoefoot armchair attributed to Gustav Stickley, a rare bookcase from The Roycrofters, and a Charles P. Limbert Co. table lamp (highest $10,000-20,000). The sale will close with fine jewelry and silver, including a sterling silver necklace with freshwater pearls and peridot by Chicago's Kalo Shop and sterling coffee and tea services from Lebolt & Co. and Avalos (highest $3,000-5,000).
Highlights of Keramics & Rookwood: American & European Art Pottery on June 9
Rookwood Pottery
Art pottery from Rookwood in Cincinnati comprises over half of Director of Ceramics Riley Humler's expertly curated selection for the auction on June 9. Among the notable examples will be Carl Schmidt's large earthenware Vellum glaze vase depicting the Canadian Rockies, John Dee Wareham's rare Painted Mat glaze vase with seahorses, and four French Red glaze vases by Sara Sax (highest $7,000-9,000). The auction has multiple works from Rookwood founder Maria Longworth Nichols Storer, such as a tall Limoges style vase with diagonal bands, a pelican, three dragons, and fired-on gold decoration and a rare repoussé copper sheet with two owls in a chestnut tree (higher $5,000-7,000). Additional Rookwood vases will be on offer from designers like Albert Valentien, Kataro Shirayamadani, and E.T. Hurley (highest $3,000-5,000).
Pottery by Other Makers
From the Northeast, the sale features an uncommon framed tile by The Hartford Faience Co. showing a Pre-Raphaelite maiden holding a bouquet of roses, a vase with stylized trees by Arthur Hennessey and Sarah Tutt for Marblehead Pottery, and a pumpkin-colored vase with leaves by Ruth Erickson for Grueby (highest $5,000-7,000). A vase with elephants and birds by Indiana sisters Elizabeth Overbeck and Mary Frances Overbeck will go to the highest bidder as will a rare Hudson earthenware eight-tile tableau by Hester Pillsbury for Ohio's Weller Pottery Co. (higher $4,000-6,000). Examples from the South include several attractive designs by Newcomb Pottery artists, such as Carrie Bell Sliger's earthenware vase with stylized flowers, and George Ohr's cabinet vase (higher $2,500-3,500).
Preview and Bidding with Toomey & Co. Auctioneers
Fine Art + Furniture & Decorative Arts will be held on Wednesday, June 8 and Keramics & Rookwood: American & European Art Pottery will be held on Thursday, June 9. Both sales will start at 10:00 a.m. Central Daylight Time at Toomey & Co. Auctioneers, 818 North Boulevard, Oak Park, Illinois. The auctions are open to the public and preview is available both in person and virtually by emailing[email protected]. Bidders may also participate by phone (708-383-5234) or leave absentee bids ([email protected]). The catalogs are posted online at toomeyco.com and early registration is recommended. Alternatively, bids may be placed via two real-time, third-party platforms (LiveAuctioneers and Invaluable).
Upcoming Auctions and Consignments
Toomey & Co. Auctioneers will conduct three sales this summer: Interiors on Wednesday, August 10; Modern Design + Post-War & Contemporary Art on Wednesday, August 24; and Fine Art + Furniture & Decorative Arts on Wednesday, September 14. Consignments are invited for upcoming auctions and photographs of items may be sent to [email protected] for estimates. To learn about past or future sales, please visit toomeyco.com.
About Toomey & Co. Auctioneers
Located just west of Chicago in Oak Park, Illinois, Toomey & Co. Auctioneers holds several carefully curated auctions annually with material sourced from six departments: Fine Art, Early 20th Century Design, Modern Design, Fine Furniture & Decorative Arts, Silver & Objects of Vertu, and Fine Jewelry & Timepieces. Recent schedules have presented single-owner and special sales drawn from important estates and private collections.
Media Source
Follow
More in the auction industry