Sweets for Your Sweet This Valentine's Day
We have all heard the old adage, "candy is dandy, but liquor is quicker." But if you want to make an amazing—and lasting—impression on your sweetheart this Valentine's Day, how about surprising them with a little something over the top? Here are a few outstanding, quirky, and memorable love-themed auction highlights guaranteed to make you the King, or Queen, of Hearts this Valentine's Day.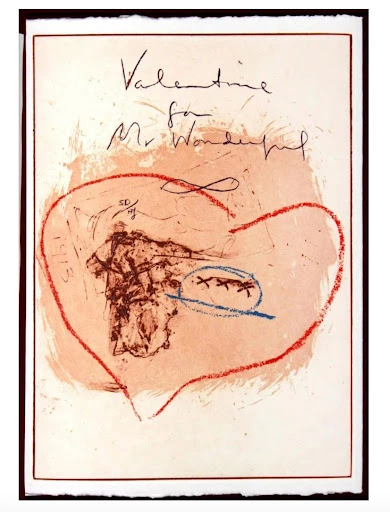 It's no coincidence that the word "heart" includes the word "art." Dane Fine Art Auctions of Philadelphia, Pennsylvania is offering a perfect Valentine's Day-themed work during its Buds of Spring: Modern/Contemporary Art Sale on March 17, 2022. Titled Valentine for Mr. Wonderful, this striking book of seven love-themed etched aquatint engravings is by important and influential American artist Helen Frankenthaler (1928 – 2011). It is lot #0008 and is estimated at USD 32,500 to $45,000. The work, which is presented in a paper folio and cloth-covered box, was published in 1995 as an edition of 25; this example is number 15. It is also signed by Frankenthaler on the title page. The book features the poem "St. Valentine" by Pulitzer Prize-winning poet William Carlos Williams.
Frankenthaler was a celebrated Abstract Expressionist painter noted for large canvas works that had a "spontaneous" look to them. To Frankenthaler, "A really good picture looks as if it's happened at once." Her works continue to trade hands in the five to six-figure range more than a decade after her passing. Most recently, her painting Leprechaun realized $362,500 with Heritage Auctions in June of 2020.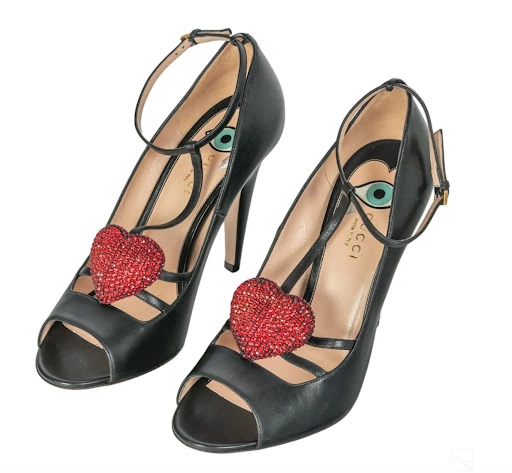 Does your Valentine love shoes? Then this next red hot pick was made for you. Hill Auction Gallery of Sunrise, Florida is offering a pair of Gucci leather Molina crystal red heart pump shoes during its February 23, 2022 Euphoria Sale. The pair is lot #0429 and broadly estimated at $100 to $1,000. These black leather stilettos have peep toes and "T" ankle straps. They truly pop with large, crystal-covered red hearts. The footbeds are decorated with inlaid leather eyes. These sensational shoes are European size 40.5/US size 10.5 and come with their original white shoe sleeper bags and Gucci branded box.
Although Gucci is mostly known for its sophisticated, luxurious handbags and accessories, the Italian company also makes footwear of all types, including playful versions like the available lot. The "Molina" line includes vibrantly hued shoes decorated with oversized leather lips, eyes, and hearts.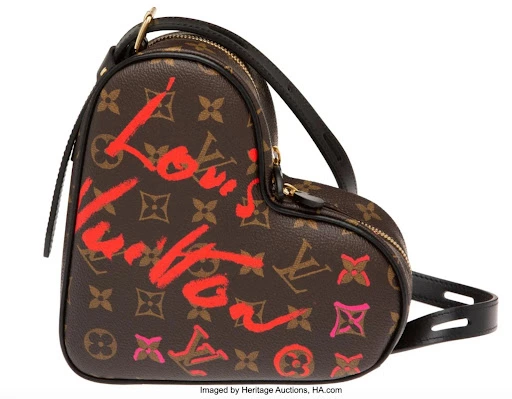 It's hard to say no to Louis Vuitton, and this next Valentine's Day pick is certain to put you in good graces with your sweetie. Several Louis Vuitton items have hit the auction block this month. Heritage Auctions of Dallas, Texas offered a Louis Vuitton limited edition monogram coated canvas Sac Coeur heart bag during its Winter Luxury Accessories event. This stunning heart-shaped bag is rendered in the company's signature brown coated canvas. It features pink and red graffiti-style shadows and lettering. It is lined in matching red microfiber material and comes complete with its original box, sleeper sac, and Sac Coeur leather purse dangler. What's not to love—literally and figuratively! Similar Louis Vuitton purses in like-new condition have previously sold for over $5,000 each.

This final Valentine's Day pick is of royal stature in a few ways. Earlier this February, Platinum Auction Group of Boca Raton, Florida presented a set of cufflinks shaped like the Queen of Hearts from a deck of playing cards. It sold for $850. The petite pair features the traditional doubled-busted image of the Queen in white, blue, black, and red enamel.
Cufflinks have traditionally added a touch of style to men's attire, but today women also enjoy their ability to punctuate an outfit in a most distinctive way. Cufflinks debuted in the 17th century and were popularized by King Charles II of England. Their royal association elevated them into the stratosphere of status symbols. Today, cufflinks produced by the world's finest legacy brands continue to generate breathtaking results. In January of 2022, a pair of Cartier 18-karat gold and platinum cuff links in the form of bullets realized $15,600 with Joshua Kodner Auctioneers.
Want to learn more about the history of Valentine's Day? Check out this Auction Daily article on collecting Valentine's Day cards with category expert Nancy Rosin.
Media Source
Follow
More in the auction industry