Showplace's Sept. 25 Sale Features Art Deco Diamond Ring, Exceptional American Furniture
The upcoming New York City Estate Auction from Auctions at Showplace will be held on September 25, 2022. A selection of vintage and luxury jewelry leads the listings, as well as fine silver, vintage furniture, Persian rugs, and decorative art. Bidding begins live and online at 12:00 PM EDT.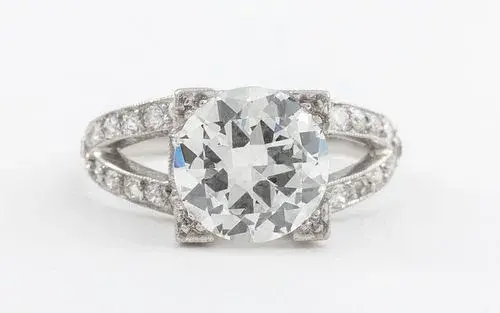 Among the top lots of the sale is an Art Deco diamond and platinum ring (lot #55; estimate: USD 20,000 – $40,000). It centers a transitional-cut round brilliant diamond weighing 2.01 carats. It has H color and VS1 clarity, and the piece comes with a GIA report. Like many Art Deco jewelry pieces from the period, this ring uses an elegant and elaborate setting to enhance the sparkle of the central gemstone.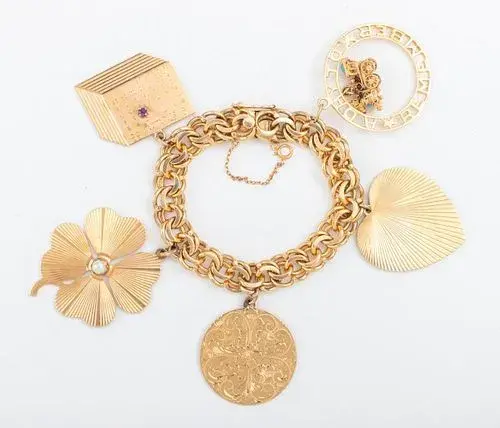 Collectors of vintage jewelry can also consider an engraved 14-karat gold charm bracelet from the 1950s (lot #114; estimate: $2,500 – $3,500). Tiffany & Co. brought charm bracelets to the world of luxury for the first time in 1889. The style was popularized among European nobility before trickling down to popular culture. While it was not until the 1970s that charm bracelets were collected to mark rites of passage or personal accomplishments, wearers in the 20th century used the bracelet's versatility to express themselves. The available charm bracelet features five gold charms of similar size. They resemble a clover leaf, an engraved disc, a lined heart, a calendar, and a dangling train. The calendar charm features a small gemstone marking the date February 2, 1956, and the train charm bears the words "A Day to Remember."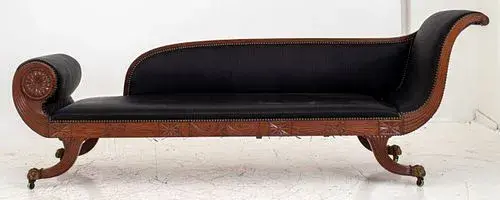 Beyond fine jewelry, several lots of antique American furniture are notable. These include a Grecian-style sofa attributed to the workshop of Duncan Phyfe (lot #96; estimate: $6,000 – $8,000) and a Brutalist modern patchwork coffee table from Paul Evans (lot #32; estimate: $2,000 – $4,000). The Phyfe sofa features exceptionally fine wood carvings and black horsehair upholstery.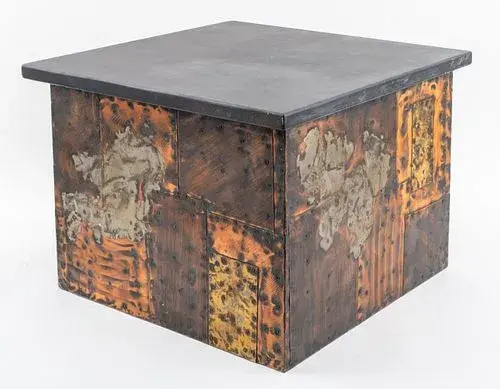 The sale also includes the following items of interest:
Persian Kashan antique silk pictorial rug with frame (lot #257; estimate: $6,000 – $8,000)
Chinese Ming dynasty carved stone bust (lot #83; estimate: $3,000 – $5,000)
Korean silver flatware set, service for 18 (lot #38; estimate: $1,000 – $2,000)
Fernando Wamprechts' The Queen acrylic and graphite painting (lot #13; estimate: $800 – $1,200)
Antique silver chalice with gold washed cup (lot #190; estimate: $400 – $600)
Based in Manhattan since 1993, Auctions at Showplace has long supplied clients with a distinctive experience. The auction house works with over 200 antique dealers to offer a variety of antique and vintage furniture, collectibles, fine art, and fashion items. Its collection includes 19th and 20th-century designs with a variety of styles, including Art Nouveau, Art Deco, Mid-Century Modern, and Post-Modern. Two monthly live property auctions feature a broad variety of fine and ornamental artworks, as well as vintage and modern furniture.
Auctions at Showplace will present its New York City Estate Auction on September 25, 2022 at 12:00 PM EDT. For more information and to view the complete catalog, visit Bidsquare.
Media Source
Follow
More in the auction industry