Monsoon Painting by H. A. Gade Spoke in Color During Saffronart's Second Art of India Auction
This August, as India celebrates its 75th Independence Day, Saffronart celebrates the success of the second edition of its Art of India Auction. For more than two decades, Saffronart has been a leading international auction house conducting live and online auctions of modern and contemporary Indian fine art, antiquities, design, and jewelry. The Art of India Auction's second edition took place at Saffronart's Mumbai gallery and online. The auction started on July 20, 2022 and closed on July 21, 2022. It was an immense success, with sales reaching USD 114,974.
Auction Daily looks at the top lots sold and the artists behind the works in the second edition of the Art of India auction, presented by Saffronart.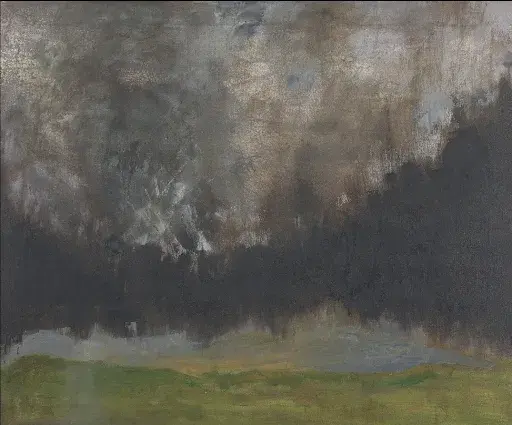 Monsoon Greys by H. A. Gade
Hari Ambadas Gade (1917 – 2001), one of the most gifted artists of Modern art in India, was obsessed with color. Gade's most recognized works are his landscape paintings. Monsoon Greys, a landscape painting by H. A. Gade from 1962, was the most expensive lot sold in the recent Art of India auction (lot #24; sold for $37,080). For India, the monsoon is not just a season; it's a reason for jubilation, as the rain brings water for the parched land and its people, washing off all the woes. The dark clouds bringing in heavy rain are a sign of relief for the farmers who are heavily dependent on it. The greys, blues, and greens used by H. A. Gade in this painting are, therefore, symbolically joyful.
Born in Amravati in Maharashtra in 1917, H. A. Gade graduated in science and mathematics, not art. But his fondness for drawing as a child eventually steered his career in a new direction. It was from 1944 to 1948, when he stayed as a science teacher for his Bachelor of Educator examinations at Jabalpur, that Gade rekindled his love for painting. He started painting landscapes and cityscapes and soon completed his Master's in Fine Arts in 1950. Gade also became the secretary of the Bombay Progressive Artists' Group, which produced masters of Modern art in India such as S. H. Raza, F. N. Souza, M. F. Husain, K. H. Ara, V. S. Gaitonde, Tyeb Mehta, and S. K. Bakre. Gade experimented with and pioneered Abstract Expressionism in India. He believed in the unconventional and dynamic artistic style, which made his art pieces stand out, etching his name in art history forever.
Saturday Night by Gurcharan Singh
Another top lot in the auction was Gurcharan Singh's Saturday Night. The 1949 figurative painting sold for $10,800. Singh's Saturday Night juxtaposes people enjoying the night against those surviving it. This painting highlights the poor, the sex workers, and people often overlooked by society in hard-to-ignore colors and backdrops. As he grew in experience, Singh started exploring the relationships between various elements. Although he paints ordinary men, women, children, and animals, Singh's most noteworthy subjects remain the underprivileged and exploited women living on the fringes of society.
The recipient of numerous awards including the National Award in 1976, Gurcharan Singh was born in 1949 in Punjab. After graduating from the College of Arts & Crafts, Chandigarh, he held solo exhibitions in major art galleries in Chandigarh, New Delhi, Mumbai, Paris, and Canada. Gurcharan is considered one of India's most outstanding figurative painters.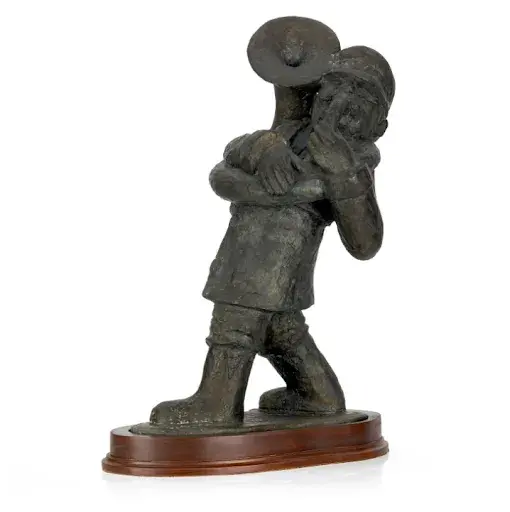 Apart from paintings, Saffronart also exhibited limited edition sculptures in the recent sale, among which Krishen Khanna's The Sousaphone Tuba Player was the top-selling lot ($8,040). This figurative bronze is a limited edition, the third out of nine pieces made by Khanna. It is mounted on a wooden base and measures 2 x 7.75 x 15.75 in. "I used to do abstracts earlier… I want to now emphasize the human beings caught up in their particular condition," said the artist in an interview with Saffronart.
Krishen Khanna was born in 1925, before the Partition of India and Pakistan. As a result of the socio-political chaos, his family moved around a lot, but his interest in art was stable. In 1947, when the family moved to the peaceful state of Shimla, Khanna began reproducing scenes that were indelibly imprinted in his memories. He eventually won a fellowship from the Council for Economic and Cultural Affairs (New York) in 1965, following the travel grant that the group had awarded him three years earlier. In 1990, Khanna was bestowed the Padma Shri, one of India's highest civilian awards, for his immense contribution to Indian art.
Looking for more coverage of the Indian art market? We explored another notable Indian art sale from Saffronart last year.
Media Source
Follow
More in the auction industry