Kim Tschang-yeul Review: How Does Pain Become the Alchemy of Making Art?
Review of a documentary film (The Man Who Paints Water Drops), about Korean abstract art master Kim Tschang-yeul
Yayoi Kusama is a world-renowned artist. She is referred to as a writer who sublimated her mental illness into art. She did not regard the visual or mental abnormalities that dominated her as a defect or weakness. Instead, Kusama painted an illusion that the world is covered with round dots so that others could see it. Rather than being weighed down by mental pain, she made herself free through art. People guess and know the story of Kusama's narrative and work when they see her representative work Pumpkin. This is thanks to Kusama's understanding of the art world. "I was fascinated by the generous purity of the pumpkin," Kusama said in her autobiography. Pumpkins exist as a happy and enjoyable medium of imagination while giving comfort to Kusama.
In fact, it is common to say that certain pain becomes the quality of art. Vincent van Gogh suffered from mental illness, bipolar disorder, and epilepsy, and Ludwig van Beethoven lost his hearing. The same was true of Fyodor Dostoevsky, who reduced the suffering of incurable diseases and death row prisoners. Some argue that pain is a gift to an artist. It emphasizes that the pain has sublimated into a burning art spirit. Pain and sadness can be the soil and driving force behind the work. If an artist were to fall for these things, there wouldn't be a work. The artist integrates pain with themself, and art is born. On this, we say that pain has sublimated into art.
A painter who only painted water drops for half a century
Let's say an artist has painted only one object for 50 years. What would you think? There is one such artist who has only painted water drops for 50 years: the late artist Kim Tschang-yeul. Until his death in 2021, he put only water drops on the canvas for 50 years. Kim's son must have been curious about such a father, asking, "What kind of person should I be to choose this kind of subjugation on my own? Is it just patience or persistent ambition, or is it a little crazy?"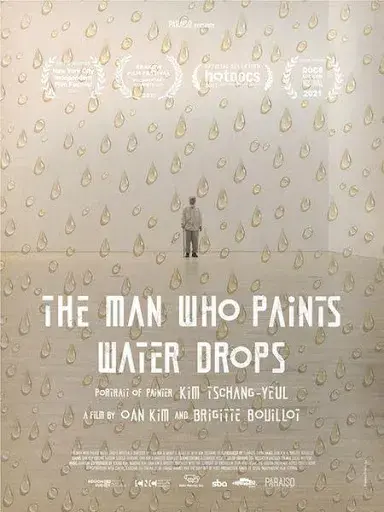 The documentary film The Man Who Paints Water Drops begins with Korean abstract art master Kim Tschang-yeul, as well as his son's curiosity. Kim's second son, Kim Oan, co-directed it with Brigitte Bouillot. The project, which began out of personal curiosity about director Kim's father, provides clues to understanding the art world of the master. Of course, Kim, who is extremely quiet, doesn't mention this. It is similar to the appearance of an ascetic, but whenever the breeze lifts the tip of the ascetic coating, water drops fall one by one. The water drop became an object that would last a lifetime.
In the film, Kim says that drawing water drops is "to erase all memories." The confession of removing all evil and anxiety with water makes us see the water drops on the canvas again. The water drops look like tears. Kim's life history is briefly projected. A native of North Korea, he experienced the horrors of the Korean War with his whole body. All of his middle school classmates died during the war, and what remained of Kim was the sadness of the survivor and the guilt of surviving alone. He came to South Korea penniless, but he was on the verge of being shot because he came from North Korea. Kim barely survived, but he couldn't get anywhere. Being forced into the diaspora, he headed to New York and moved to Paris a few years later. The artist still had no money, but full of artistic spirit, he painted in a stable without a toilet. Then one day, he saw a splash of water behind the painting shining in the sun, and Kim put his life and art in it.
The water drops contain war trauma and longing for a hometown. In life, tears and blood both drip down. Water drops are purified water that can erase the indelible pain. For Kim, perhaps it was a requiem. It was a constant performance so that the survivor would not forget those who passed away first. Water drops formed his confession that he was working to heal the war trauma and comfort the souls of the dead.
A magical moment that enchants art and work
Kim's water drops were a sign and indicator of 'post-traumatic growth.' They were also an object containing 'something that neither reveals nor disappears.' The history surrounding Kim was violent and disastrous, but he didn't pass it on or feed it back. Thanks to this, there was no vicious circle. Pain sublimated into art. It is a memory that will never be forgotten, but Kim painted it again and again without being weighed down by the memory.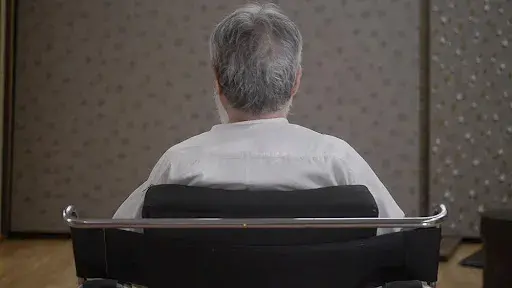 Trauma comes unannounced to everyone. There is no life without pain. However, the path to pain appears differently to different people. Some pain develops into post-traumatic stress disorder (PTSD), and other pain can become post-traumatic growth (PTG). Various factors work together to get to this forked road. The Man Who Paints Water Drops is the latter case. In the film, the son refers to his father as "an alchemist who transforms blood into a pure water prototype." That's a wonderful expression. In fact, the son's exploration of the father's inner darkness hidden behind silence is also alchemy, in the sense of giving a deeper look at art and work. The son drew a "Portrait of Kim Tschang-yeul" on a screen, not a canvas.
If you can read and look at pain, art becomes deeper. This alchemy of pain connects people who have suffered other pain. When water drops that were flowing are connected and become bigger water drops, they become us. It's a magical moment that art gives. At that moment, we meet another meaning and emotion. The film, which attracts audiences with poetic images, was invited to the 28th Hotdogs International Documentary Film Festival (USA), one of the world's top three documentary films, and won the 13th DMZ International Documentary Film Festival (Korea) and the 61st Krakow Film Festival Silver Horn Award (Poland).
Meanwhile, artist Kim Tschang-yeul died last year at the age of 91. In the 1960s, when he was in his 30s, he moved to New York and established the identity of the 'sympathetic abstract.' Kim then moved to Paris and worked on the world stage in the 70s and 80s. At Christie's Hong Kong in May of 2021, his 1978 work CSH1 sold for HKD 9.85 million (about KRW 1.4 billion).
Media Source
Follow
More in the auction industry