Holy Smokes! Lion and Unicorn's August 23rd Sale Features Collectible Tobacciana Items
The collecting category tobacciana includes items related to tobacco products, companies, or promotion. Fine jars, ashtrays, and other smoking associated accoutrements continue to light up enthusiasts, with the rarest examples generating four and five figures at auction. Lion and Unicorn of Hollywood, Florida is presenting nearly 600 lots of pub and smoking-related collectibles during an upcoming sale, scheduled for August 23rd, 2022. Here are some vintage to antique cigar holders, ashtrays, and other collectible tobacciana lots that are all but certain to ignite a bidding war.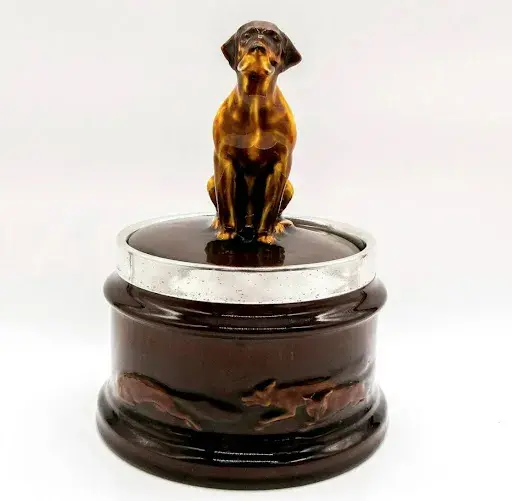 This first collectible tobacciana highlight is a contender for best of show in this sale. Here we have lot #0184, a lidded tobacco jar by Royal Doulton. It is estimated at $800 to $2,000. This round, brown glazed jar is detailed with a sterling silver rim, foxes running in relief along the base, and a top finial in the form of a well rendered foxhound. It is marked HN 166. This handsome example is produced in the "Kingsware" technique, which was proprietary to Royal Doulton. This English ceramic company opened its doors for business in 1815 and is still in operation today. Doulton's Kingsware, according to Lion and Unicorn, was produced by "painting the design in coloured slips on the inside of the plaster mould, before adding the dark brown slip that would form the body of the piece."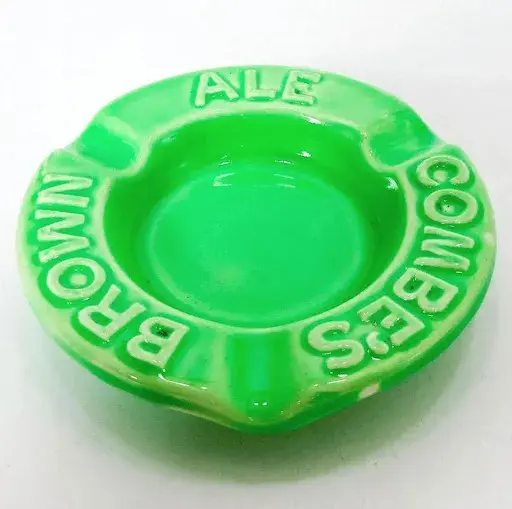 Our second premier collectible tobacciana pick is the best of both worlds– if you enjoy a smoke with a frosty beer! This is lot #0198, a ceramic adware ashtray produced by Royal Doulton for Combe's Brown Ale. It is estimated at $200 to $800. This piece is finished with a green glossy glaze and is decorated with the advertiser's name in raised letters along its circumference. Combe's Brown Ale was produced by Watney Combe & Reid; this company was a popular brewery in London and was founded in 1837. It remained in business through 1979.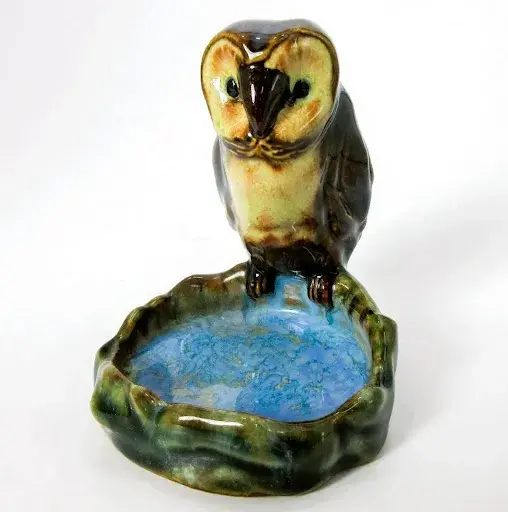 Figural ashtrays are also well represented in this collectible tobacciana sale. Bird's the word with lot #0192, a Doulton Lambeth ashtray in the form of a dimensional barn owl. It is estimated at $200 to $800. In this stoneware example, a charming green, brown, tan, and blue-purple owl perches on a small green ring holding a pool of blue water. It is marked 8667 on its base, along with the company's seal. It most likely dates from the 1920s. This attractive piece, although designed to catch ashes, would also make an appealing night table ring or trinket tray for strigiformesphiles– enthusiasts of all things related to owls.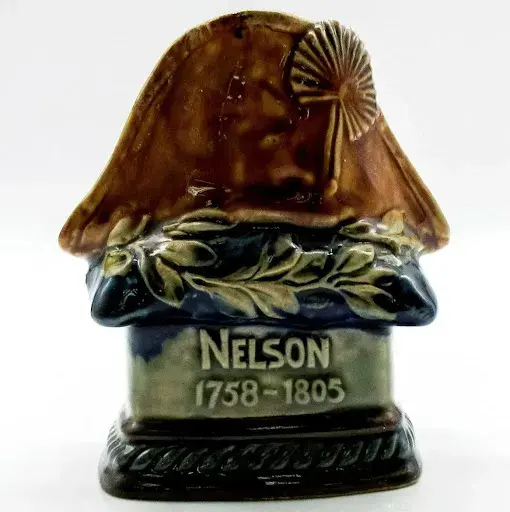 It's game, set, match with this fourth auction highlight. Check out lot #0189, a Royal Doulton match stand in the form of Admiral Lord Nelson's hat. It is estimated at $200 to $800. Match stands were designed as decorative and/or functional "pockets" to keep matches safe, dry, and usable; they were produced in countless forms and materials. This cobalt blue, brown, and green glazed example commemorates the centenary of the Battle of Trafalgar. This key military engagement– which would set the table for British naval superiority for the next century– took place on October 21, 1805. Admiral Lord Nelson led the British to victory over the French and Spanish navies.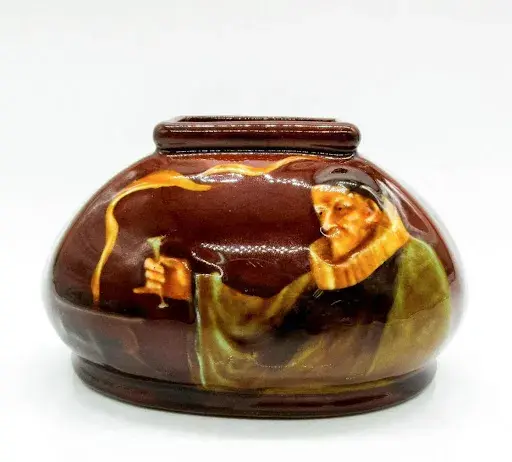 And last but not least, sparks are certain to fly with this final tobacciana highlight. This is lot #0218, a Royal Doulton match striker. It is estimated at $200 to $800. A match striker is an ashtray or match stand which specifically includes an integral rough or textured surface which can be used to strike and ignite a match. This fine example, also produced in the Kingsware technique, is oval in shape, decorated with the image of an alchemist pouring a potion into a cauldron on one side, and features an upside-down heart shaped match striker on the other.
For more information on collectible tobacciana and this late summer sale, please see Lion and Unicorn's website. Bidding starts at 9:00 AM EDT on August 23, 2022.
Looking for more information on collectible auction categories? Check out Auction Daily's recent coverage of Block's Marble Auctions' late summer marble sale.
Media Source
Follow
More in the auction industry