On a Roll With Block's Marble Auctions' Late Summer Marble Sale
It's all fun and games when it comes to collecting marbles! These tiny to large spheres have been entertaining children as playthings since the times of the pharaohs in Ancient Egypt– and probably even earlier! Today, fine examples are highly sought after by collectors worldwide, given their history, variety, range of materials, and visual appeal. Block's Marble Auctions, LLC of Trumbull, Connecticut is offering 350 lots of century-spanning marbles, paperweights, and related items as part of the Marble Auction #1134, scheduled for August 20th, 2022 at 6:00 PM EDT. Here are a few top lots from this eye-catching sale.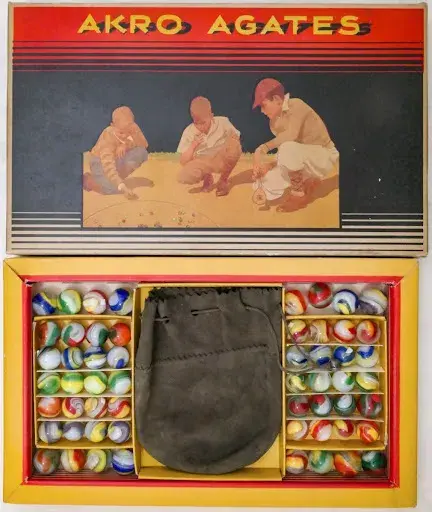 This first highlight is a bit of a time capsule find. It is lot #0189, a boxed collection of Akro Agate marbles in their all-original packaging. This set includes a handsomely illustrated cardboard gift box with trays, a marble pouch, and 32 "Popeye Corkscrew" style marbles in assorted colors. Popeye Corkscrew marbles have two or more colored spirals on a base made of clear glass with fine white filaments. This item was produced around 1927 to 1930 by the Akro Agate Company of Clarksburg, West Virginia. At the time, this business was the largest glass marble manufacturer on the planet. This practically new set is estimated at USD 800 to $1,600.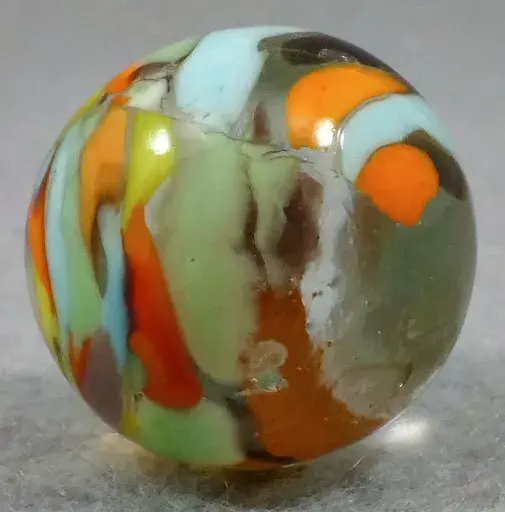 Second up is lot #0349, a Guinea marble produced by the Christensen Agate Company around 1925 to 1930. This company, located in Cambridge, Ohio, was in business for less than a decade. However, it produced absolutely stunning marbles which are much in demand with collectors today. Guinea marbles are transparent-based, with clear glass being the most common core color. Other popular hues include amber and cobalt. They have surfaces decorated with bits and pieces of opaque color starting from– and ending at– one or two seams. Described as an "absolutely outstanding example" by experts at Block's Marble Auctions, this marble has a single seam, which is quite rare. It is estimated at $450 to $900.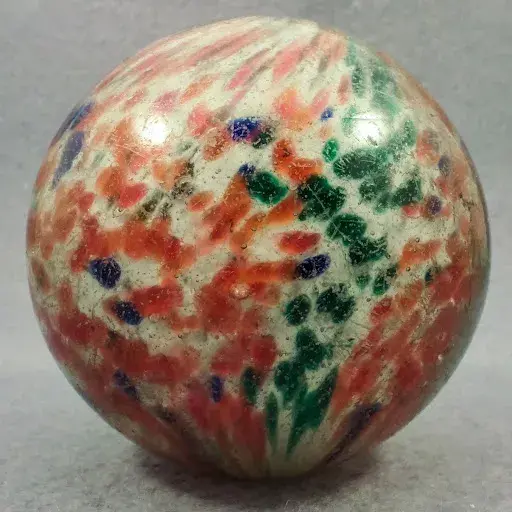 A third highlight of this sale is lot #0065, a large, four-panel End of Day Onionskin marble. This style of marble is noted for its transparent base glass and can have either a colored or clear base core. Its core is decorated with bits of colored glass that are stretched when the marble was drawn off the rod during production. This big pink, turquoise, white, and blue beauty was made in Germany in between 1860 and 1920 and is estimated at $400 to $800.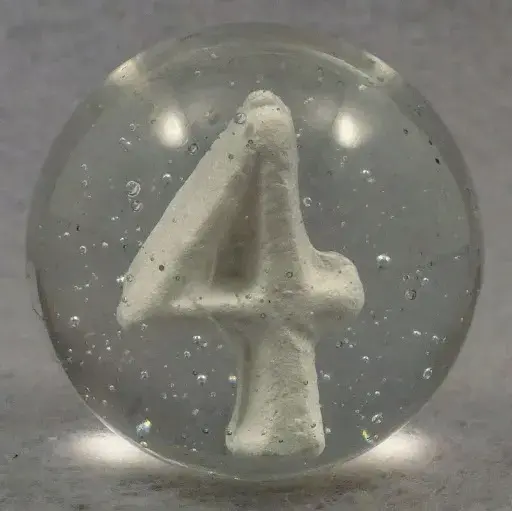 The fourth highlight in this sale fits the bill to a "t" – literally! Check out lot #0019, a sulphide marble featuring the number "4." Sulphide marbles have a clear glass base with a dimensional figure made from sulphide inserted inside it. The most common versions feature animals. These types of marbles are challenging to produce well given their varied composition and number of manufacturing steps. This particular example has a numeral as its figurine and has minimal air bubbles – making it extremely rare and thus interesting to collectors. This "four"-ever favorite was manufactured in Germany in the 1860 to 1920 time frame and is estimated at $225 to $450.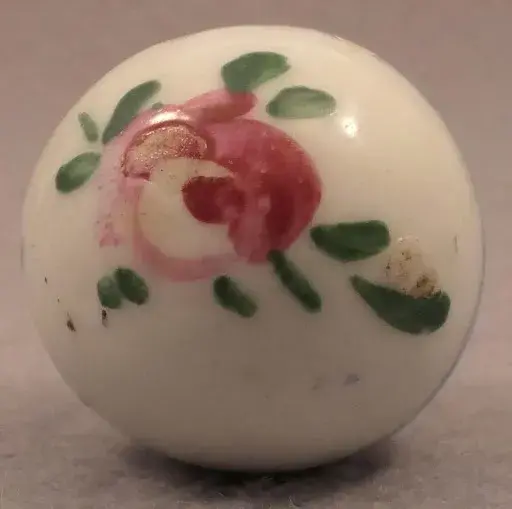 Not all marbles are made from glass, and this next highlight proves that a rose by any other name would still smell as sweet! Here we have lot #0142, a white, hand-painted and glazed marble made from china. It is decorated with pink flowers with green foliage on two sides, plus three pale blue concentric circles around its middle. This rosy roller was produced in Germany in the 1860 to 1920 timeframe and is estimated at $300 to $600.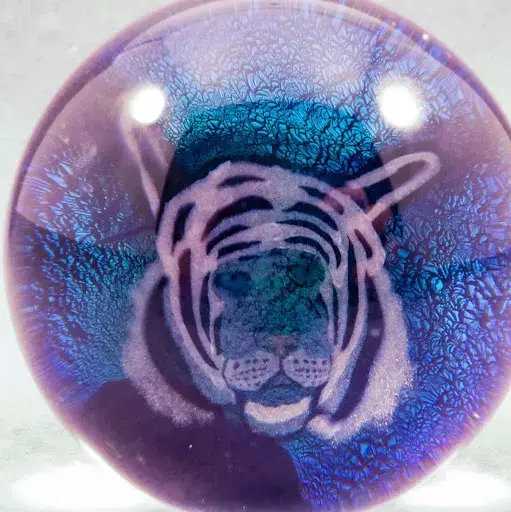 And finally, this event also offers a nice selection of modern marbles produced by contemporary glassblowers. Certain to catch the attention of enthusiasts worldwide is lot #0313, a handmade example by artist Zach Jorgenson. He and his wife Chelsea are known for their intricately designed and produced marbles which layer color, themes, and designs within tiny glass spheres measuring less than 1.5 inches in diameter! This unsigned example features a clear glass top, an opaque white tiger head floating above a dichroic base, and a floral decorated bottom on a blue ground. This stunner is estimated at $250 to $500.
For more information on marbles and this upcoming sale, please see Block's Marble Auctions' website.
Looking for more art world news? Check out Auction Daily's news channel.
Media Source
Follow
More in the auction industry