Classical, traditional, Asian and Modern art share the spotlight at Quinn's Sept. 24 Fine & Decorative Arts Auction
Listed 17th-century Dutch artist Jan van Goyen's "City View at a Canal" oil painting was once part of the Baron Koningswarter Collection auctioned in Berlin in 1906
FALLS CHURCH, Va. – On Saturday, September 24, northern Virginia's Quinn's Auction Galleries will present a 375-lot Fine and Decorative Arts Auction with selections from distinguished residences and collections of the Mid-Atlantic region. The auction will commence at 10 a.m Eastern time, and all bidding will be live online, by phone or absentee.
The auction features a broad array of Asian, American, European, and Modern arts. Among the artists represented in the fine art category are Merton D. Simpson (co-founder of Harlem's Spiral Collective), 17th-century Dutch painter Jan van Goyen, neo-pop artist Peter Tunney, and many others of marketplace significance. Decorative art categories include bronzes, art glass, tall-case clocks, Modern and antique furniture; and Galle cameo-glass lamps. Ceramics include Greek pottery from 6th century Corinth and 5th century Sicily.
An excellent variety of Asian decorative arts incorporates porcelain, jades, Japanese Fuchi Kashira, Chinese bronzes, South Eastern Asian wood carvings, and Chinese screens. And as Quinn's clientele has come to expect, there will also be a boutique selection of fine jewelry that includes rings, bracelets and necklaces, crafted from gold and sterling silver.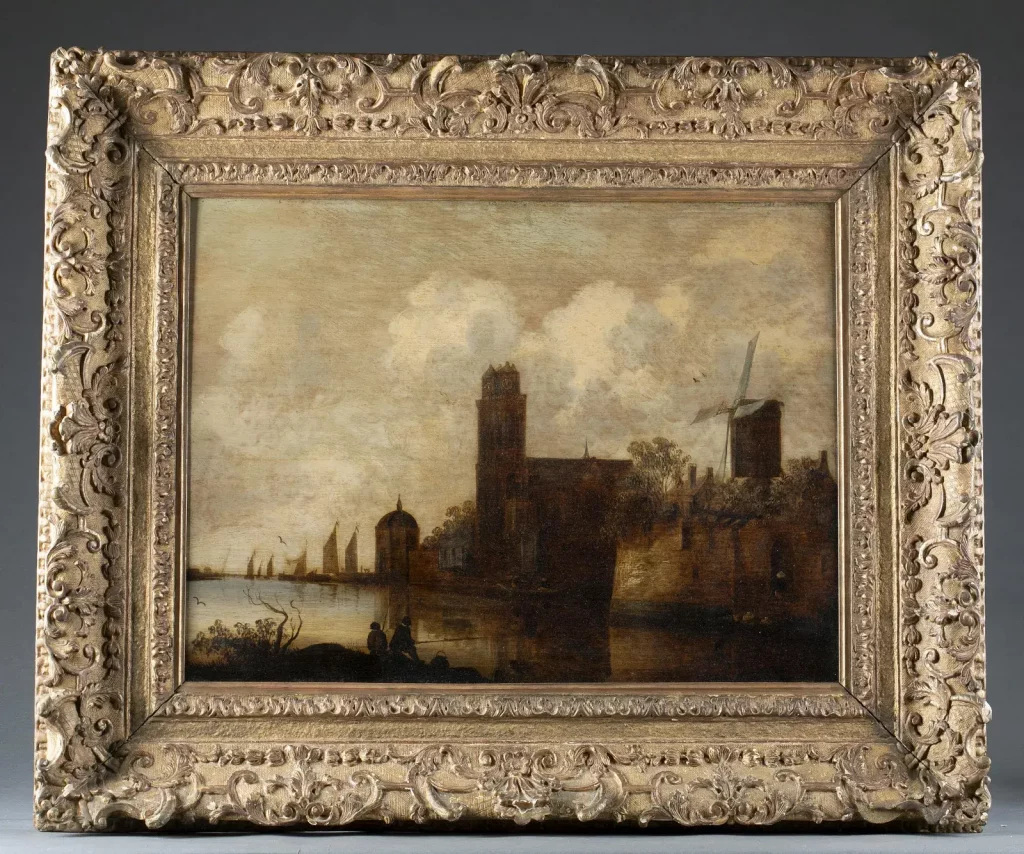 Paintings are led by a circa-1640s Jan van Goyen (Dutch, 1596-1656) oil-on-panel titled City View at a Canal. The 19- by 25¼-inch work retains a partial gallery label on verso from a 1906 auction of the Baron Koningswarter Collection held on Nov. 20, 1906 in Berlin and conducted by Friedrich Schwarz and Eduard Schulte. Van Goyen is a listed artist, shown in Volume 8 (1927) of Cornelis Hofstede de Groot's Catalogue Raisonne of the Most Eminent Dutch Painters of the 17th Century. Quinn's has placed a $10,000-$15,000 estimate on City View at a Canal.
Other fine art offerings include a signed, untitled Grand Canyon landscape by Lucien Whiting Powell (Washington D.C., 1846-1930), estimate $1,500-$2,000: and four mounted Pueblo bronze plaques, each with a striking composition of thunderbirds and geometric designs, by Tammy Garcia (Santa Clara Pueblo, b. 1969-). The artwork is signed "Tammy Garcia 2/35" and estimated at $1,000-$2,000
An outstanding example of ancient ceramic art in the sale is a 5th century BCE Attic white ground lekythos by an Aischines painter. It depicts the goddess Eos with her arms outstretched to embrace Tithonus, who is shown walking away with one arm extended toward Eos and the other holding a lyre. The 11-inch vessel (inclusive of mount) is adorned with a Greek key border and other geometric patterns, and is of a type that would have been used by family members as a grave offering. It possibly originated in Sicily, either at Gela or Selinunte. Estimate $14,000-$18,000
An extremely beautiful 23-inch-tall Emile Galle (French, 1846-1904) cameo glass vase/lamp is adorned with trees and landscape scenes against an orange background. The shade is signed "Galle" in cameo. With provenance from the collection of Curtis T Bell, it is estimated at $2,000-$3,000.
Adding whimsy to the sale, Jason Walker's (Utah, b. 1973-), A Wilderness Area #8332 porcelain teapot embodies an aesthetic that crosses industrial design with steampunk. Its three component parts – a stand, teapot and finialed lid – are fashioned with a faux gauge, gear, metal hose and other hardware. Standing 21½ inches high, it is entered with a $2,000-$3,000 estimate.
Therman Statom's (American, b. 1953-) Eclipse (Branch) is a 68-inch-tall glass and mixed-media fantasy sculpture in the form of a tree. Created in 2000, it is artist-signed and dated near the base. Estimate: $1,500-$2,000
An Asian art highlight is a Chinese eight-panel coromandel wood black lacquered screen which is carved and polychrome-painted on its surface. One side depicts figures in a garden scene, along with "shou (longevity)" characters to the edge. The other side is decorated with flowers, birds and nature scenes. It measures 96 by 106 inches and is offered with a $1,500-$2,000 estimate.
The auction features several noteworthy timekeepers, including a stately George III English John Wontner (English, 1745/46-1802) chinoiserie japanned tall-case clock made last quarter of 18th century. It has an eight-day movement and a square brass face with a silvered chapter ring with Roman hours and Arabic minutes. The dial is signed "John Wontner." Estimate: $2,000-$3,000.
A smaller option is an elegant and very well-maintained Girard-Perregaux 18K yellow gold and diamond watch with a lattice-style watch face cover. It is set with 17 bezel-set round brilliant-cut diamonds, each approximately .03ct, or a total of approximately .51ct. This luxury watch from a Swiss company founded in 1791 comes with its original presentation box and is estimated at $2,000-$3,000.
All goods in the September 24, 2022 auction may be previewed at Quinn's gallery from September 19-23, from 11 a.m. till 4 p.m. The address is 360 S. Washington St., Falls Church, VA 22046. For additional information on any item in the auction, to reserve a phone line for bidding on auction day, or to leave an absentee bid with the gallery, contact Quinn's specialist Jordan Karlstrand by calling 703-532-5632 or emailing [email protected]. Live online bidding will be available through LiveAuctioneers or Invaluable. Absentee bids can also be placed (before the sale begins) either through LiveAuctioneers or HiBid (via Quinn's website). Visit Quinn's online at www.quinnsauction.com.
Media Source
Follow
More in the auction industry