Christie's and Sotheby's Compete in London Art Sales Amid Market Uncertainty
In a string of London art sales this March, Christie's and Sotheby's competed to collect unprecedented prices at auction. Their efforts were not wasted. Christie's brought in a record USD 334 million during its 20th/21st Century Art series, and Sotheby's bagged $297.2 million during its modern and contemporary sales in London. These staggering results come during a period of global uncertainty following Russia's invasion of Ukraine in late February of 2022. While individuals, groups, and companies in all parts of the art world grappled with the crisis, Christie's and Sotheby's managed to achieve record-breaking results.
Auction officials attributed the successes to an increasingly global reach. "There is resilience in the market because we have a very global geographical spread of bidders and we have a very deep diversity of demography," said Sotheby's Europe chairman Helena Newman to Artnet News.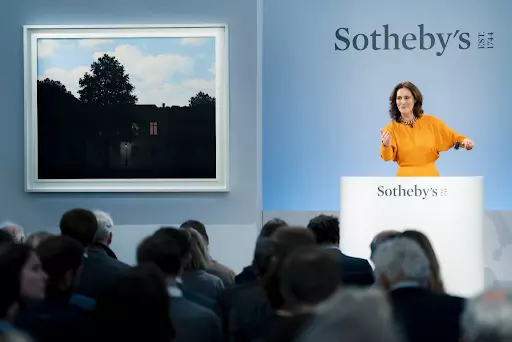 The art world closely watched as an unprecedented work by René Magritte crossed the block with Sotheby's on March 2, 2022. L'empire des lumières from 1961 sold for $79.8 million, tripled the artist's auction record, and contributed to the highest ever sale total the auction house has achieved in London. Other notable lots included Claude Monet's Nymphéas ($30.6 million), David Hockney's Garrowby Hill ($18.5 million), and Gustave Caillebotte's Portrait de Monsieur R. (Reyre) ($8.8 million). Sotheby's also notched new records for Flora Yukhnovich, Shara Hughes, and Robert Nava.
Christie's London art sales this spring were similarly unaffected by the war in Ukraine. During its relay Shanghai to London series, the company achieved a record total for a London-based event and settled comfortably within the total presale estimate. Franz Marc's The Foxes (Die Füchse) from 1913 was the London evening auction's crown jewel; it sold for a record $46.8 million. Lucian Freud's Girl With Closed Eyes hammered at $20.2 million. Bidders also engaged with work by ultra-contemporary artists such as Emmanuel Taku, Joel Mesler, and Amoako Boafo.
Together, the London art sales this March brought approximately $631 million into the city. The total reflects an increase of over 30% from comparable events in 2021.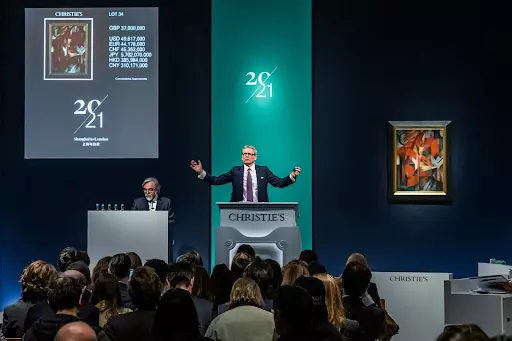 The London art sales ran while war continued to spread in Ukraine. The crisis, as well as punishing sanctions hitting Russia from Western powers, is already sending ripples through the global economy. Thus far, the auction world remains relatively unaffected. This is partially due to the existing distance between international auction houses and Russian collectors. The industry giants have long since turned their attention to deep-pocketed bidders in the West and in China.
"Even though there is an amount of uncertainty given the terrible situation in the Ukraine, I do not feel that the [London art] sales will be overly effected [sic]," Melanie Clore of the London-based art advisory firm Clore Wyndham, told The Art Newspaper. "Whilst of course every situation is different, historically neither the 2008 financial crash nor the pandemic had an immediate impact on the art market. This may be as a result of the global nature of the art market, which doesn't therefore rely on Russian activity."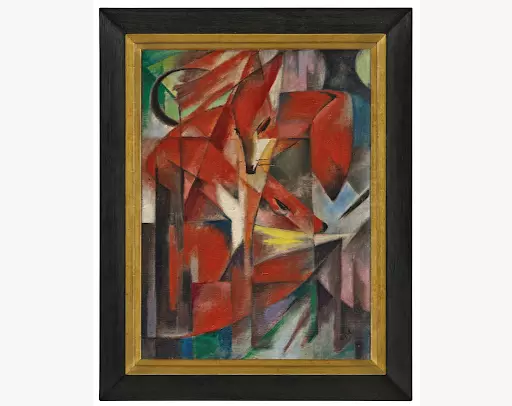 Christie's and Sotheby's competed fiercely during the London art sales this month, and each company brought in record prices and enough pizzazz to kick off the spring season. However, the houses also competed with a devastating tragedy in Ukraine and widespread uncertainty about its impact (Christie's reassured its clients that the recent London art sales "are an indicator of market confidence for 2022"). 
Many still feel unsettled about considering art during war. Art spending can be an escape and an indulgence during difficult times, but the art world has never existed in a bubble. Russian-owned businesses such as Phillips are facing increasing scrutiny with the potential for cultural boycotts. Calls for sanctions against Russia's art sector are increasing in volume.
The recent string of London art sales has raised questions about responsible collecting and the tangible power available to the art world. It must now question what, if anything, should be done differently in light of the growing geopolitical crisis. As Bonhams' former chief executive Matthew Girling asks, "We have seen how the world[s] of banking, travel, leisure, sport and culture have responded to the crisis. Can the art market simply ignore it and carry on as normal?"
Media Source
Follow
More in the auction industry