Artist to Know: Ammi Phillips
Christie's to Offer Major Portrait by American Itinerant Folk Painter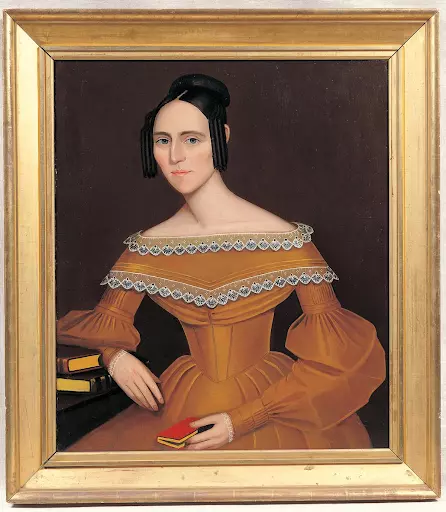 Widely known as an itinerant portrait painter, 19th-century American folk artist Ammi Phillips built a career on formulaic artworks. He traveled between Connecticut, Massachusetts, and New York while seeking new customers. Along the way, Phillips developed an arresting style that evokes modernity. He did not live to see the rise of abstraction, but Phillips left behind a trail of portraits that New York Times critic Ken Johnson compared to "pictures of undying, archetypal souls."
Ammi Phillips' Woman with Pink Ribbons will soon come to auction with Christie's. The piece was formerly housed in the Collection of Peter and Barbara Goodman, which featured American folk art and is now hitting the market. Bidding will begin at 10:00 AM EST on January 20, 2022. Learn more about Ammi Phillips before the sale starts.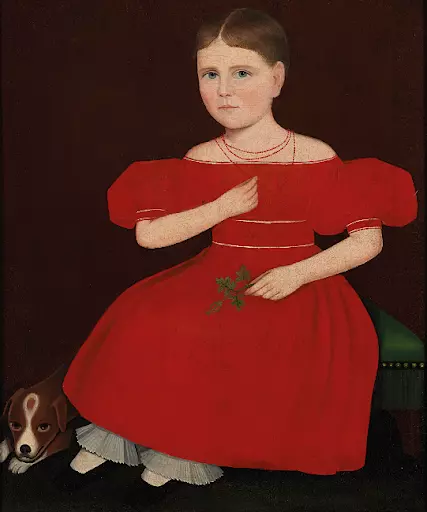 Born shortly after the American Revolutionary War, Ammi Phillips was one of 11 children. Much information about his early life has been lost to time. However, Phillips was producing portrait paintings as early as 1811 at the age of 23. He was most likely self-taught. In spite of this, Phillips did not lack confidence. He advertised himself as a fashionable portrait painter and especially targeted middle-class merchants, doctors, and community leaders. Like many traveling artists, Phillips developed a system that was both artistic and profitable.
"We tend to romanticize the notion of the folk painter in the 19th century when, in fact, the folk painter was in every respect an itinerant businessman," said Robert Bishop, former director of the Museum of American Folk Art, about Phillips' work in 1985. "He would arrive in town, advertise, line up his clients, do his pictures as quickly as possible, get paid as much as possible and move on. So almost all these guys developed a formula that enabled them to paint quickly and easily."
Phillips often placed his sitters in similar poses against a dark background. They seem to hover in a velvet-draped void while gazing at the viewer with piercing eyes. Most are seated, leaning forward, and lacking in superfluous details. Developing a formula allowed Phillips to deeply engage with color and form. His paintings carry a Rothko-esque glow defined by broad fields of color and surface-level shading. While they clearly held a certain appeal (Phillips produced hundreds of portraits in his lifetime and made a good living), his work disappeared from the art historical canon for decades.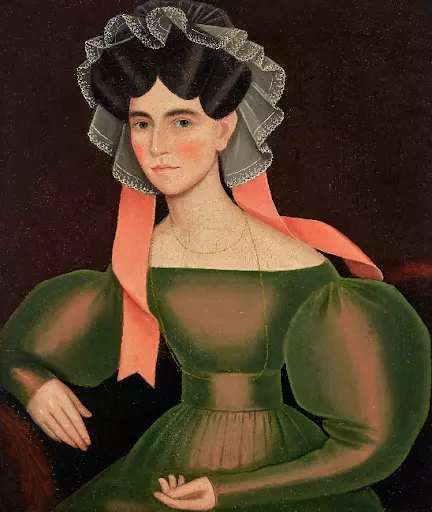 Art collectors in the 20th century revived Phillips' legacy. Barbara and Lawrence Holdridge sought out dozens of unsigned Phillips paintings and helped build a national market for his work. The slightly flattened look of his compositions became a defining feature of American folk art. Critics once dismissed Phillips for his rigid body of work. Eventually, scholars argued that his paintings hold merit as "innocent" works from a self-taught artist. They represent portraiture untouched by academic constraints.
Auction prices for Phillips' paintings started to skyrocket in 1980 when Sotheby's sold Ten Broeck Twins for USD 203,500 (approximately $686,500 today). Hammer prices for his portraits continue to impress. Christie's notched a new record for the artist in 2019 when it sold Girl in a Red Dress with a Dog for $1,692,500.
Now, Christie's will auction a new-to-the-market portrait by Ammi Phillips from the collection of Peter and Barbara Goodman. Phillips executed Woman with Pink Ribbons around 1833. It possibly depicts Melinda Ann Johnston (née Arnold) in a moss green dress with flowing peach ribbons. This work, which Christie's regards as a masterpiece, uses strong lines and geometric shapes to draw the viewer in. It comes to auction with an estimate of $800,000 to $1,200,000.
Christie's will offer this portrait by Ammi Phillips alongside other notable works of American folk art in the upcoming Collection of Peter and Barbara Goodman sale. The auction starts on January 20, 2022 at 10:00 AM EST. Visit Christie's for the complete listings and to place a bid.
Interested in more folk art? In 2021, we explored the world of folk, Outsider, and self-taught art with category expert Aron Packer.
Media Source
Follow
More in the auction industry