American Folk Art, Including Carved Decoys and Fine Art, Available at New Haven Auctions
American folk art celebrates the work of the self-taught. These painters, sculptors, and textile workers created a rich tradition that exists beyond the art world's defined edges. Their lack of formal training often yielded creative concepts and new perspectives. Living in a patchwork country, American folk artists also often engaged with themes of patriotism and social criticism within their work.
New Haven Auctions' upcoming event, scheduled for June 26, 2022, particularly features works of American folk art. Before the bidding begins, Auction Daily explores some of the key lots.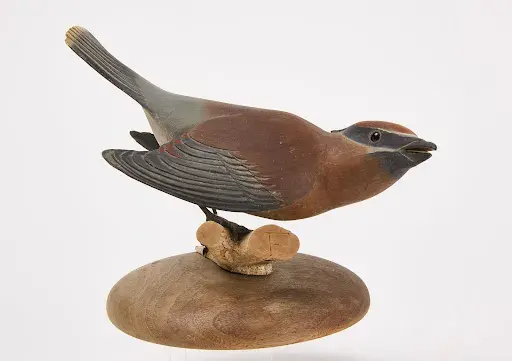 Frank Finney Sculptures
Born in Cornwall, England, Frank Finney was a noted American folk artist who dabbled in many mediums. Carving was his first love. He sculpted everything from wood blocks to pieces of fruit destined for government banquet tables. Hunting and fishing decoys also appealed to Finney. He was well-traveled and could appreciate natural beauty. Being a commercial fisherman helped too.
The upcoming sale from New Haven Auctions extensively features the work of Frank Finney. One top lot from the carver is a cedar waxwing decoy (lot #598; estimate: USD 400 – $800). Named for its wax-like wing tips, the cedar waxwing (Bombycilla cedrorum) is known for its silky plumage and daubs of vivid color. In Finney's depiction, the waxwing perches on a branch. It leans forward, mouth slightly open to give a trill or nab a sugary berry. Other key works from Frank Finney include a sculpture showing multiple birds resting on a blooming lily plant (lot #596; estimate: $500 – $1,000) and a folk art shorebird (lot #601; estimate: $400 – $600).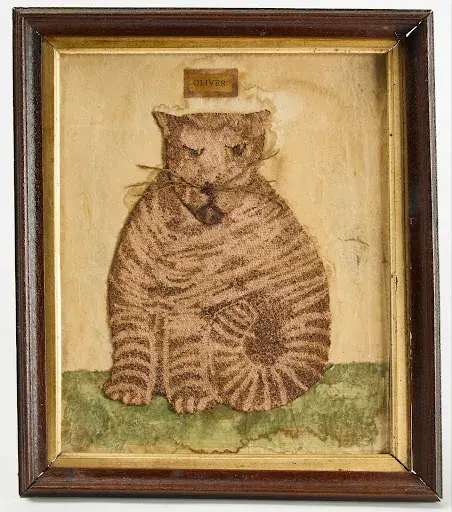 Mixed Media American Folk Art
Mixed media pieces often challenge the art world's assumptions about what an item is and how it should be classified. Not all flat, wall-mounted works are paintings, and artists have long maintained that any object or substance can become art when viewed a certain way. American folk artists have particularly engaged with mixed media. Oil paints are notoriously expensive, and learning to use them effectively requires education and training. Mixed media folk art presents an accessible alternative. Artists can work with available materials to create something entirely new and undefinable.
Among the notable mixed media American folk art items in this sale is a mid-20th century portrait of a cat (lot #515; estimate: $250 – $500). Made of fabric, string, watercolor, and paper, the piece is labeled only "OLIVER." Despite working with unconventional materials, the artist created a lively character. The tan and brown striped cat has narrowed eyes and twisted whiskers, conveying a degree of displeasure to the viewer. A similar work is also available in this sale. Lot #517 shows a black cat languishing on a carpeted floor (estimate: $250 – $500). With buttoned eyes and textured fur, this piece reveals a distinct personality and careful artistic attention.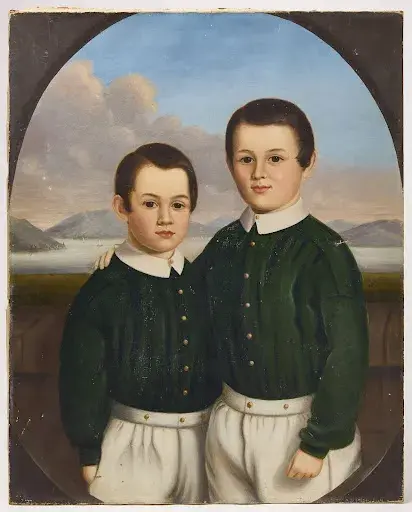 Folk Art Portraits
Portraiture has a long history in American folk art. Itinerant artists such as Ammi Phillips lived well by traveling the backroads of the country, painting formulaic portraits of the local merchants and middle class workers. Those who could afford to pay often accepted the similarity of American folk art portraits. The art had social value beyond realism.
While folk artists often lacked formal portrait training, they were not ignorant of complex painting techniques and art history. Their output serves as both historical record and beautiful art. The upcoming New Haven Auctions event features one such folk art portrait depicting two young brothers (lot #503; estimate: $1,000 – $2,000). Attributed to Joseph Goodhue Chandler, the piece shows the two boys standing in front of a stone wall. Behind them, sailboats traverse a stretch of water between rocky hills. Chandler was especially active in New England, and he regularly received painting help from his wife, Lucretia Ann Waite. Together, the artists established a distinct folk style— doll-like faces, intricately draped clothing, and moody backgrounds.
New Haven Auctions will present the Antiques & Decorative Arts From Estates & Collections event on June 26, 2022 at 10:00 AM EDT. Visit Bidsquare for the complete catalog or to place a bid. 
Media Source
Follow
More in the auction industry