Vintage Vanity Cases Available at WinBids Auctions This October
During the Roaring 20s, women's fashion experienced intense changes. Elaborate dresses, corsets, and bustles gave way to short skirts and thinner fabrics. This led to an unexpected issue for high-fashion women. With no discreet pockets and voluminous layers, there was no place to conveniently store one's cosmetics and personal items. The modern vanity case evolved to address this need. Invented by Charles Arpels in the 1930s, these delicate cases were small enough to be tucked in a pocket or handbag but large enough to contain a lipstick, cigarette lighter, and other daily necessities.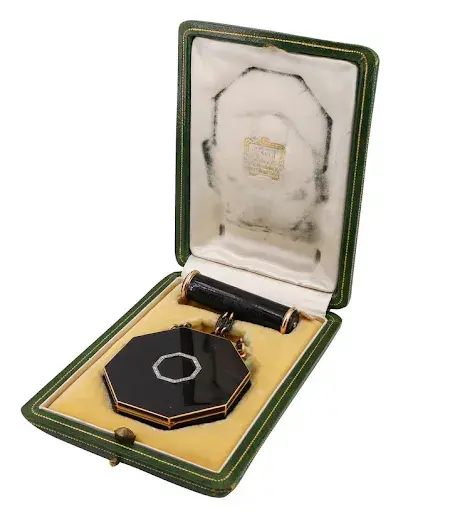 Never behind on fashionable trends, Cartier Paris soon embraced the stylish vanity cases. The brand abandoned large and clunky cases in favor of sleek and contained designs that followed Art Deco sensibilities. Vintage vanity cases from this period featured geometric shapes, crisp lines, and luxurious details. Designers also gave extra attention to the insides of each vanity case. The most coveted styles had designated holders for the most commonly used on-the-go products.
A vintage vanity case by Cartier Paris featuring this classic Art Deco style is among the top lots of WinBids Auctions' upcoming October Fine Jewelry & Timepieces event (lot #251; estimate: USD 12,000 – $17,000). A round lipstick tube is attached with a gold chain to a heptagon black enamel and yellow gold case. Rose- and old mine-cut diamonds decorate the front of the case.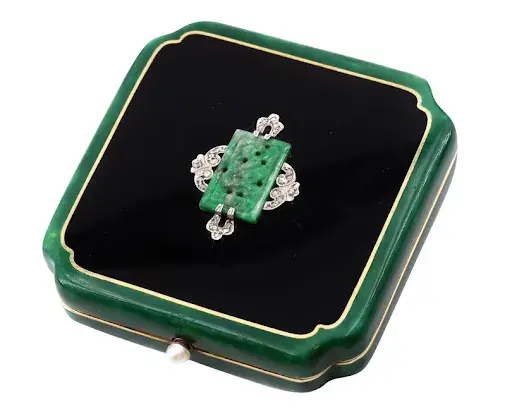 While vintage vanity cases from the 1920s and 30s relied heavily on the elegance of gold, designers did not hesitate to engage with other materials. The objects served a decorative as well as practical purpose. Some women from the era would carry the cases around in lieu of an evening clutch. Color, design, and decorations were all used to set these vanity cases apart (and make them easier to identify in case they were misplaced).
One bold vanity case from circa 1920 will be presented in the upcoming auction (lot #267; estimate: $8,000 – $11,500). Made with green and black enamel, this piece features a small green jadeite token on its front. Diamond-studded clasps hold the jadeite in place.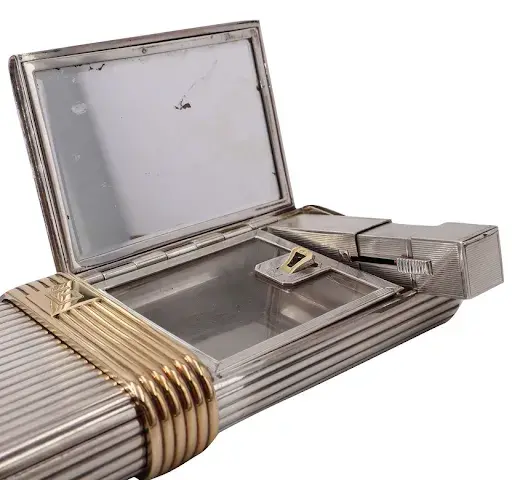 The compact size of vintage vanity cases explains much of their appeal. However, larger cases had the benefit of containing a wider range of objects. Cosmetics could be better maintained throughout the day if the wearer could access all of her essentials. These items would eventually lead to the modern-day makeup bag. Some larger vintage vanity cases will be available with WinBids Auctions in the upcoming sale. This includes a fluted vanity case made of sterling silver (lot #252; estimate: $2,200 – $3,400). It measures over six inches long, leaving sufficient space for a rectangular mirror, a retractable lipstick, a powder compact with acrylic lid, and a small compartment for miscellaneous items.
Beyond vintage vanity cases, the upcoming WinBids Auctions event will feature luxury jewelry from Tiffany & Co., including a small right Bone cuff bracelet by Elsa Peretti (lot #221; estimate: $15,000 – $20,000). Nearly 275 items featuring diamonds and colorful gemstones will also be available. The live sale begins at 3:00 PM EDT on October 11, 2022. To view the complete catalog and register to bid, visit WinBids Auctions.
Want to know about other key jewelry sales in the auction industry? Check out Auction Daily's previews of upcoming events, including top lots and important information to know before placing a bid.
Media Source
Follow
More in the auction industry