Upcoming Bonhams Auction Will Offer All Things Small, Beautiful, and Rare
An upcoming Bonhams auction features tiny works of decorative art that can fit in the palm of your hand. What are the key lots?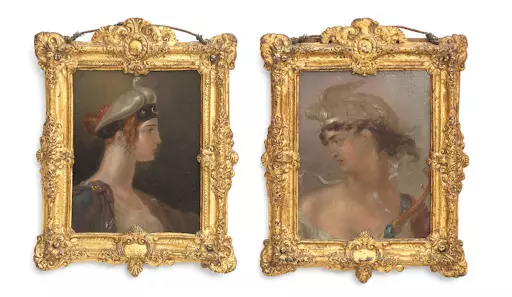 Tobacco consumption wasn't a common practice in the European continent until the 1500s, after which it escalated like wildfire. The popularity of inhaling snuff (tobacco powder) increased the demand for snuff boxes that kept the powder dry and crisp. By the late 17th century, ornate versions of these boxes saw increased demand.
In the early 18th century, French jewelers pioneered snuff boxes out of gold, diamond, and gemstones like amethyst and sapphires. They used different techniques to turn simple boxes into luxury accessories, from engraving to enameling. Some of the earliest snuff boxes ever made resembled a miniature trunk decorated with paintings of landscapes, portraits, and classic patterns.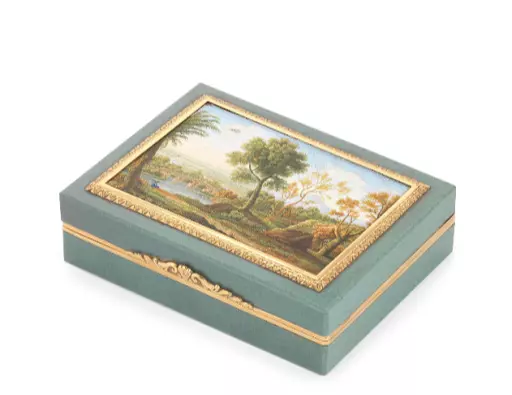 In an upcoming Bonhams auction, In the Palm of your Hand: Small is Beautiful, the company will offer an early 19th-century Italian micro mosaic and gold-mounted hardstone snuff box by Camillo Picconi. The green jasper rectangular box features a framed micro mosaic scene of an Arcadian landscape that resembles the Luciano bridge near Tivoli, Italy. Gold forms the frame of the trunk as well as the reeded hinge mount and scrolling thumbpiece. It has an estimate of USD 8,000 to $11,000. Micro mosaic stuff boxes infrequently surface in the art world. Collectors will have a rare chance to own one this February.
Speaking of boxes, another type of box that was widely decorated and customized was the matchbox. The discovery of the first friction matchbox dates back to the year 1680, when physicists created flames by drawing sulfur-dipped wood through a folded phosphorous paper. Evolved versions of these matchboxes were luxury novelty items for several years before becoming popular among all classes of people.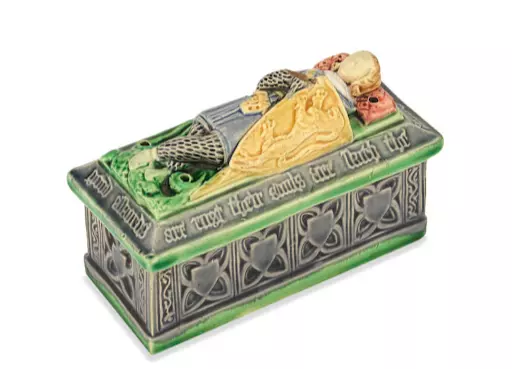 This Bonhams auction will feature a very rare Minton majolica matchbox and cover. Dated 1864, the cover of the matchbox resembles the form of a crusader's tomb. Gothic script along the rim details an inscription: "The knights are dust and their good swords are rust their souls are with the saints we trust." The texture on the underside of the box acts as a match strike. The set has an estimate of $800 to $1,000.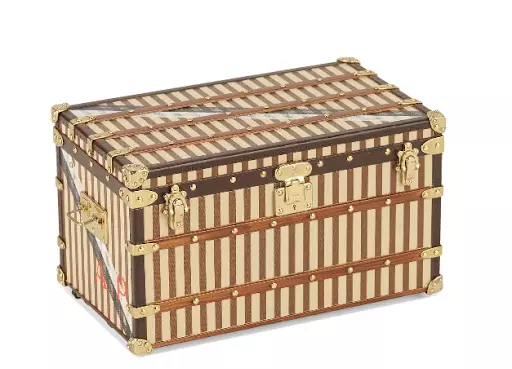 Rounding out the preview lots is a pair of small-sized paintings of Lais and Sappho by Peter Edward Stroehling and a Courrier 1888 trunk paperweight by Louis Vuitton. These items have approximate estimates of $5,500 to $8,000 and $950 to $1,200, respectively.
Bonhams' auction of small rarities will take place on February 23, 2022 in London. The company will release the full catalog four weeks before the auction date. To view the preview lots, visit Bonhams.
Looking for information on other upcoming sales? Check out our coverage of Doyle's January numismatic antiquities auction.
Media Source
Follow
More in the auction industry