Treasures From Atlanta Attorneys' Collections Come to Auction With Ahlers & Ogletree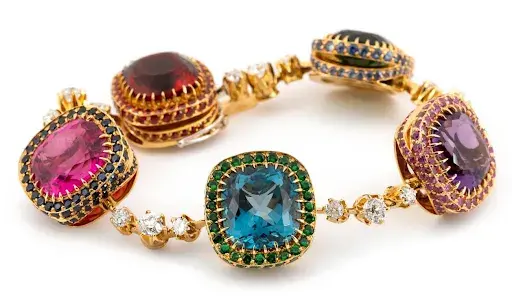 Two collections of luxury jewelry and timepieces from notable Atlanta attorneys will soon cross the auction block with Ahlers & Ogletree. In the Important Jewelry & Fine Timepieces from Joel A. Katz & Marjorie Knowles sale, to be held live on November 18, 2022, nearly 500 items will be available. Top lots include rare and collectible pieces from brands such as Vacheron Constantin, Laura Munder, Van Cleef & Arpels, and Boucheron.
"We're honored to represent these prestigious collections. It is rare to see such a vast selection of jewelry, gems and timepieces," the auction house's CEO and founder, Robert Ahlers, told the Atlanta Jewish Times. "To prepare for an auction of this magnitude, our seasoned licensed gemologist examines every piece, identifying the carat weight, cut, clarity and material. We spend months preparing, doing the cataloging, background research, and photography and are proud to present these two important collections."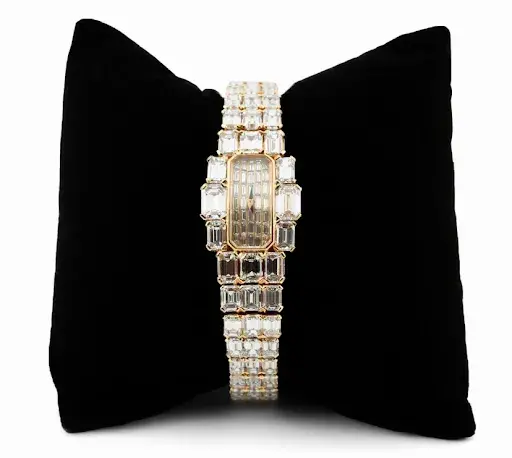 One of the top items in the sale is an 18-karat yellow gold and diamond wristwatch from Vacheron Constantin, estimated at USD 150,000 to $175,000 (lot #2124). This piece comprises 120 diamonds totaling 30.00 carats. It comes from the private collection of Joel A. Katz, a powerful entertainment industry attorney from Atlanta who has represented Jimmy Buffet, Willie Nelson, and the estate of Michael Jackson.
Vacheron Constantin's Metiers d'Art Lady Kalla watch converses with the brand's famous Kallista wristwatch from 1979. The Lady Kalla watch won the 2001 "Aiguille d'Or" Grand Prix, or best in show prize, in the inaugural Grand Prix d'Horlogerie de Genève (GPHG) ceremony. This award is given to watches deemed most representative of the horology industry, and it remains the most prestigious award given to timepieces.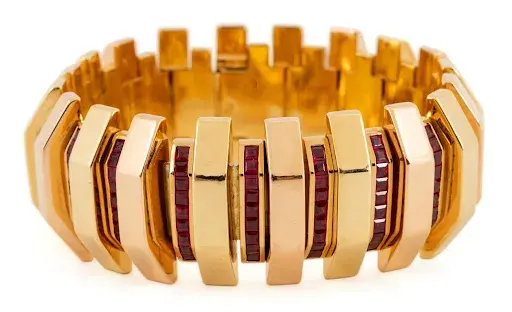 The upcoming Ahlers & Ogletree auction will also highlight an 18-karat gold and ruby bracelet from renowned French luxury brand Boucheron (lot #2278; estimate: $50,000 – $70,000). It comes from the estate of Marjorie and Ralph Knowles, a pair of noted civil rights attorneys from Atlanta. Marjorie Knowles notably served as the first woman dean of a Georgia law school, and she worked for equal rights alongside Gloria Steinem and Ruth Bader Ginsberg.
This available Art Moderne bracelet dates back to the mid-1930s. A shifting design period that preceded World War II, Art Moderne was a bold successor to the somewhat more reserved Art Deco era. Jewelry became chunky and geometric while embracing strong colors. Those elements are clearly visible in the available Boucheron bracelet, which is defined by stacked trapezoidal links and recessed stripes of rubies.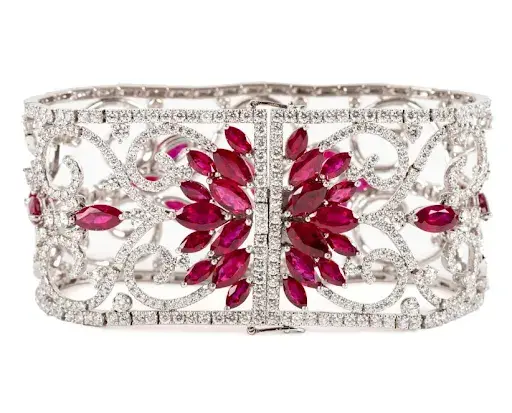 Bidders in the upcoming watches and jewelry auction will find an intricate contemporary ruby, diamond, and 18-karat white gold bracelet from NINI Jewels (lot #2161; estimate: $16,500 – $30,000). This piece also comes from the collection of Joel A. Katz. It features rubies that together weigh approximately 25.00 carats, interspersed with round brilliant-cut diamonds set on a wide foliate band. It was designed by Nini Hale. She is a third-generation Thai jewelry designer whose work can be found at Saks Fifth Avenue in New York. The featured bracelet belongs to Hale's One of a Kind collection, which brings Eastern design elements to Western buyers.
Other notable lots in the catalog include a three-stone platinum and diamond ring (lot #2326; estimate: $125,000 – $175,000), a Laura Munder 18-karat yellow gold and orange mandarin garnet necklace (lot #2264; estimate: $70,000 – $90,000), and a mens' Audemars Piguet 18-karat yellow gold Royal Oak wristwatch (lot #2014; estimate: $30,000 – $50,000).
Ahlers & Ogletree's Important Jewelry & Fine Timepieces from Joel A. Katz & Marjorie Knowles sale will begin at 10:00 AM EST on November 18, 2022. Visit Bidsquare to view the complete catalog and register to bid.
Media Source
Follow
More in the auction industry