What Sold in Bonhams' Auction of Justice Ruth Bader Ginsburg's Library?
Bonhams' recent The Library of Justice Ruth Bader Ginsburg sale, held online from January 19 through 27, 2022, was an unmitigated success. The white glove auction realized over USD 2.3 million, included 162 lots of materials from the Justice's personal collection, and had a 100% sell-through rate. Supreme Court Justice Ruth Bader Ginsburg (1933 – 2020), the court's second woman justice, was an ardent supporter and advocate for gender equality, worker's rights, and the separation of church and state. Her energy, intelligence, passion, and ability to connect with others through humor and rapport elevated her to the level of a cultural icon.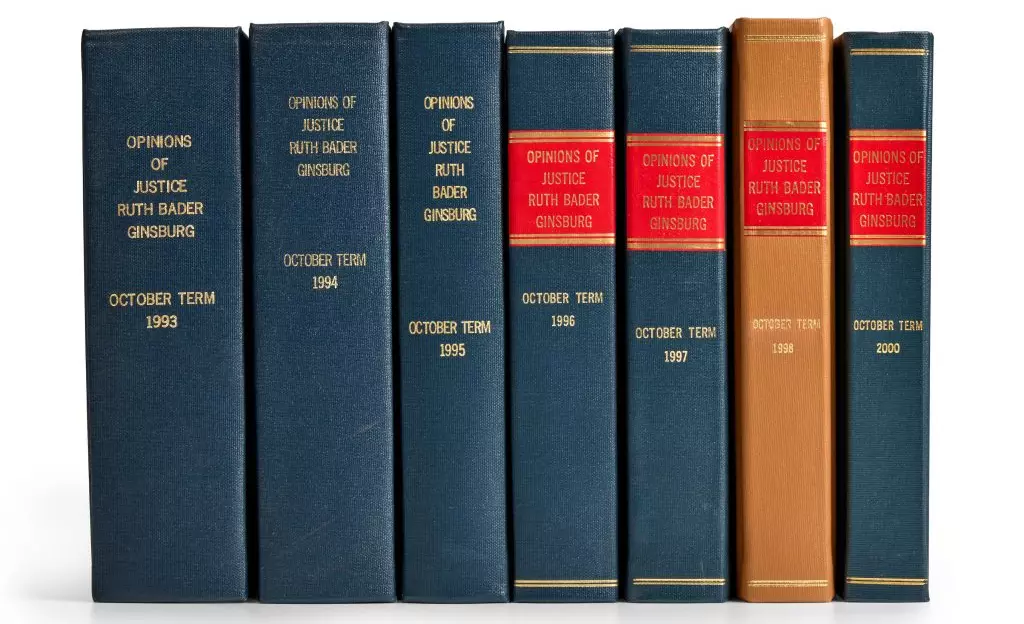 Although this auction featured primarily bound and published books, it also offered many interesting paper-based items, including photographs, degrees, and other ephemera from Ginsburg's library. Of special note were several albums documenting events, visits, or projects. While these were not conventional "highlights" of the sale, they suggest important insights into Ginsburg's personal priorities and passions. It seems reasonable to assume that these miniature archives must have been extremely meaningful to the Justice, and that is why she kept them—and not others—over the course of her life and career. Let's take a look at three of these album lots and consider possible reasons for their appeal.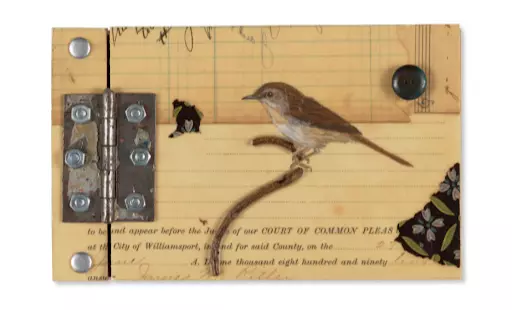 An important, non-book highlight in this sale was lot #42, an album inscribed to Justice Ruth Bader Ginsburg by members of the American Inns of Court. It was estimated at $300 to $500 and realized $10,837.50. According to its website, the mission of the American Inns of Court is to "… inspire the legal community to advance the rule of law by achieving the highest level of professionalism through example, education, and mentoring." This handmade album from 2006 is bound with printed, decorated wooden boards and brads. It contains about 30 pages and inscriptions from 40+ members of the organization to Ginsburg.
What about this album may have called to Ginsburg? There is a significant overlap between the Justice's personal ethics and priorities and the AIC's mission. And given this album's manageable size (about 9 inches by 5 inches), authentic and lovingly rendered construction, and deeply personal messages, it is very understandable why this gift from the heart might have truly touched hers in a lasting way.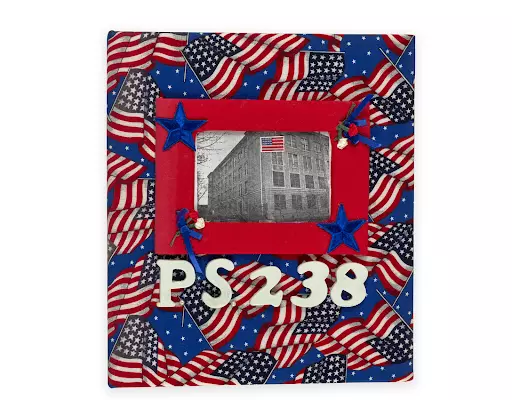 Next, let's take a look at lot #17, a commemorative album of the Justice's visit to her childhood grade school in Brooklyn, New York. Estimated at $100 to $200, it traded hands for $7,012.50. Ginsburg toured the school in 1994, just a year after she became a member of the Supreme Court. This scrapbook, in the form of a three ring binder, has red, white, and blue fabric decorations and features a photo of PS 238 on its front cover. A student at the school made the album as a gift to the Justice. The album contains almost three dozen full color photographs and nearly a dozen pages of newspaper clippings.
Again, what about this specific album may have spoken to the Justice? Like the AIC album, this souvenir was handmade for Ginsburg, in this case by a creative young girl who genuinely admired Ginsburg and wished to document her visit. The Justice was proud of her Brooklyn roots and beginnings. This scrapbook, which arrived at an exciting and frenetic point in her career, might have brought Ginsburg back to a simpler time and place… albeit just for a day!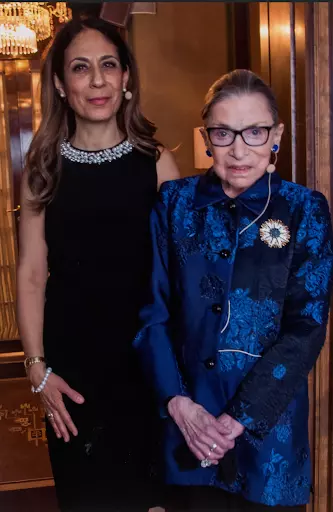 And finally, adding a touch of foreign intrigue to this sale was lot #75, an album of 11 color photos from the Justice's visit to Sweden in 2019. Estimated at $200 to $300, it sold for $5,737.50. Each photo captured her time at Lund University to receive a Jubilee Honorary Doctorate. Lund University began in 1425 and is one of northern Europe's oldest institutions of higher education.
It is a little known fact that Ginsburg had a great affinity for Sweden, having traveled to that country in 1962 as part of the Columbia Law School's project on international procedure. There she met legal scholar Anders Sommar Bruzelius (1911 – 2006). The two collaborated on a book, Civil Procedure in Sweden, which was published in 1965. Ginsburg and Bruzelius received honorary doctorate degrees for this work in 1969 from Lund University. Ginsburg's time in Sweden was also instrumental in helping her set a vision and goals for gender equity in the United States.
What might have made this album stand out to the Justice? This album of photographs from Sweden truly brought her life work full circle. Exactly five decades after receiving her first honorary degree from Lund, she earned her second one. What a glorious way to celebrate a golden anniversary!
For the complete auction results of Justice Ruth Bader Ginsburg's library, visit Bonhams.  
Find more auction results, headlines, and market analysis on Auction Daily's news channel.
Media Source
Follow
More in the auction industry