Results From Stair's An American Icon: Property from the Collection of Joan Didion Sale
Stair, of Hudson, NY, presented its An American Icon: Property from the Collection of Joan Didion auction on Wednesday, November 16, 2022. The sale included a full range of materials from the Upper East Side apartment of the late thought leader, novelist, and essayist Joan Didion (American, 1934 – 2021). Presale estimates on the 224 lots on offer were in the USD 250,000 to $400,000 range. This auction would go on to deliver over $2,200,000 with a 100% sell through rate. These results included five premier lots bringing more than $50,000 each. This quintet clearly caught the eyes– and pocketbooks– of Didion enthusiasts worldwide. These items are noted below; prices indicated include the auction house's buyer's premium.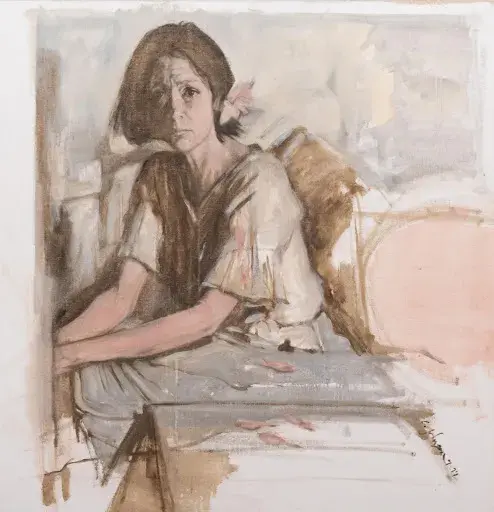 The top lot in this unprecedented sale was #4, artist Leslie Johnson's (1944 – 2002) Portrait of Joan Didion. Estimated at $3,000 to $5,000, it traded hands at a whopping $140,800 and generated 41 bids. This unframed oil on canvas work from 1977 featured the writer sitting at an angle and looking pensive. The painting was based on the image of Didion used on the back cover of her work, A Book of Common Prayer. According to Stair's catalogers, the painting was a present from Johnson to Didion, and Didion often used it as a backdrop when she was photographed at her home.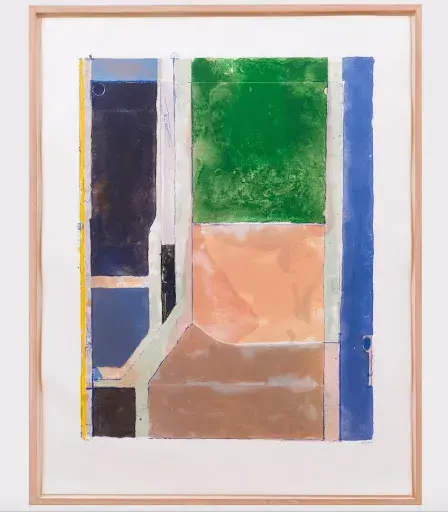 Another very impressive result from this auction was lot #8, Richard Diebenkorn's (1922 – 1993) Twelve. Estimated at $50,000 to $70,000, it made $108,800 and generated ten bids. This framed, bold lithograph in colors was signed and dated by the artist. It was produced in 1986 and numbered 49/50. It measured 46 inches by 36.5 inches overall and was produced by Gemini G.E.L. in Los Angeles, an artists' workshop and publisher of fine-art limited edition prints and sculptures. Auction Daily spotlighted this lot in our Joan Didion presale feature article, but few anticipated that it would trade hands at the six figure mark.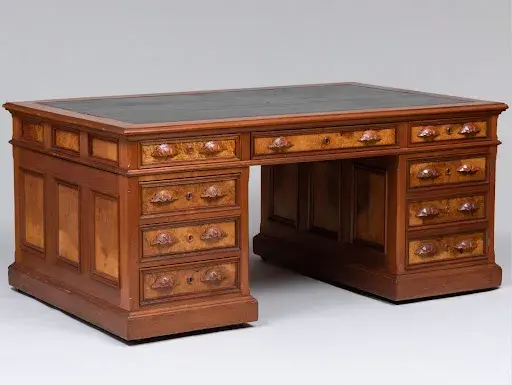 Also on Auction Daily's radar was lot #11, an American oak, walnut, and bird's eye maple partner's desk. It was estimated at $8,000 to $12,000, produced 24 bids, and sold for a stunning $76,800– more than six times its low estimate. This impressive piece of furniture was said to have ties to the California Governor's mansion, which was a destination of great interest to Didion over the years. The desk was in three parts and raised on casters.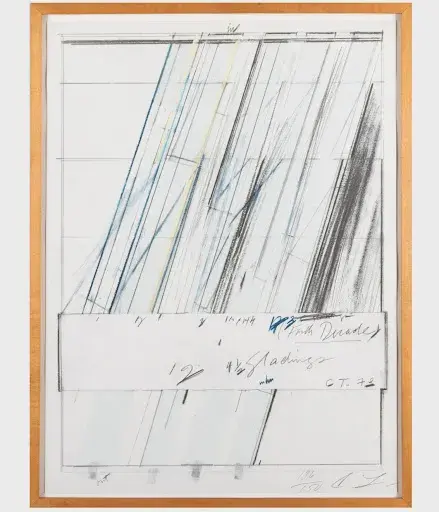 Also breaking the "nifty-fifty" mark was lot #95, a framed, untitled work by Cy Twombly (1928 – 2011). Estimated at $5,000 to $7,000, this offset litho in colors from 1973 made $64,000 and generated 25 bids. The work was signed by the artist with initials, numbered 136/150 in pencil, and measured 32 inches by 24 inches overall. It included a label from Hirschl & Adler Modern, NY– a gallery noted for its expertise in American Modernism and the post-war period.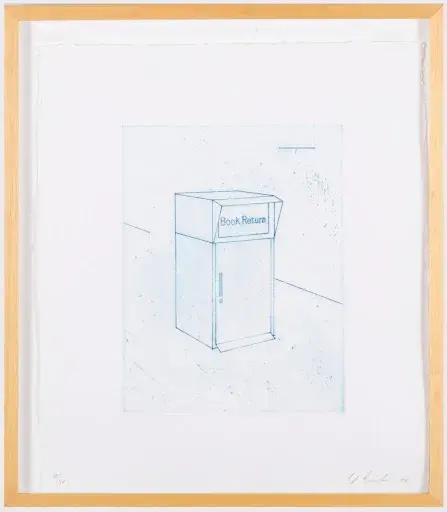 The final lot to turn the page over $50,000 was #41, Ed Ruscha's (b. 1937) Book Return. It was estimated at $3,000 to $4,000, scored $51,200, and had 31 bids. This framed etching from 1994 was rendered in blue on handmade paper and signed and dated by the artist. It was numbered 40/40 and included the artist's studio label on verso. Ruscha is strongly tied to the contemporary art movement and is one of the most important figures in that genre today.
For more information on this sale, visit Stair.
Media Source
Follow
More in the auction industry