Stair's An American Icon Sale: Property from the Collection of Joan Didion
American novelist and essayist Joan Didion (1934 – 2021) penned some of the most engaging, entertaining, and thought-provoking works of the 20th and early 21st centuries. Many of her most memorable pieces are based on personal experience, including subjects such as parenting, aging, loss, growth, and change. In 2013, Didion was awarded The National Medal of Arts by then President Barack Obama. Stair, of Hudson, NY, is presenting An American Icon: Property from the Collection of Joan Didion on November 16, 2022 at 11:00 AM EST. The sale features a full spectrum of fine and decorative art, furnishings, books, ephemera, and personal items from the late author's New York City apartment.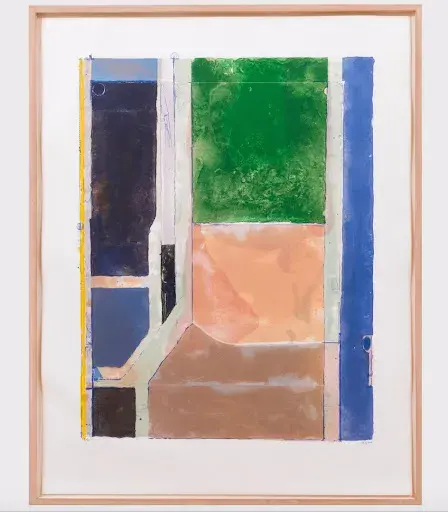 Joan Didion had an eye for fine and contemporary arts, and this sale features many outstanding examples from her collection. Lot #8, Richard Diebenkorn's (1922 – 1993) Twelve, is estimated at USD 50,000 to $70,000. This framed, bold lithograph in colors from 1986 is produced on wove paper and dated by the artist in pencil. It is numbered 49/50 and measures 43″ x 34″ (sheet) and 46″ x 36-1/2″ (frame). The artwork's geometric "grid" pattern was one of the signature themes of Diebenkorn's output during the late 20th century. Twelve was produced at Gemini G.E.L. in Los Angeles, an artists' workshop and publisher of fine-art limited edition prints and sculptures founded in 1966.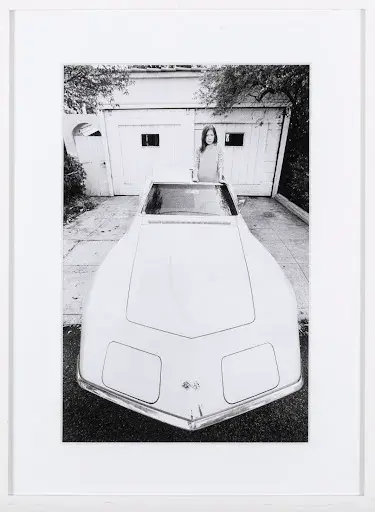 The sale includes a remarkable collection of photographs owned by, and/or taken of, the author. These often provide unexpected or novel glimpses of Didion at work or play. Lot #10, Julian Wasser's (b. 1938) Joan Didion Standing in Her Stingray Corvette, is estimated at $1,500 to $3,000. This framed, gelatin silver print from 1968 is signed on the reverse and measures 19-3/4″ x 16″ (sheet) and 24″ x 18″ (frame). The image, taken from above, pictures the author poking through the hard top sunroof of her iconic car. According to Stair, this photograph, which was part of a series of images, was commissioned by Time and was taken at the rented house in Hollywood, CA where Didion lived with her husband and young daughter at the time.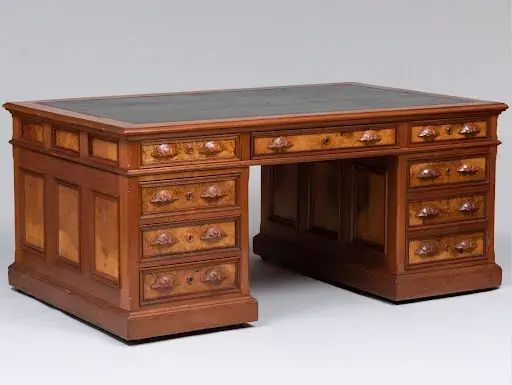 The Didion collection also includes premier furnishings from the author's residences. Lot #11, an American oak, walnut, and bird's eye maple partner's desk, is estimated at $8,000 to $12,000. This handsome and important desk measures 32″ x 6′ x 45″, is in three parts, and is raised on casters. It is stamped "J. Breuner, Manufr & Dealer in Furniture and Bedding, Nos 154, 156, 158 & 160 K St….Sacramento" and retains an early paper label in one drawer noting "KNOX COLLECTION AGENCY, 112 Sutter Street, San Francisco." Family history related to this desk suggests that it was bought by Didion's parents in California at an estate sale and that it may have ties to the California Governor's Mansion. This impressive residence, located in Sacramento and built in 1877, was of great interest to the author.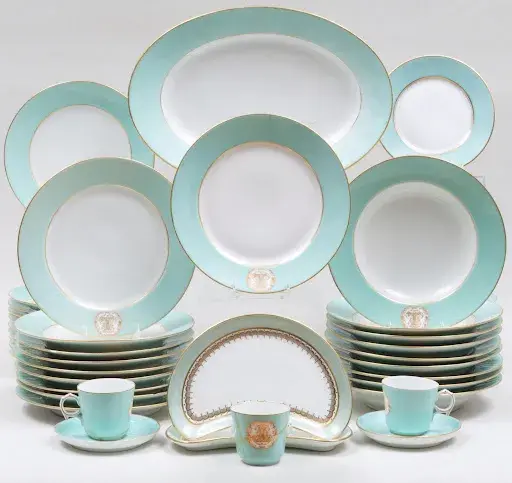 This auction's range of decorative and functional arts on offer is certain to catch the eye of Didion enthusiasts worldwide. Lot #207, a porcelain monogrammed part dinner service, estimated at $1,200 to $1,800, is particularly notable. This seafoam green and white collection is detailed in gold trim to match its monogram and includes a total of 45 pieces. The service includes a platter; compote; dinner, salad, soup, and side plates; cups and saucers; and crescent-shaped side plates. Stair notes some damage and repair to several of the items– suggesting that they were used and loved by the Didion family. Imagine the conversations held over this distinctive tableware!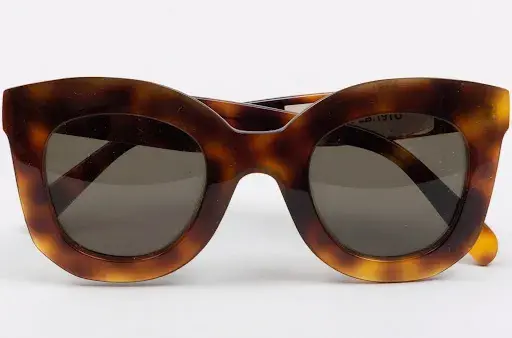 Personal items used and cherished by Didion round out this once-in-a-lifetime sale. Lot #5, a pair of Celine brand faux tortoiseshell sunglasses, is estimated at $400 to $800. This pair features chunky proportions with gray lenses and is marked "Celine Made in Italy." Celine is an iconic French fashion company that is part of the LVMH Moët Hennessy – Louis Vuitton SE brand umbrella. Didion was the featured celebrity in one of the company's advertising campaigns in 2015.
For more information on this sale and to place a bid, visit Stair's website.
Looking for the latest auction world news? Check out Auction Daily's news channel, updated daily.
Media Source
Follow
More in the auction industry