Rarities and Novelties Rise to the Top at Ladenburger Spielzeugauktion's April 2, 2022 Premier Steiff Sale
It's always thrilling to watch an auction full of magical temptations. Such was the case at the April 2nd, 2022 premier Steiff sale hosted by Ladenburger Spielzeugauktion GmbH of Ladenburg, Germany. Steiff's Teddy bears, dolls, animals, and novelties have been collector's favorites since the turn of the last century. Today, bidders continue to compete ferociously for the finest and rarest button-in-ear branded items appearing at auction. Here are five lots that wowed, surprised, and awed enthusiasts from this recent sales event.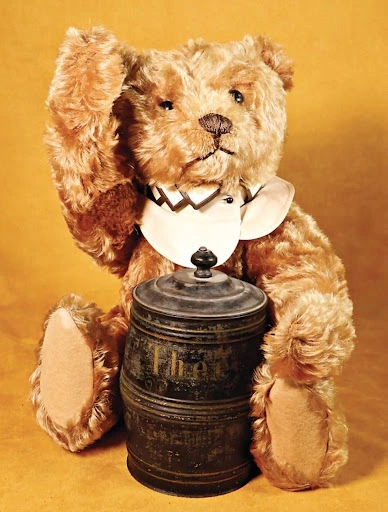 This first auction highlight certainly gave the crowd the warm fuzzies! This was lot #5103, an 18-inch tall, fully jointed Teddy bear made from dark blonde mohair. "Born" in the early 20th century, this lovely lady featured Steiff's traditional and period black shoe button eyes, hand-embroidered features, center seam construction, and a blank button as her Steiff ID. She carried a presale estimate of around USD 1,800 to $3,600; she traded hands at $22,000.
What made this bear such a winner? Steiff's center seam bears— a construction detail appearing on only one out of seven Steiff turn of last century cubs— always catch the eyes, and pocketbooks, of collectors, given their rarity. Her blank button status also significantly added to her appeal and collectability. And then there's always that "X" factor. In this case, her big but not too big size, production era, and classic presentation probably had a lot to do with her success. She "called" to a collector, and they just had to have her!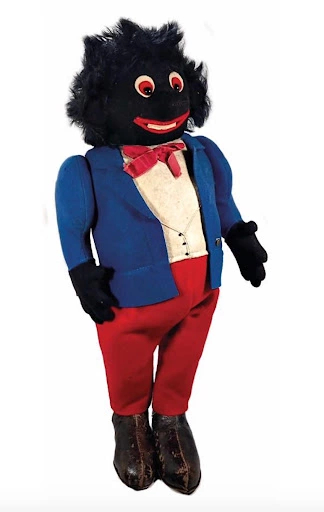 Steiff dolls from the first quarter of the 20th century are of great interest to Steiff, doll, and militaria collectors. So it isn't a surprise that two of these category bridging examples made headlines in this premier event.
The first was lot #5099, a 16-inch tall, fully jointed Golliwog doll based on author Florence Kate Upton's fictional book characters introduced in the late 1800s. This doll was estimated at about $1,300 to $2,600 and scored $18,000. This breathtaking example was constructed from felt and linen and wore the character's traditional attire and footwear. He retained his Steiff button as his ID. And his expression, condition, and presentation were really outstanding, with the auction house noting that this was the finest example their experts had ever seen.
And why did bidders go ga-ga over this Golli? Two words: absolute rarity! This happy-go-lucky fellow so seldom appears at auction. Produced by Steiff in seven sizes ranging from 11 to 40 inches from 1909 to 1919, only a handful have survived to this day, and collectors who have them are not deaccessioning. This was the first Golliwog sold by Ladenburger Spielzeugauktion in its 33 years of selling antique toys. It was also only one of three to appear in the records of LiveAuctioneers since 2011.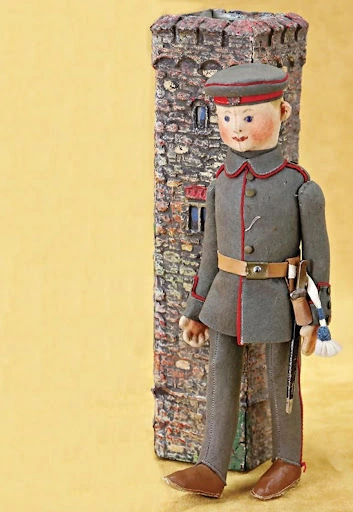 Also deserving of a salute was lot #5061, a handsome Steiff military doll from around 1915. Estimated at about $800 to $1,600, it realized $4,900. This charmer— probably a German infantryman— was fully jointed, made from felt, and stood 11 inches tall. His remarkably detailed and accurately scaled uniform was integral to his body, and he retained many of his perfectly petite and original military accessories.
What's the backstory on this dashing doll? Steiff's soldiers featured prominently in the company's catalogs in the early 1900s. From around 1910 through 1920, Steiff made examples representing German, Scottish, Moroccan, Turkish, Dutch, Russian, American, Belgian, French, Italian, and Austrian troops, among others. Over 100 distinct designs were produced during this time frame. They were designed for play, so to find an example like this one in very nice condition with his hat, belt, scabbard, holster, and sword is equivalent to hitting the button-in-ear lottery!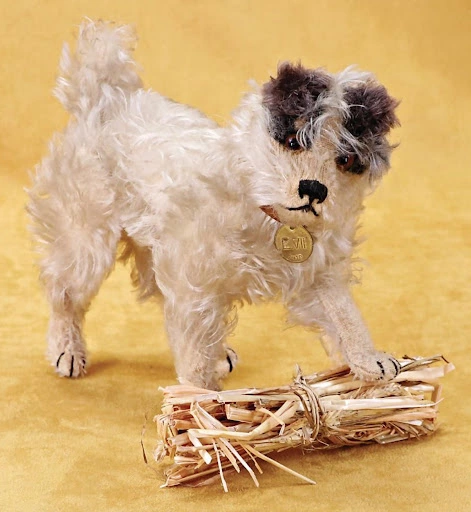 Now let's check out the top dog in this sale, literally. This was lot #5277, Steiff's Caesar Wire Hair Terrier from 1910. He was estimated at $240 to $480 and delivered $5,000. This fully jointed novelty dog stood at 10 inches tall and featured big brown and black glass pupil eyes, brown ears, and his all original leather collar and medallion.
Caesar has royal origins, and that helps to explain his best of show appearance at this auction. This princely pup was the best friend of King Edward VII. Although the King had many dogs, Caesar was by far his favorite. When the King died in 1910, Caesar accompanied his master's casket in the funeral parade and continued to show mourning behavior for the rest of his life.
Steiff often took its product development inspirations from news headlines, and Caesar's story was a perfect fit for their production capabilities. The real Caesar also had a leather collar with a distinctive brass medallion which identified him as the King's dog. Steiff added this exact detail to its interpretation of Caesar. This is almost always lost to time. The fact that this example retained this key accessory undoubtedly made him even more sought after in this sale.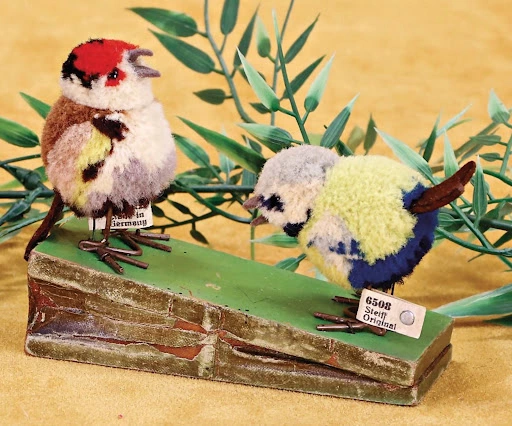 And bird's the word with this final Steiff breakout auction item. This was lot #5290, a pair of Steiff woolen miniature birds on a seesaw whistle. Estimated at around $100 to $200, this 1930s-era novelty came full circle at $3,400. The birds each measured a bit over two inches tall. They were made from woolen threads (much like a pom-pom), had metal legs, felt feathers and beaks, and were head jointed. Their perch was made from paper and cardboard, and each bird made a little chirp when pinched back and forth.
Lovingly known as a "Chirp Couple," this legacy design has stood the test of time to become one of Steiff's most sought-after pre-war novelties. The piece itself was in wonderful, working condition, while the birds retained their most ephemeral IDs worn like a bracelet around their legs. Chirp Couples are by nature small, easy to display, and utterly charming— all things collectors inherently seek. And it is interesting to note that this exact design was marked in the 1932 F. A. O. Schwarz catalog under the category of "Unusual Stocking Toys." The listing read: "Pair of Wooly Birds on 4-1/2″ voice bellow platform. $0.75." In 1932, $0.75 had the buying power of $15.52 in 2022. Anyone want to go back in time and grab a few?
Explore Auction Daily's pre-sale coverage of this Ladenburger Spielzeugauktion event.
Media Source
Follow
More in the auction industry