It's a Bear Affair at Ladenburger Spielzeugauktion's April Steiff Special Sale
Steiff brand dolls, bears, and toys continue to hold the interest, fascination, and wallets of collectors worldwide. Ladenburger Spielzeugauktion GmbH of Ladenburg, Germany has a long tradition of offering premier button-in-ear selections in its auctions, so it is no surprise that the upcoming April 2, 2022 sales event presents amazing pre-war temptations gathered from across Europe and North America. Here are five fine Teddy bears certain to call to arctophiles worldwide— and what makes them so extraordinary from collector and historical perspectives.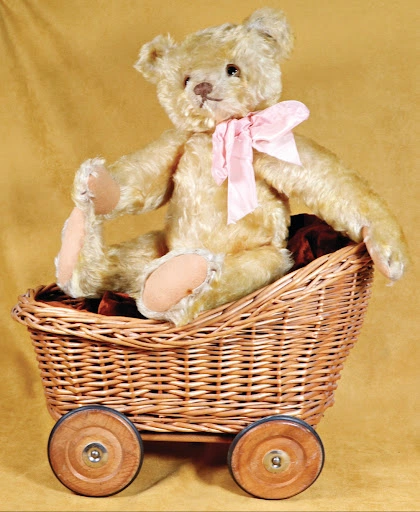 This first selection is as welcoming as a fresh bouquet of spring flowers. Here we have a bright yellow example of Steiff's legacy "Teddy Rose" bear. It is lot #5142 and has a pre-auction estimate of USD 7,500 to $15,000. This very appealing Ted is 17 inches tall, is made from long, fluffy mohair, and has a distinct appearance and personality. Teddy Rose was produced in soft pink or yellow mohair and was designed in part to be the ultimate "arm candy" accessory for stylish women. Steiff manufactured the Teddy Rose in five sizes, ranging from 23 centimeters to 36 centimeters, measured sitting, from 1925 through 1930. According to Steiff company records, only 5,271 yellow and 4,794 pink versions of Teddy Rose were manufactured. As such, these 1920s Teds are seldom seen on the secondary market, drive collectors wild, and have realized over $20,000 at auction in the past.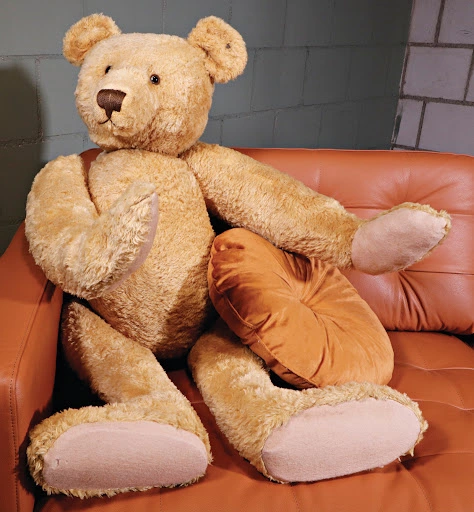 The second not-so-hidden gem in this sale is lot #5140, a 40-inch tall Steiff Teddy bear from the mid-1930s. It is estimated at $3,700 to $7,400. This big guy— perhaps originally manufactured as a store or window display given his scale— is made from an unusual fabric in an unusual size. He might be one-of-a-kind or one of just a handful produced. He is not noted in Steiff's standard catalogs or reference materials. Steiff bears traditionally are made from mohair, a high-end material that gives them a soft look and incredible durability. But this example has wartime-era substitute blonde plush fabric, as mohair was in very short supply in pre-war Germany starting in the early 1930s. Collectors love to discover rarities like this, and his size, materials, condition, and era all suggest he could be among the top lots in this event.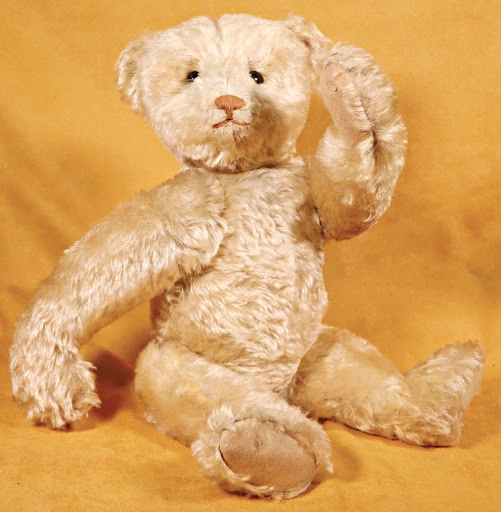 The third's the charm with this next Steiff superstar cub. She is lot #5146, an impressive 20-inch tall white mohair bear with a pre-auction estimate of $3,700 to $7,400. This example from around 1910 is fully jointed and detailed with brown stitching, black shoe button eyes, and a trimmed facial muzzle. There is so much to love about this bear, starting with her construction. Her face has a seam running down the center of it; the Steiff world calls this a "center seam bear." These really call to collectors. In the early 1900s, every seventh bear that Steiff made had a seam down the center of his face to make the most efficient use of fabric. The dimensions of the fabric supplied to the factory were such that they could get six full heads from it, but there was some remaining material from this cutting process. These "center seam bears" featured this "leftover" fabric. This bear's color, age, appeal, and center seam bode well for lots of auction interest and noteworthy results.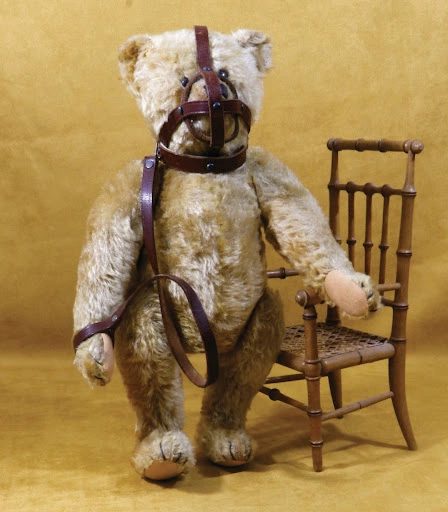 This fourth pick is quite entertaining. Here we have lot #5135, an early and all original Steiff muzzle-style bear. He resembles the bears that would tour across small towns in Europe in the late 19th and early 20th centuries. This rarity measures about 18 inches tall and has an auction estimate of $1,200 to $2,400. He is made from blonde mohair and has many of the details and proportions of turn of last century Steiff production, including black shoe button eyes, a prominent back hump, a working grower, and long, lanky limbs. But in addition to his fine condition, this bear stands apart due to his original leather facial mask. It is a miracle that this mask is still around nearly 120 years post-production, given how leather dries up and falls apart, and how add-on accessories on toys like this tend to get lost to time.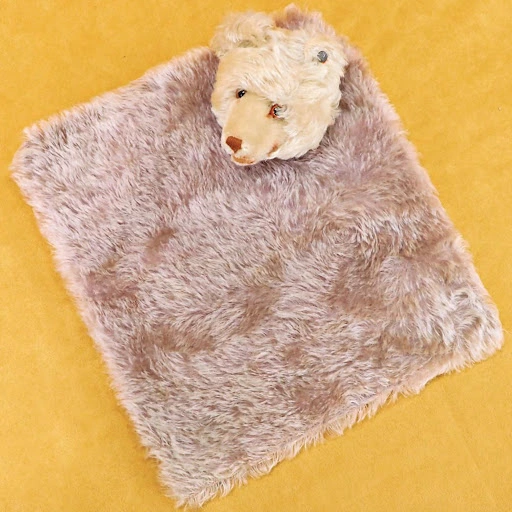 Let's wind down this auction highlight list with a Steiff Ted that bridges two key collecting areas and is likely to appeal to enthusiasts in a number of different collection foci. This is lot #5070, a pre-war Steiff nightdress bag. This fabulous Teddy bear-related novelty is estimated at $830 to $1,660. Produced between about 1930 through 1937, it consists of a 12-inch square soft pink mohair pillow bag detailed with the head of a white mohair Teddy baby bear. These were designed to hold a child's nightgown or pajamas, were lined in velvet, and would open and close with a zipper on the underside of the case. Other pajama bags produced by Steiff at the same time included the heads of some of the company's most popular dogs and cats of the era, also on a pastel-colored pillowcase. Steiff's early 1930s-era pajama bags were a natural product line extension that allowed the company to broaden the reach of its most popular and profitable animal designs. This Teddy Baby nightdress bag is an example of Steiff's earliest pajama bag designs; these functional accessories would appear in the line now and again through the mid-1970s.
For more information on this comprehensive vintage Steiff sale, see Ladenburger Spielzeugauktion's website.
Looking for a report on how fine vintage Steiff sells at auction these days? Then check out our coverage of Ladenburger Spielzeugauktion's November Steiff special.
Media Source
Follow
More in the auction industry