Phillips' Valentine's Day Sale Celebrated Love and Compassion the Kawaii Way
This February, love and compassion reigned during Phillips' Valentine's Day sale. The Japanese culture of kawaii, the cute or lovable factor, inspired the My Kawaii Valentine auction. The week-long sale started on February 14, 2022, marking Valentine's Day in the West and the Lantern Festival in the East. Offerings included kawaii, companionship, self-appreciation, and sexuality-themed lots.
As the month of love ended on a sweet note for Phillips, Auction Daily takes a look back in appreciation of the kawaii sale. The auction reflected on the culture of kawaii with a new perspective: one must learn to love oneself to find love from others.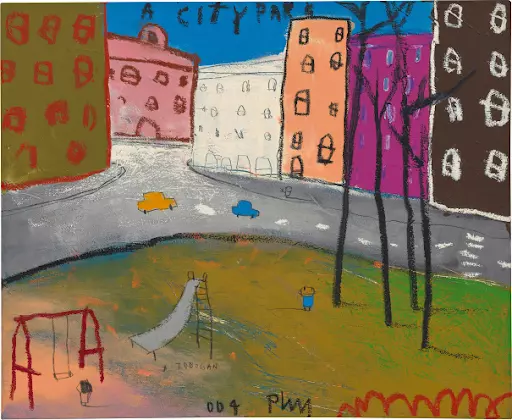 Edgar Plan's A City Park fetched HKD 478,800 (USD 62,500), more than its highest estimation. The Spanish contemporary visual artist is better known for work like Lil' Heroes with an entertainment franchise in collaboration with Exile Content Studio and Curatible. His love for children's comic characters started when he was a budding artist. A City Park gives us a glimpse of a city from a fun perspective. Plan has mentioned in interviews that he is as much a traditional oil painter as he is a digital one. The only difference between the real and digital is that in the digital realm, art can be interactive, alive, and can take on a life of its own.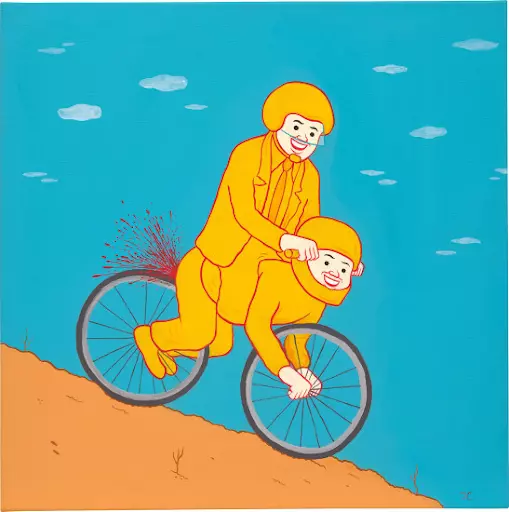 During Phillips' Valentine's Day sale, Joan Cornellà's untitled painting achieved HKD 302,400 (USD 38,700). It exceeded its highest estimation of HKD 200,000 (USD 25,600). It is an acrylic on canvas painted in 2016 with the artist's initials on the lower right corner. Its vibrant colors and vivid imagery of two figures on wheels leaving bright red sparks behind them is not only eye-catching but also seems to go with the theme of kawaii. Joan Cornellà is also a Spanish cartoonist, but his works are different than those of Edgar Plan. His artworks have a sense of seriousness even in a cartoon because of their unsettling, surreal, black humor.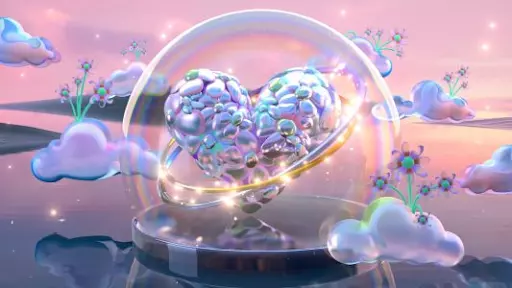 Phillips' Valentine's Day sale also introduced a ground-breaking NFT from MonoC and composer Terrance Ma. NFTs were the highest-selling lots in the My Kawaii Valentine auction. MonoC's ground-breaking, data-driven algorithm Drowning in Love is a dreamlike, abstract, and immersive experience. It is a virtual human who is programmed to think, act, and feel like a real human being. It is a generative artwork created in part by real-time data drawn from the participation of bidders in the Valentine auction. MonoC partnered with Terrance Ma for the accompanying music and the visual aspect of this digital artwork. Ma is a leading Hong Kong composer. Bidders recognized the artists' efforts to create a carbon-positive digital work to support forest and wildlife conservation in Brazil. Drowning in Love collected HKD 189,000 (USD 24,180).
Another notable Kawaii-themed NFT was Pomme Chan's Falling for You. The catchy background music is from Anime Dreams, composed and published by Achillefs Sourlas. It was inspired by the moment of encounters with someone special when butterflies are felt in the stomach. The budding of romance is depicted with a colorful heart and fluffy clouds. Chan is a Thai artist, interior designer, illustrator, and founder of Happy People Studio in Bangkok. She also keeps changing her method of designing, keeping it flowy rather than rigid. Everyday life, music, movies, culture, and architecture are her sources of inspiration.
Phillips' Valentine's Day sale offered a selection of unique and edition works by Katherine Bernhardt, Gina Beavers, Julian Opie, Javier Calleja, Ayako Rokkaku, Damien Hirst, Mr. Doodle, and Takashi Murakami alongside a series of NFT artworks. Visit Phillips for the complete auction results.
Looking for more content that celebrates love? We selected the best sweets for your sweet this past Valentine's Day.
Media Source
Follow
More in the auction industry