Korea News: Jeju Biennale Presents an Art Island Dreaming of Symbiosis With Nature
Jeju Island, the largest island in Korea, has turned into an art island through the Jeju Biennale, which was held again after five years. Thanks to its outstanding natural scenery, Jeju, known as an island of travel and tourism, boasts different scenery through art. In addition, in the face of the huge global proposition of the climate crisis, it awakens human awareness and senses under the theme of restoring the vitality of nature and the universe. The history and culture of Jeju are clearly highlighted through the prism of art.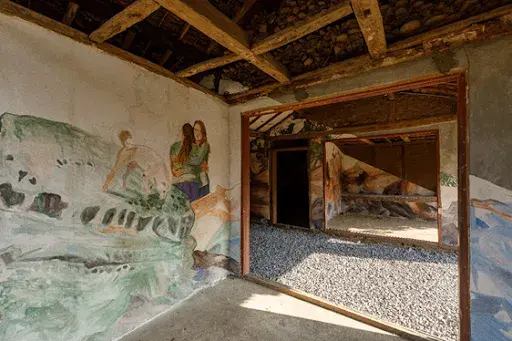 The Jeju Biennale, under the theme of 'Flowing Moon, Embracing Land,' will be held until February 12, 2023. Teams from 16 countries participated and presented 165 works. Various works can be found at six exhibition halls, including the Jeju Museum of Art, Jeju Museum of Contemporary Art, International Peace Center Jeju, Samsunghyeol, Gapado Island, and Jeju next door to the art museum. As a result, it raises expectations that an 'art island' can appear in Korea like Naoshima, Japan, which was newly born with nature and modern art.
Artistic Director Park Namhee, who organized the exhibition, said, "The Jeju Biennale started with finding artistic practice for global symbiosis in the era of climate crisis. Jeju, where climate and various ecological environments created unique history and culture, is a place to think of a natural community, and 'Flowing Moon, Embracing Land' implies the coexistence and tolerance of a world."
The theme museum is the Jeju Museum of Art and the Jeju Museum of Contemporary Art. The Jeju Museum of Art presented works by 33 domestic and foreign artists who have been working on nature. These include Kim Sooja's Breathing, which shows reflection on women's lives across genres such as performance, video, and installation; John Akomfrah's Tropicos, a work from the British artist of Ghanaian descent who has participated in the global Black cultural movement for more than 30 years; and Art Furniture artist Choi Byunghoon's Beginning 2022. At the Jeju Museum of Contemporary Art, where media art-oriented works are located, world-renowned media artist Quayola of Italy presented Promenade on the theme of nature seen with the eyes of machines. Hwang Sooyeon, who carved physical properties and shapes with paper and pencils, showed Big Head Wave.
Other interesting works await visitors in the satellite exhibition halls. There are frescoes in the deserted house of Gapado Island, one of the islands affiliated with Jeju Island, which has been around for more than 80 years. The Green Cave, painted by Italian artist Agnese Galiotto while staying here for more than four months, is a painting in five rooms containing her childhood and time spent in Gapado Island. She regarded the deserted house as an ancient Pompeii mural mansion buried in the eruption of Vesuvius and put a landscape of animals, plants, and humans on the wall. In addition, Hong Lee Hyunsook installed Things That Came to Gapado Island inside the Gapado Glass House. It is a work in which green barley seeds are sprinkled on top of garbage such as styrofoam buoys and plastics that have been pushed to the island. It raises awareness of marine waste that threatens life and wishes for a symbiosis between humans and nature.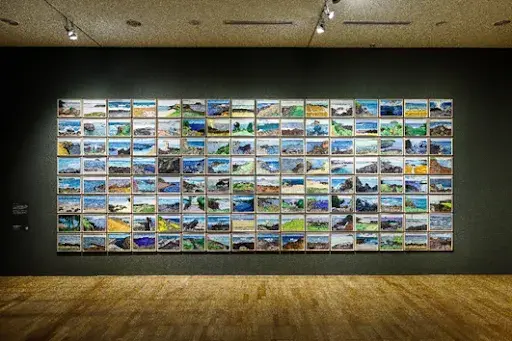 At the International Peace Center Jeju, works related to the Jeju sea meet the audience. There is Lee Seungsoo's Bulchuck, which expands the community's understanding through the collection of haenyeo (female diver) uniforms; and Noh Seokmi's Front View of the Sea, a painting that shows the Jeju sea over the course of a year. Samsunghyeol welcomes visitors with Ting Tong Chang of Taiwan's Blue Sea Women, Park Jihye's Three Gates and One Mirror, and Shin Yesun's Moving Garden, which allows visitors to experience the air and wind of trees. In Jeju next door to the art museum, there is Untitled 2022, a work by Thai artist Rirkrit Tiravanija, who presents installation art and performances that awaken the importance of the community with audience participation as the core of the work.
More information on the Jeju Biennale can be found on the event's website.
Media Source
Follow
More in the auction industry