Korea Art News: Korean Art Auction's Highest Bidders Appear in Three Years
During a Christie's Hong Kong auction on November 23, 2019 at the Grand Hall of the Hong Kong Convention and Exhibition Centre (HKCEC), there was a fierce competition between the floor and telephone bidding lasting more than ten minutes for an artwork. The auction price, which started at about HKD 42 million (KRW 6.3 billion), easily exceeded HKD 67 million (KRW 10 billion). As questions grew about who would win the bid, the competition on the site heated up. Finally, the telephone bidder made a winning move. About HKD 88 million (excluding purchase fees, KRW 13.2 billion) was the final winning bid.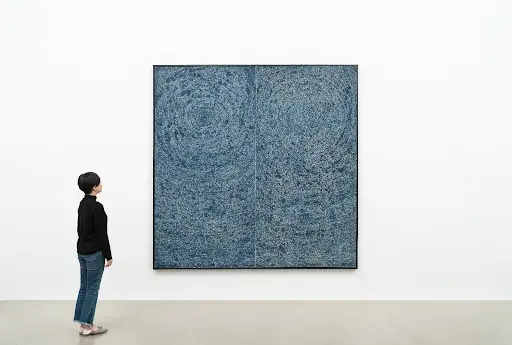 It was an auction that rewrote the history of Korean art. It was the first case in the history of Korean art auctions to exceed KRW 10 billion and the highest number of Korean artists. This artwork is 5-IV-71 #200 (Universe) by artist Kim Whan-ki (1913 – 1974). At the time, the identity of the winning telephone bidder was unknown.
Universe, which easily exceeded the estimated bid price of KRW 7.3 billion to 9.5 billion, received attention even before the auction began. At that time, Christie's worked so hard that it published an abstract for the work. This painting, the only two-width piece by Kim, is a masterpiece that symbolizes the energy and mystery of the universe, dealing with dual beings such as the sun and moon, light and shadow, women and men. The total size is 254×254cm, and the point filled with squares forms a huge universe by drawing a blue circle.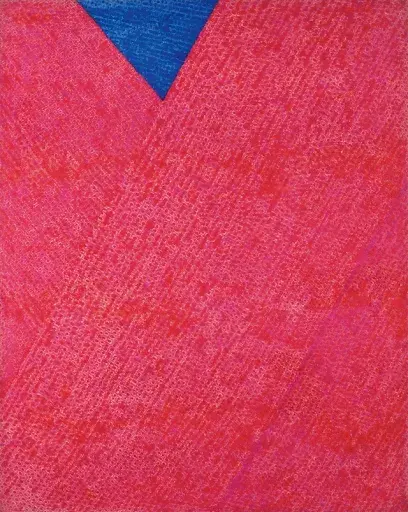 Kim made the work in the 1970s while staying in New York. The chronology of Kim's works is largely divided into Tokyo/Seoul (1933-1955), Paris/Seoul (1956-1962), and New York (1963-1974). During the New York era, Kim actively used dot, line, and surface to pursue paintings that formed a universal consensus beyond national colors. The first buyer of the work was Kim Ma-tae, a supporter, friend, and doctor of artist Kim. The work, which Kim Ma-tae had owned for more than 40 years, was auctioned in 2019. This auction attracted a lot of attention because it was a work that was watched by auction houses and galleries around the world, including in Korea. Space broke Kim's auction record. Previously, the highest record was 3-II-72 #220 (1972), which was sold at the Hong Kong auction with Seoul Auction in May 2018, for HKD 62 million (KRW 8.53 billion).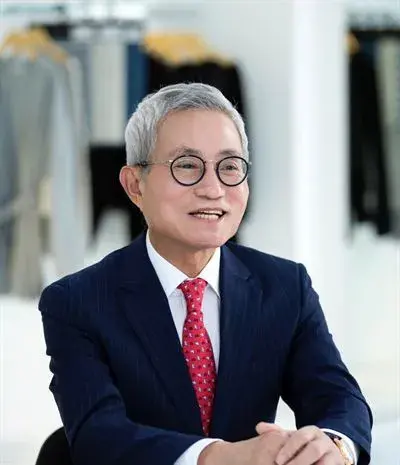 Despite this popularity, the owner of the most expensive painting in Korea was veiled. However, in July, the successful bidder for Universe was revealed: Kim Woong-ki, chairman of Global Sae-A Group. As Global Sae-A Group announced the opening of Gallery S2A in Seoul, it announced that Chairman Kim Woong-ki has Universe. Global Sae-A Group started with clothing manufacturing and export in 1986 and has affiliates such as F&B, construction, paper/packaging, and IT. In particular, the company is currently in the process of acquiring Ssangyong Engineering & Construction (Ssangyong E&C) with synergy in mind with its construction subsidiary. With the opening of Gallery S2A, it is also stepping into the culture and arts business. Although the timing has not been decided, it is also known that Universe will be unveiled through special exhibitions.
——————————————————————————————————————–
[ KOREA ART NEWS ] 한국 미술품 최고가 '우주' 낙찰자 3년 만에 밝혀져
지난 2019년 11월 23일, 홍콩 홍콩컨벤션전시센터(HKCEC) 그랜드홀에서 열린 크리스티 홍콩 경매. 한 미술품을 놓고 현장과 전화 응찰이 오가며 10분 이상 치열한 경합이 펼쳐졌다. 약 63억 원(4,200만 홍콩달러)에서 시작한 경매가는 100억 원(6,700만 홍콩달러)을 훌쩍 넘어섰다. 누구에게 낙찰될지 궁금증이 커지며 현장 열기는 달아올랐다. 마침내, 전화 응찰자가 승부수를 던졌다. 약 132억 원(구매 수수료 제외, 8,800만 홍콩달러)이 최종 낙찰가였다.
한국 미술품 역사를 다시 쓴 경매였다. 한국 미술품 경매 사상 처음 100억 원을 넘긴 사례이자 한국 작가 최고가였다. 이 미술품은 김환기(1913∼1974) 화백의 '우주(Universe 5-IV-71 #200)'. 당시 전화 응찰자는 누구인지 밝혀지지 않았다.
낙찰 추정가 73억~95억 원을 훌쩍 넘어선 '우주'는 경매 시작 전부터 주목받았다. 당시 크리스티는 이 작품을 위해 도록을 출간할 정도로 공을 들였었다. 김환기 작품 가운데 유일하게 두 폭으로 만들어진 이 작품은 해와 달, 빛과 그림자, 여성과 남성 등 이원적 존재를 다루면서 우주의 기운과 신비를 상징한 대작이다. 전체 크기는 254×254㎝에 이르며 정사각형을 빼곡하게 채운 점이 푸른 원을 그리면서 거대한 우주를 이룬다.
김 화백은 뉴욕에 머물던 1970년대 이 작품을 그렸다. 김 화백의 작품 연대기는 크게 동경/서울(1933~1955), 파리/서울(1956~1962), 뉴욕(1963~1974)으로 나뉜다. 김 화백은 뉴욕 시절, 점·선·면을 적극적으로 활용하면서 민족적 색채를 넘어 보편적인 공감대를 형성하는 회화를 추구했다. 이 작품의 최초 구매자는 김 화백 후원자이자 친구, 주치의였던 김마태였다. 그는 40년 이상 소장했던 이 작품을 2019년 경매에 처음 내놨다. 한국을 비롯한 전 세계 경매사와 화랑이 눈독 들였던 작품이었기에 이 경매는 큰 관심을 끌었다. '우주'는 김 화백의 경매 기록을 갱신했다. 이전까지 최고가 기록은 2018년 5월 서울옥션 홍콩경매에서 팔린 붉은 점화 '3-Ⅱ-72 #220'(1972년 작)으로 85억3,000만 원(6,200만 홍콩달러)이었다.
이 같은 화제성에도 한국에서 가장 비싼 그림의 소유주는 베일에 싸여 있었다. 그런데 지난 7월 '우주' 낙찰자가 드러났다. 김웅기 글로벌세아그룹 회장. 글로벌세아그룹이 서울에 갤러리 S2A 개관 소식을 알리면서 김웅기 회장이 '우주'를 소장하고 있다는 사실을 알렸다. 글로벌세아그룹은 1986년 의류 제조·수출로 시작해 F&B, 건설, 제지/포장, IT 등의 계열사를 품고 있다. 특히 최근 건설 자회사와 시너지를 염두에 두고 쌍용건설 인수 절차를 진행 중이다. 글로벌세아는 갤러리 S2A 개관과 함께 문화예술 사업에도 발을 디디고 있다. 시기는 결정되지 않았지만, 기획전 등을 통해 '우주'도 공개할 것으로 알려졌다.
Media Source
Follow
More in the auction industry