John Moran Auctioneers Concludes Modern and Contemporary Fine Art Sale With Success
John Moran Auctioneers' Modern and Contemporary Fine Art auction concluded on February 16, 2022. The event found success with the sale of 140 works in Impressionist, abstract, and figurative styles. Several young, emerging, and renowned modern artists were represented in the live auction, including Martha Alf, Thomas Fougeirol, and Sudarshan Shetty.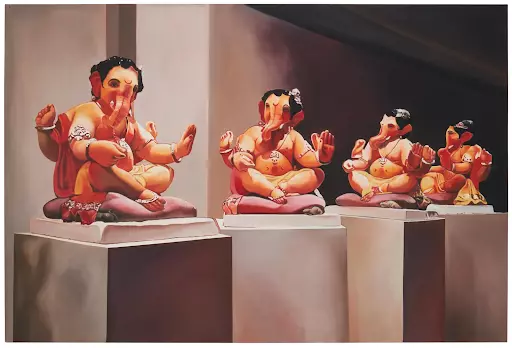 Sudarshan Shetty's untitled work went under the hammer in John Moran Auctioneers' recent fine art event. The oil and acrylic painting drew competitive bidding, which pushed its final price past the high estimate of USD 5,000. The hammer price was $10,000. The vibrant piece shows four sculptures of Lord Ganesh, a deity who is widely followed and celebrated in Hindu culture. The figures are seated in the same position; however, they face in different directions.
Sudarshan Shetty was born in 1961 in Mangalore, India. He is best known for his contemporary paintings and sculptural installations. Cultural elements inspire many of his compositions. Shetty is currently living and working in Mumbai. "Shetty's works are culturally grounded and contextually rooted and yet of wondrous appeal to anyone who encounters it. His seemingly simple juxtaposition invokes a visceral reaction," writes Shraddha Nair for STIR.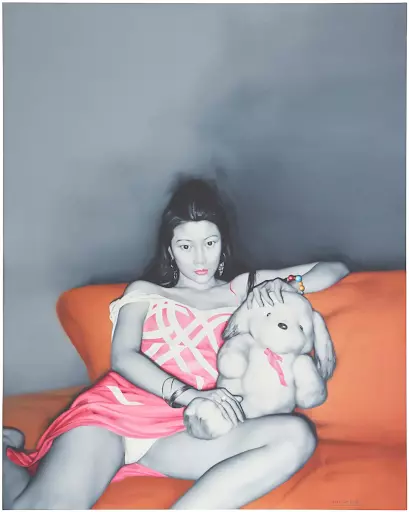 John Moran Auctioneers also offered He Sen's Pretty Dudu and Pretty Toy. It sold for $1,250. The acrylic and oil work has He Sen's signature at the bottom right corner. It captures the melancholy of a young woman clothed in pink and white lingerie. She holds a doll with a pink bowtie.
He Sen was born in 1968 in Yunnan Province, China. He studied at the Sichuan Academy of Fine arts under the preeminent Chinese painter Zhang Xiaogang. During his study period, He Sen became familiar with the expressionist Sichuan style, which can be seen in many of his paintings. His artworks also show a blend of traditional features and contemporary styles.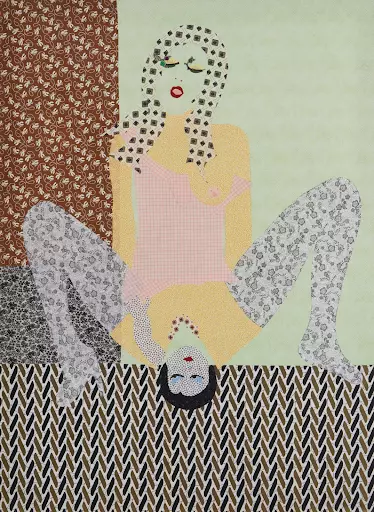 Also available in the online auction was a Lara Schnitger work titled Sexy Bitch. The piece is a fabric collage over a wooden stretcher. It achieved $750 at auction. Schnitger is a Dutch-American sculptor and painter who addresses themes of feminism, fashion, and sexuality through large-scale sculptures and images. Her expressive paintings portray the reality of the social dynamics of a patriarchal society.
Other notable results from this auction included Martha Alf's Untitled photographs ($2,813), Thomas Fougeirol's Untitled ($2,813), and Andre Thomkins' Maldorer ($1,625).
On March 1, 2022, John Moran Auctioneers presented another Winter Modern & Contemporary sale. It featured a myriad of contemporary and post-war paintings, including work by prominent names such as Lita Albuquerque, Charles Arnoldi, Roberto González Goyri, Roy Lichtenstein, and Vija Celmins.
Do you want to learn about successful auction results? Earlier this year, we analyzed key trends in the market based on the latest 2021 auction results.
Media Source
Follow
More in the auction industry