Fine Rugs, Abstract Expressionist Paintings, and More Will Cross the Block With 1stBid
At 1stbid this October, an exceptional selection of vintage and antique rugs will soon come to market. The offerings include stellar examples from Turkey, Persia, and India, as well as a selection of uncommon French Art Deco spreads. The sale will start at 2:00 PM EDT on October 16, 2022. Interested collectors can participate live or online via Bidsquare.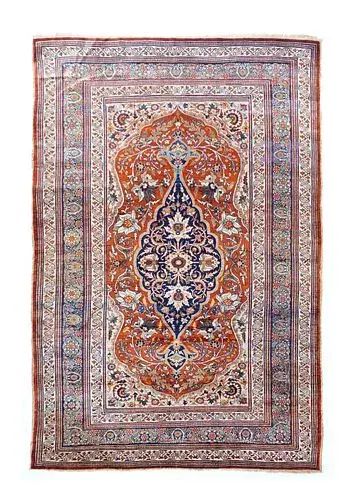 Leading the catalog is an antique Bakhtiari rug that bears rich shades of navy blue, ivory, and crimson (lot #7422; estimate: USD 35,000 – $45,000). Woven by people in the Bakhtiari tribes of the Zagros Mountains, Bakhtiari rugs are famous for bridging tribal aesthetics and Persian ideals. In particular, this style of carpet uses bold colors, crisp designs, and articulated medallions to add layers of richness and complexity. The available Bakhtiari carpet measures 6'5" by 8'1" with a delicate fringe along the short sides. Flowers and vines dominate the center medallion, while a triple border brings the viewer's eye toward the center.
Also notable are two antique Heriz rugs, both featuring rich jewel tones. The first is a room-sized carpet that uses the characteristic rectilinear forms of Heriz rugs (lot #748; estimate: $18,000 – $25,000). Jagged lines and clear outlines accent a swirling network of foliage and arabesques. The second key Heriz rug in the sale embraces a more muted shade of red, nearing salmon pink in some areas (lot #744; estimate: $18,000 – $25,000). It bears an elongated medallion in the center, as well as a highly structured border.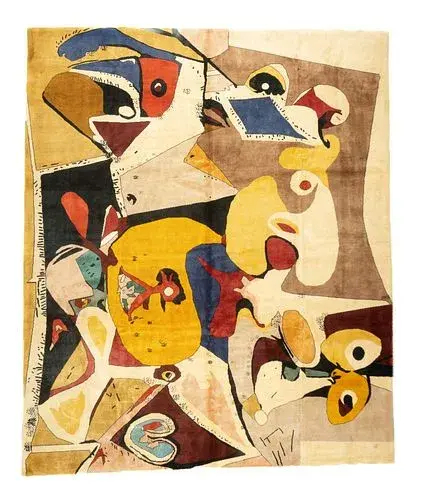 A French Art Deco rug by an unknown artist will also be available (lot #8236; estimate: $20,000 – $25,000). It features Picasso-esque faces and indistinguishable forms boldly crammed into the rug's square canvas. Another French Art Deco rug in the catalog embraces abstraction (lot #8233; estimate: $18,000 – $20,000). Zig-zags and off-brown squares spark visual interest.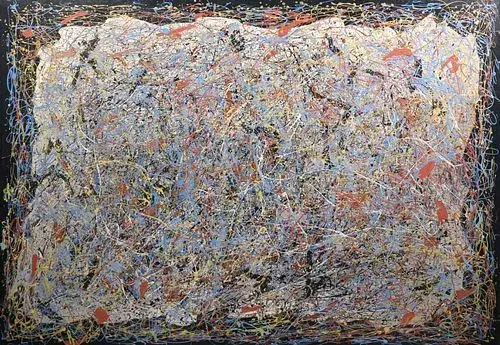 Part of this auction is dedicated to fine works of art attributed to some of the greatest artists of the 20th century. This includes an abstract oil on canvas painting attributed to Jackson Pollock (lot #2000; estimate: $40,000 – $60,000), a splatter painting attributed to Sam Francis (lot #1007; estimate: $45,000 – $65,000), and an oil on board painting attributed to John Marin (lot #1002; estimate: #12,000 – $15,000).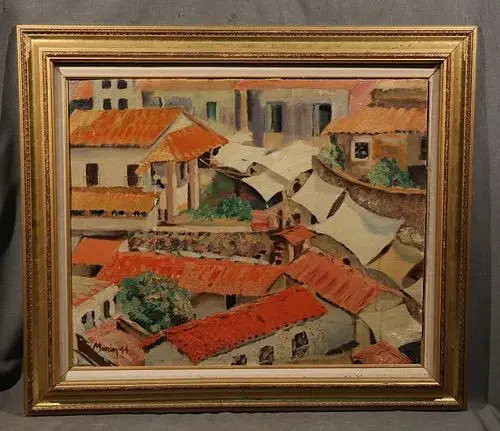 The sale features other items of note:
An antique Kazak rug with a geometric design (lot #8028; estimate: $20,000 – $25,000)
A sculpture depicting a solder walking a dog, attributed to Pierre-Jules Mêne (lot #1004; estimate: $12,000 – $15,000)
An antique violet Manchester Kashan rug (lot #8129; estimate: $8,000 – $10,000)
A pair of 19th-century Japanese paintings (lot #1010; estimate: $6,000 – $8,000)
1stbid deals in authentic antique and vintage hand-woven rugs and other objets d'art acquired across the globe from France to Iran, Morocco to China. Every item on offer has been hand-picked and assessed according to the discerning eye of proprietor Victor Mashihi, whose family has sold rugs & objects of Art to royalty and other select clientele since his grandfather opened a gallery in Cairo in 1916. The 1stbid collection can be viewed at gallery locations open seven days a week in Manhattan and Georgetown, Washington DC, or bid upon from the convenience of home in monthly auctions hosted on the company website and on other platforms.
The upcoming Exceptional Auction of Antique & Vintage Rugs will begin at 2:00 PM EDT on October 16, 2022. To view the complete catalog and register to bid, visit Bidsquare.
Media Source
Follow
More in the auction industry