Cheers! TavernTrove's July Quality Beer Advertising Auction
A cold beer and the hazy, lazy days of July go hand in hand. So the timing could not be more perfect for TavernTrove's July Quality Beer Advertising Auction. This sale, to be held on July 30, 2022, offers nearly 460 lots of primarily early to mid-20th century breweriana– beer or brewery-related materials including advertising, bottles, signage, neon fixtures, serving trays, mirrors, and ephemera. Thirsty to learn more? Here are a few refreshing highlights from this well-curated event.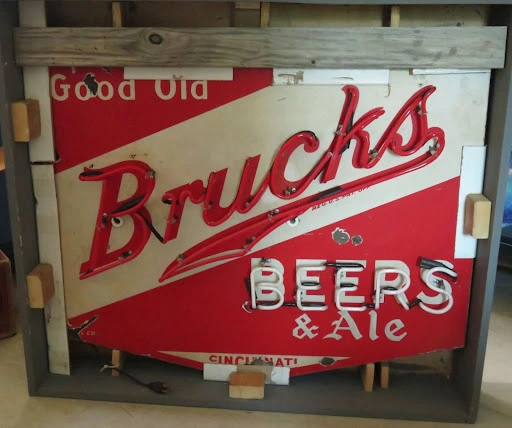 It's the best of both worlds with this first auction highlight. This is lot #57, a handsome Bruck's Beer outdoor porcelain and neon sign from circa 1940. Estimated at USD 3,600 to $5,400, this single-sided, mostly red and white sign measures approximately 50 inches by 36 inches. It is in working condition and reads "Good Old Bruck's Beers & Ale Cincinnati." Bruck's Beer was brewed in Cincinnati, OH by the Bruckmann Brewing Company. Two German immigrant brothers founded the company in 1865. It survived the Prohibition era by brewing root beers, sodas, and other "legal" beverages.
Time is on the side of lot #234, a backlit advertising clock, estimated at $720 to $1,080. This 15-inch diameter example in working condition is from the Kessler Brewing Company. Kessler operated out of Helena, MT from 1865 to 1958. The clock itself is primarily cobalt blue, red, and white, with black hour and minute hands and a red second hand. Kessler's tagline, "Brewed From Mountain Spring Water," appears below the company's name. The clock itself was made by PAM, a company from Brooklyn, NY that produced specialty backlit advertising clocks, thermometers, and signs in the 1940s through the 1970s.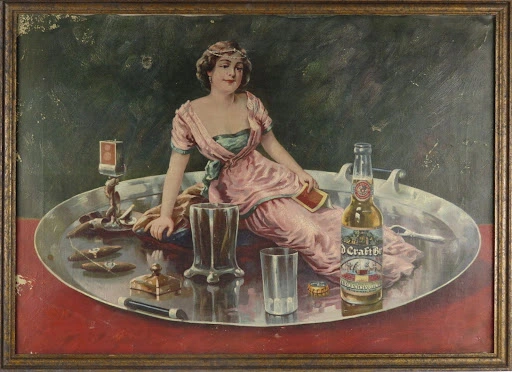 This next beer-related highlight is pretty as a picture: lot #296, a framed oilette style advertising image from the Leisen & Henes Brewing Company. This company was located in Menominee, MI and was in business from 1870 to 1950. The framed image is estimated at $640 to $960 and measures approximately 22 inches by 30 inches. It features a flirtatious, attractive woman lounging on a serving platter, surrounded by snuff-box cigars, glasses, and a bottle of Old Craft Brew Beer. According to the auction house, this example is one of four extant. Oilette images were prints designed to look like original oil paintings and featured prominent faux brush strokes to add to the illusion.
Also on offer with TavernTrove is a fine selection of metal beer serving trays. Of royal stature is lot #299, an Old King Cole Beer tray, estimated at $216 to $324. This 12-inch example is red, white, and blue and features a head shot of a mellow, long-haired king wearing a simple crown. It reads, "Old King Cole Beer, Pittsburgh Brewing Company, Uniontown, PA." Unlike many other manufacturers featured in this sale, the Pittsburgh Brewing Company is still in business. It began operations around 1861 and today is one of the nation's oldest and largest breweries. Pittsburgh Brewing Company made Old King Cole Beer in bock and pilsner between 1935 and 1948.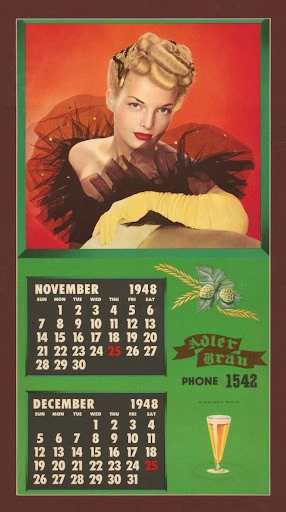 And finally, this sale's selections of ephemera is certain to make a lasting impression on breweriana fans worldwide. Of note is lot #10, an unused November/December 1948 calendar page from Adler Brau, estimated at $200 to $300. This nearly new page is mounted on brown artboard. Typical of its early-mid-century era, the image spotlights a glamorous woman in gloves and a toile dress looking seductively towards the viewer.
Adler Brau was the flagship beer of Appleton, WI's George Walter Brewing Company. Adler Brau– which translates from the German to Eagle Brew– debuted in the early 1900s. It was in practically continuous production until the brewery went out of business in 1972.
For more information on TavernTrove's July 30, 2022 Quality Beer Advertising Auction, visit Bidsquare.
For more collectible news, check out Auction Daily's coverage of vintage Steiff items at Ladenburger Spielzeugauktion.
Media Source
Follow
More in the auction industry