Auction Review: Astonishing Prices for Vintage Steiff Items at Ladenburger Spielzeugauktion
At Auction Daily, we have been watching Ladenburger Spielzeugauktion's June 25th, 2022 Special Steiff Auction for several weeks– and the sale did not disappoint, hammering at EUR 268,000 (USD 279,367). This signature event, held annually in Giengen, Germany, presents the finest button-in-ear rarities of the year, as well as breathtaking results for vintage Steiff items. Here are a few highlights from the 122-lot sale and why they might have caught the eye of bidders worldwide.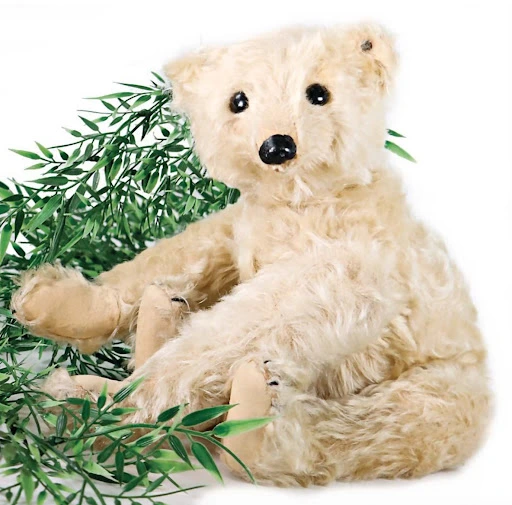 Steiff is best known for its Teddy bear production, and the company's premier, early turn-of-last-century cubs traditionally generate top dollar at auction. Lot #6104, a circa 1904 to 1905 white mohair rod jointed bear, had an opening bid of €2,500 / $2,606 and hammered at €43,000 / $44,823. This remarkable rarity, in practically like-new condition, was the ultimate package in terms of age, condition, earliest elephant style button ID, and classic presentation.
Lot #6107, a circa 1928 to 1930 brown tipped mohair Petsy the Baby Bear, had an opening bid of €6,500 / $6,775 and hammered at €42,000 / $43,781. His impressive size, fabulous coloring, big blue eyes, and irresistible personality clearly called to multiple collectors. And lot #6118, a circa 1926 deep chocolate brown mohair bear with lovely and distinctive IDs, had an opening bid of €850 / $866 and hammered at €22,000 / $22,933. Perhaps the greatest "price mystery" of the sale– this sweet treat obviously resonated with two passionate bidders who were almost equally determined to bring him home.
Extraordinary farm and wild animals were also well represented in this auction's winner's circle. Lot #6019, a collection of six tiny, turn-of-last-century velvet critters, had an opening bid of €1,200 / $1,250 and hammered at €4,900 / $5,107. The set included an elephant, cat, pig, rabbit, and two dogs, each with their original and early ID. Each pet measured from seven to 11 centimeters; it is most unusual to find this specific grouping and even more so in outstanding condition.
Lot #6007, a 26-centimeter Jocko the Chimp made from artificial silk plush, had an opening bid of €180 / $187 and hammered at €3,200 / $3,335. This example from 1945, based on the company's legacy monkey design, was rendered in a very rare material, was in excellent condition with great coloring, and had highly desirable IDs. And lot #6008, a pint-sized orangutan from the early 1930s, had an opening bid of €330 / $344 and hammered at €3,100 / $3,231. This finely constructed monkey pattern, with distinctive seaming, delicate facial painting, and fabulously colored mohair, is seldom if ever seen on the secondary market.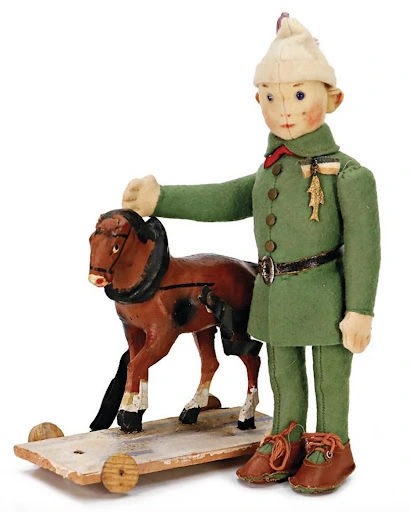 Collectors of vintage Steiff items also took note of the antique felt character dolls. Lot #6096, a 21-centimeter doll representing a young man in a fitted green suit, had an opening bid of €330 / $344 and hammered at €4,200 / $4,378. He was made in the desirable circa 1916 to 1919 time frame, in very nice original condition, and donned a seldom-seen outfit. And lot #6020, an exceptional 30-centimeter doll in the form of Moritz (from Wilhelm Busch's classic children's book Max and Moritz) on a four wheeled cart, had an opening bid of €850 / $886 and hammered at €4,100 / $4,273. This pull toy, produced between 1916 and 1926, featured Moritz as a driver; the doll oscillated back and forth as his vehicle was pulled along. Steiff's Max and Moritz dolls remain very popular with collectors– especially in Germany, where these characters are practically imbedded in the country's culture and literary tradition.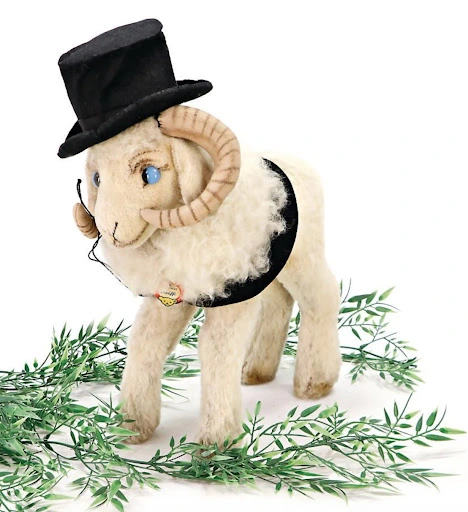 Seldom seen pre- and postwar button-in-ear vintage Steiff items rounded out this signature sale. Lot #6124, a 40-centimeter standing Billy Goat from c. 1959, had an opening bid of €220 / $229 and hammered at €3,800 / $3,961. This uncatalogued rarity was made from wool plush, decorated with a top hat, monocle, and caricature eyes, and produced for Scabal, a tailoring company known for its fine fabrics. And lot #6066, a tail-moves-head mechanical tabby Bulldog from the early 1930s, had an opening bid of €600 / $625 and hammered at €3,500 / $3,648. This exceedingly rare blue ribbon example was in lovely condition with strong colors and desirable IDs.
Auction Daily spoke with Ladenburger's Pia Fast Seidel after the sale. What was it like to auction some of the world's finest vintage Steiff items under the international spotlight?
"It was thrilling to be at the podium as many of these extraordinary Steiff pieces came up for sale," she told us. "I got a little nervous when bidding for the rod jointed bear crossed the 30,000 euro mark. My hands started shaking in excitement as I pointed between the competing phone, computer, and in-person bids, so I made fists to hide this. It was wonderful to hear the attendees clapping when it finally sold for 43,000 euro! This bear was the most expensive item I have ever professionally auctioned at a sale, so the entire experience was very meaningful to me."
Media Source
Follow
More in the auction industry