Buddha Statues Across Cultures, Continents, and Styles at Akiba Antiques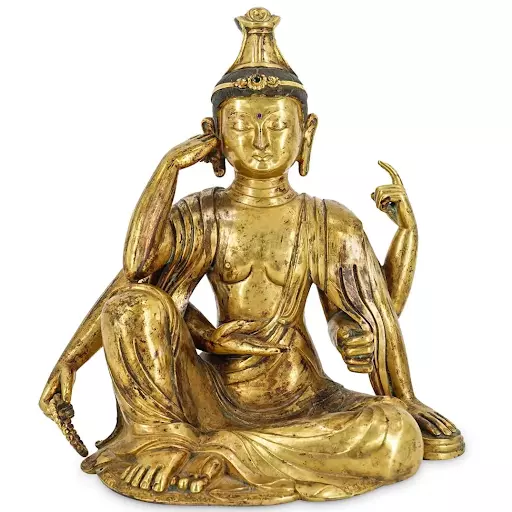 In the second century CE, Buddhist sculptors faced the challenge of depicting an enlightened being with few known physical characteristics. Early texts in the Buddhist canon debated what Gautama Buddha might have looked like. Meanwhile, artistic depictions of the Buddha drew equally from textual details and reigning design styles of the period. During India's Gupta era, for instance, some busts of the Buddha appear with a mustache.
Akiba Antiques' upcoming Lucky Numbers sale especially highlights Buddha statues from around the world. These works feature diverse physical characteristics and adornments, often inspired by cultures that embraced Buddhism hundreds of years ago. What are some of the top lots, and what makes these Buddha statues special?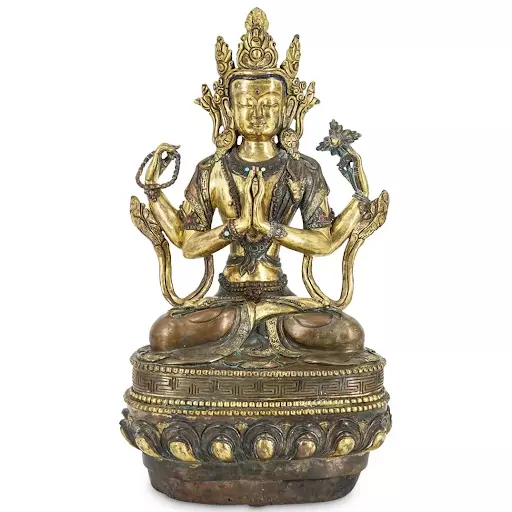 Characteristics of Buddha Statues
Despite their origins, most Buddha statues do not attempt to convey Gautama Buddha's exact likeness. They instead reflect his teachings. The poses and gestures of the Buddha convey both values and meditations for the viewer. As Buddhism spread through Asia, different cultures adapted the traditional characteristics of Buddha statues to create distinctly regional styles. These changes included the addition of local clothing and decorative embellishments.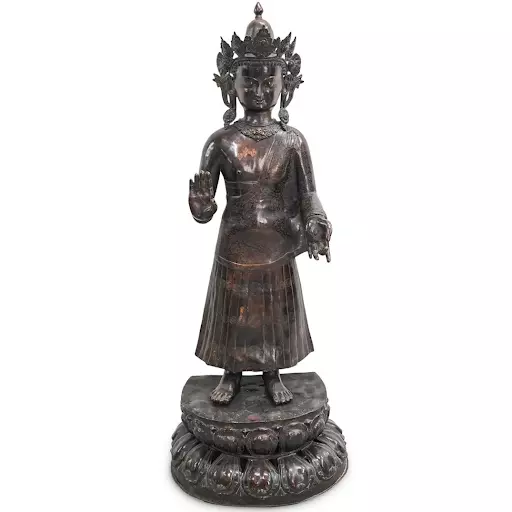 Tibetan Buddha Statues
Tibetan Buddha statues often sit or stand on lotus throne pedestals and are frequently made of gilded bronze. After Tibetan Buddhism evolved from Mahayana Buddhism and Vajrayana Buddhism around 500 CE, sculptors took inspiration from traditional Indian Buddhist art. Tibetan Buddhist art later developed its own distinct characteristics. Akiba Antiques will offer a notable Tibetan Buddha statue in the upcoming sale. This figure dates back to the 19th century or earlier, and it comes to auction with an estimate of $1,000 to $5,000.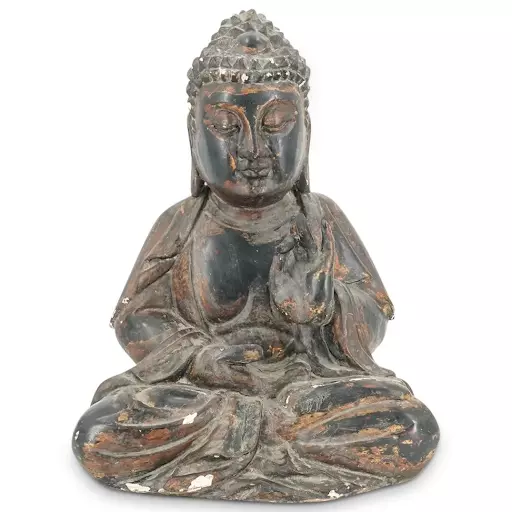 Chinese Buddha Statues
Buddhism spread to China during the Han dynasty period, and the Buddha's teachings quickly attracted followers. Buddha statues in China joined a long artistic tradition with recognizable elements. For example, Tang dynasty artisans favored robust physiques with simple monastic robes and elegant lines. This style predominated in Chinese Buddhist art for centuries. Under the later Ming dynasty, art and culture was prioritized and encouraged. Spiritual practices and objects associated with Buddhism, Confucianism, and Taoism coexisted in Ming society. A Chinese Buddha statue from the Ming dynasty period will soon cross Akiba Antiques' auction block. This 16th or 17th-century example is made of wood and lacquer. The statue has a presale estimate of $500 to $5,000.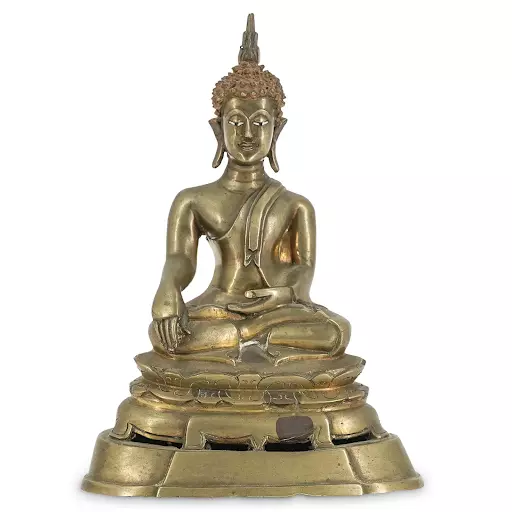 Thai Buddha Statues
Buddhism has long played a significant role in Thailand. The religion is closely tied to the national government and is a defining aspect of both historical and contemporary Thai culture. Gold and bronze remain the most common materials used for Thai Buddha statues; highly decorative details are common as well. An antique Thai Buddha statue is notable among the available figures in Akiba Antiques' Lucky Numbers sale this March. The 18th or 19th century piece features silver inlays to represent the Buddha's eyes. It has an estimate of $100 to $1,000.
Akiba Antiques will offer a diverse group of Buddha statues in the upcoming Lucky Numbers sale. Bidding starts at 12:00 PM EDT on March 29, 2022. Visit LiveAuctioneers for the complete catalog and to register to bid.
Looking for more in-depth analyses of upcoming auctions? We featured all that glitters in Akiba Antiques' A Golden Affair sale earlier this year.
Media Source
Follow
More in the auction industry