A Golden Affair at Akiba Antiques Brings All That Glitters
Akiba Antiques' second sale of 2022, A Golden Affair, will present a vast assortment of collectibles, fine jewelry, and other rarities. Fitting the name, this auction particularly highlights gold in all its forms. Discerning collectors will find 18-karat timepieces and jewelry alongside luminous works of decorative art. Auction Daily explores the top lots before the bidding begins.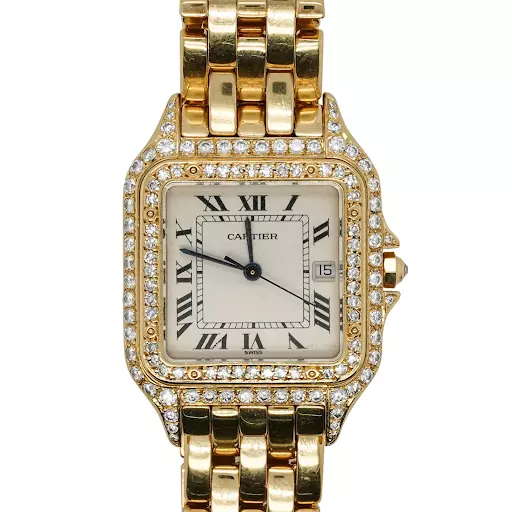 Luxury Timepieces
Key timepieces in this auction include a Cartier Panthère wristwatch with 18-karat yellow gold and diamond accents (lot #0008; estimate: USD 5,000 – $15,000). The panther motif is a long-standing icon of Cartier, though the first official Panthère wristwatch only appeared in 1983. Its purpose was always to bridge the gap between statement jewelry and watches. Today, there exist dozens of Cartier Panthère models using every possible combination of white gold, yellow gold, steel, and rose gold. The available watch features a yellow gold band, diamond bezel, enamel face, and quartz movement. Other luxury timepieces in the catalog include a Rolex Datejust and a Franck Muller Electra.

Vintage Jewelry
Wearable gold in the upcoming Akiba Antiques sale includes a variety of vintage jewelry items. Leading these lots is a Chimento 18-karat gold bracelet from the 20th century (lot #0033; estimate: $200 – $2,000). Established in 1964 by Adriano Chimento, the Italian luxury brand specializes in gold. It is based in the northeastern Italian city of Vicenza, which is also home to a robust precious metal economy. Chimento jewelry draws on traditional Etruscan patterns, 20th-century Modernism, and contemporary tastes. The available Chimento bracelet layers yellow gold with bands of black rubber. A single diamond marks the bracelet's clasp.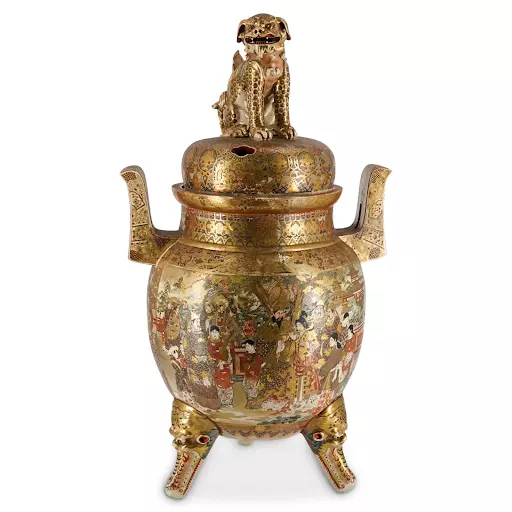 Japanese Decorative Art
In the late 19th century, a revived pottery style emerged in Kagoshima, Japan: Satsuma. These wares have a history that stretches back to the Genroku era of the late 1600s. However, Satsuma pottery experienced a revival as Meiji-era collectors outside of Japan noticed its craftsmanship and beauty. The style of Satsuma ware changed in the 1800s to follow the preferences of wealthy buyers. Formerly plain clay vessels transformed into brightly-colored urns, vases, and decorative art. Artisans covered Satsuma pottery in golden colors and flowers. While these are today recognized as hallmarks of the revived Satsuma style, Japanese potters created them primarily for export to foreigners.
Akiba Antiques' A Golden Affair sale features one of these lavish Satsuma urns (lot #0056; estimate: $4,000 – $12,000). It has a porcelain foundation, figural legs, and a komainu (lion dog) finial. A golden color spreads across a detailed scene with musicians, servants, and elaborately-dressed scholars.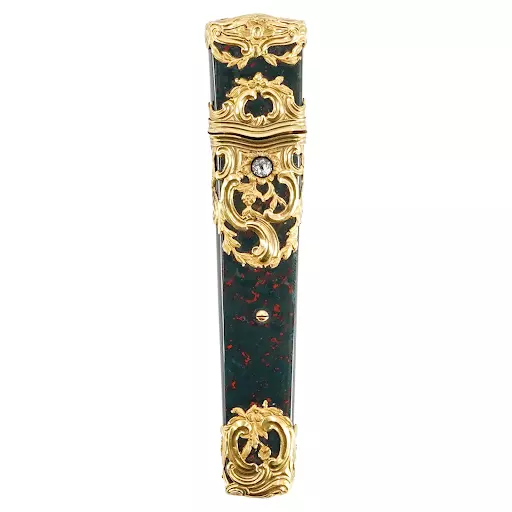 Gold-Accented Antiques
England's King George II ruled from 1727 to 1760. During this period, the country experienced border conflicts, a widening influence around the world, and a shifting balance of political power. Moderation in government yielded moderation in design. The elaborate curves and carved ornamentation that emerged under George I relaxed slightly under George II. Both furniture and decorative art followed this trend.
A gold-mounted etui in the moderate George II style is another key lot in the upcoming Akiba Antiques event (lot #0029; estimate: $2,000 – $6,000). This multi-functional ornamental case often held sewing needles, small personal items, or accessories. It is primarily made of bloodstone, a dark green type of chalcedony with blood-like drops of red. Swirling gold decorations accent the etui's main body without masking its colors or form.
Akiba Antiques' A Golden Affair auction will start at 12:00 PM EST on January 11, 2022. Find more information on Akiba Antiques' website, and register to bid on LiveAuctioneers.
Want to keep up with the latest sales? Auction Daily curates need-to-know information about upcoming events in our auction previews. Find top lots, prices, auction details, and more.
Media Source
Follow
More in the auction industry