Auction Result: Notable Works of Canadian Folk Art at Miller & Miller
The Canadiana and Decorative Arts auction, hosted by Miller & Miller, featured an array of Canadian folk art and decorative art from the late 19th century. Held on May 14th, 2022 at 9:00 AM EDT, the sale included a lineup of estate-fresh Canadian art by Maud Lewis, Joseph Swift, J. J. Kenyon, Homer Watson, and many others.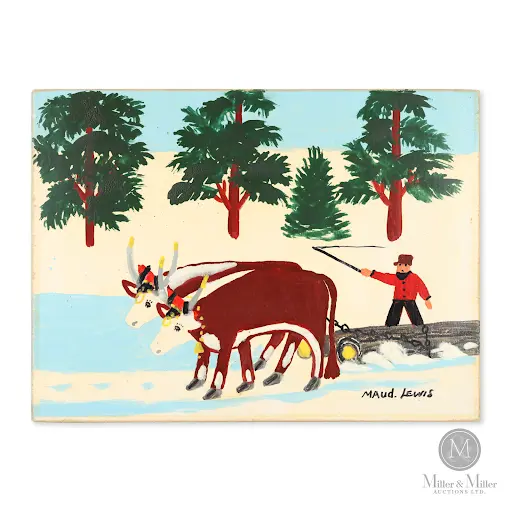 Maud Lewis (1901-1970)
Maud Lewis' paintings often invoked her childhood memories of rural South Ohio and Nova Scotia, where she grew up. She used bright colors in her paintings, and her subjects mainly included flowers, animals, birds, cats, and deer.
Lewis used to revisit the same subjects over and over again, each time offering a slightly different version. Included in the recent Canadian folk art sale was an oil painting by Maud Lewis. The piece reached well above the high estimate of CAD 25,000 (USD 19,165) and sold for CAD 75,000 (USD 57,500). The painting depicts a snowy scene with a man whipping two oxen while hauling logs. The scene is reminiscent of the rural parts of Nova Scotia where freshly cut logs were often hauled to local mills.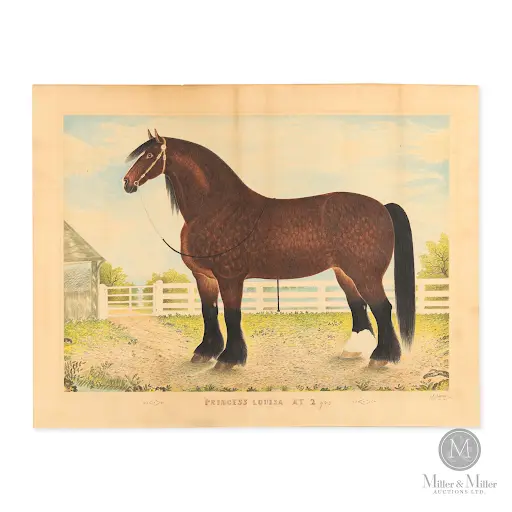 Joseph Swift (1832-1889)
Joseph Swift was known to capture images of horses and other livestock in a "primitive" style. Swift specialized in watercolor, highlighting the details of his subjects using stencils. Many of Swift's paintings centered on horses. A strong example of his style can be found in Princess Louisa at 2 yrs. The 1880 piece achieved CAD 8,500 (USD 6,525). In the painting, a brown horse stands still beneath a blue sky.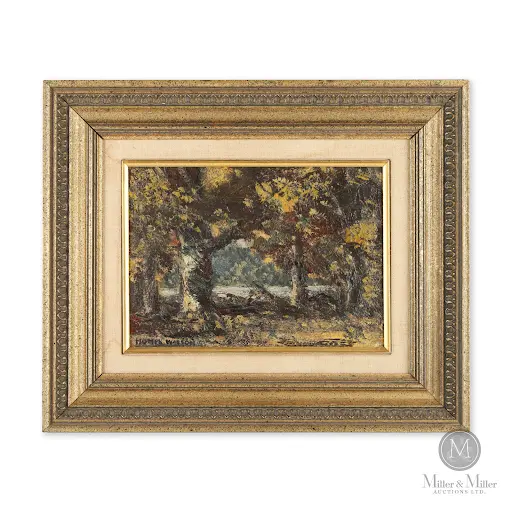 Homer Ransford Watson (1855-1936)
Homer Ransford Watson focused on painting the countryside of Ontario. He frequently blended romantic and realistic elements in his work. Watson was often characterized as a painter capable of capturing Canadian identity. His rural landscapes drew attention to his unique style as the central figure in Canadian art from the 1880s.
The recent Canadian folk art sale presented an untitled landscape painting from Homer Ransford Watson. The oil on canvas painting depicts the vestiges of spring flooding with a pile of branches partly gathered by the trees. Using a palette knife, the artist employed quick brushstrokes to create an impressionistic style. It sold for CAD 3,500 (USD 2,700).
The recent Canadian folk art auction also offered stoneware and pottery, fruit jars, furniture, oil lamps, trade signs, and quilts. View the complete results on Miller & Miller's website.
Interested in more auction results? Auction Daily recently covered a record-smashing sale of vintage Steiff items.
Media Source
Follow
More in the auction industry