Artists of Black History Month: Robert Colescott
Bonhams Sells Major Painting by Satirical Artist for $930,000
In 1997, painter Robert Colescott achieved international stardom for representing the American Pavilion at the Venice Biennale. He appeared alongside the likes of Rachel Whiteread, Agnes Martin, Marina Abramović, and Gerhard Richter. The exhibition, on the whole, had shifted away from painting toward film and video. Yet The New York Times described Colescott's "bright, luscious paintings, with their raucous figurative style and caustically ribald commentary on American racism" as one of the best showings of the Biennale. The event marked both a turning point in Colescott's career and a long-overdue milestone in American history: Colescott was the first Black American artist ever with a solo exhibition at a Venice Biennale.
One of the Robert Colescott paintings from the 1997 Venice Biennale came to auction with Bonhams this month. It sold for close to a million dollars, including buyer's premium. Who was Robert Colescott, and what is the significance of his art?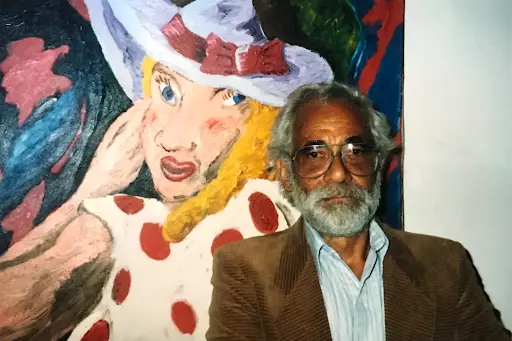 Robert Colescott grew up in a house filled with music. His parents played in classical and jazz styles. The young Colescott learned to appreciate creative arts at a young age. His family also nursed connections with the East Coast's Harlem Renaissance painters and local artists such as Sargent Claude Johnson. Colescott was preparing for higher education when World War II broke out. The military draft interrupted Colescott's budding career. When he returned to the home front, his perspective was permanently changed. Colescott had spent time in Paris and enjoyed freedoms that were denied to him as a Black man in America. He quickly earned a BA and MA, started teaching art, and turned his eye toward the history of the United States.
A trip to Cairo in 1964 sharpened Colescott's motivation. He was previously filling broad canvases with vibrant colors and figurative scenes. After Egypt, Colescott picked up the satirist's paintbrush. He started to rewrite Western art with a new rulebook. This involved inserting Black subjects in otherwise segregated works such as Édouard Manet's Dejeuner sur l'Herbe and Vincent van Gogh's Potato Eaters.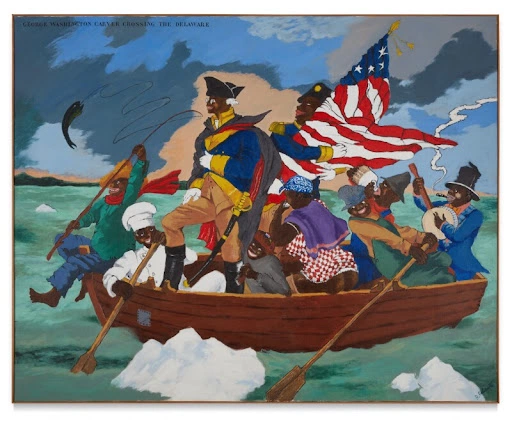 In other pointed parodies, Colescott completely reimagined a historical image to comment on destructive racial stereotypes, gender roles, and beauty standards. A 1975 painting titled George Washington Carver Crossing the Delaware: Page From an American History Textbook is a strong example from Colescott's mature political period. Riffing on Emanuel Leutze's iconic depiction of George Washington during the American Revolutionary War, this piece shows agricultural scientist George Washington Carver instead of the president. Carver was among the nation's most prominent Black scientists of the 20th century. He helped shift the American South's economy away from nutrient-depleting cotton.
Colescott re-imagined Leutze's painting to critique the glorification of slave owners like George Washington, as well as prevailing racial stereotypes in media. The process was intentional. "What I did was to take something that is admirable, mess it up, and make you question everything that the artwork stood for," Colescott said about the painting. The Lucas Museum of Narrative Art purchased George Washington Carver Crossing the Delaware at Sotheby's for USD 15.3 million in 2021.
Despite Colescott's urgent and biting critiques, the art world largely overlooked him during his lifetime. New York had other darlings in the 1970s, and Colescott never identified himself with movements on the West Coast or in the Midwest. His work appropriated imagery and twisted it beyond recognition. It offended as often as it inspired.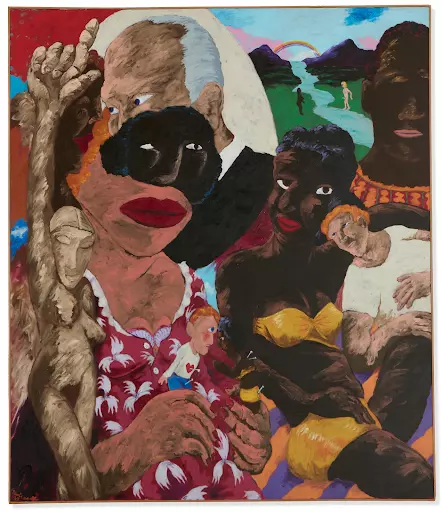 Bonhams auctioned Robert Colescott's 1989 White Boy masterpiece in February of 2022. The canvas moved between various museums after gracing the 47th Venice Biennale. It references Pablo Picasso's Demoiselles d'Avignon from 1907 and pictures an interracial couple to the right. A white woman on the left holds miniature versions of the lovers, sticking them with Vodou-style pins. Other details include a utopic scene of Adam and Eve, traditional African masks, and a glowing red base inspired by Renaissance techniques. It came to auction with an estimate of $800,000 to $1,200,000 before hammering at $930,312.
This work entered the market during Frieze week in Los Angeles and, more importantly, Black History Month in the United States. It also appeared amid a Robert Colescott revival. The artist passed away in 2009. Over a decade later, a major Colescott retrospective crossed the United States in a whirlwind tour. The ongoing show reflects on more than 50 years of artistry and social statements.
"Given the crises of race relations, political propaganda, and image manipulation in the current American landscape, Colescott's career has never been more relevant," said Lowery Stokes Sims, the curator of the Robert Colescott retrospective. "His perspectives on race, life, social mores, historical heritage, and cultural hybridity allow us to forthrightly confront what the state of global culture will be in the immediate future."
February is Black History Month in the United States, Canada, the United Kingdom, and elsewhere. This article is part of a series featuring notable Black artists of the past and present. Check out our profile of contemporary painter Titus Kaphar.
Media Source
Follow
More in the auction industry