Artists of Black History Month: Titus Kaphar
Contemporary Artist Expands Historical Art Canon to Include Black Americans
History is never far from the brush of contemporary American artist Titus Kaphar. He does not view the past as a fixed point that is untouchable or irrelevant to the present. Instead, Kaphar deconstructs and rebuilds narratives about the past to show what was missing all along. In the white-dominated Western art canon, Black subjects and artists have long been excluded. Kaphar seeks to change this. His paintings, sculptures, and installations literally and metaphorically peel back the layers of history to reveal the joys, triumphs, sorrows, and rage of the Black American community.
A notable lithograph by Titus Kaphar will come to auction with Artsy this Black History Month in a timed benefit auction. The sale concludes at 5:00 PM EST on February 10, 2022. Proceeds from the event will be shared between the featured artists and Baxter St, New York's oldest artist-run lens-based organization. Get to know Titus Kaphar and his work before placing a bid.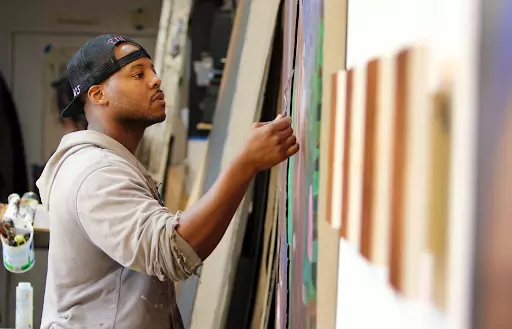 Born in Kalamazoo, Michigan, Titus Kaphar did not seriously pursue art until he took a college art course. He later earned his MFA from Yale University. Art history always fascinated him and served as a wellspring of inspiration. Early on, Kaphar realized the deep connections between art's past and its present, even when racial bias determined which works would be remembered and honored. He began a career-long project of revision.
Kaphar relies on multiple mediums to challenge traditional art history. His canvases are often sculptural and filled with slashes, whitewash, tar, or multiple layers. Some messages are less subtle than others. A 2014 painting titled Behind the Myth of Benevolence is a clear example of this. In the work, a Rembrandt Peale-style portrait of President Thomas Jefferson hangs partially off the frame to reveal a nude portrait of Sally Hemings. An enslaved woman owned by Jefferson, Hemings is now recognized as the mother of six of Jefferson's children. Hemings' power, beauty, and very image are physically obscured by the portrait of her oppressor.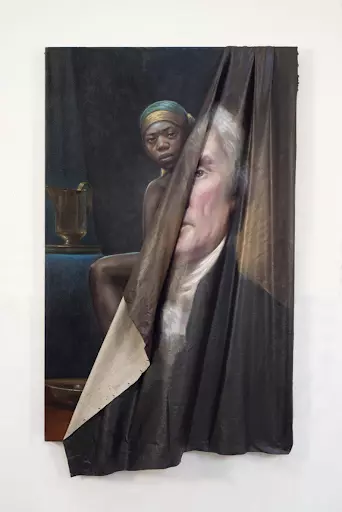 Other works by Kaphar draw closer to the present day. Kaphar is an activist and social figure who is keenly aware of lingering injustices. He created a striking cover for TIME magazine in June of 2020. The Black Lives Matter movement was just starting to rekindle after the police murder of George Floyd. Amid global protests of police brutality and anti-Black violence, Kaphar chose to portray the pain of Black mothers for his TIME cover. The original oil painting featured on the cover, titled Analogous Colors, shows a Black woman holding her child against her chest. The child themself is missing, cut out by Kaphar to leave only a void.
"In her expression, I see the black mothers who are unseen, and rendered helpless in this fury against their babies," Kaphar wrote about the original TIME cover. "As I listlessly wade through another cycle of violence against black people, I paint a black mother… eyes closed, furrowed brow, holding the contour of her loss."
A lithograph version of this now-iconic cover is available with Artsy in February. The archival inkjet and gouache on aluminum piece shows a smaller version of the original Analogous Colors. The mother's anguish is front and center; as is her missing child. The work comes to auction with an estimate of USD 25,000.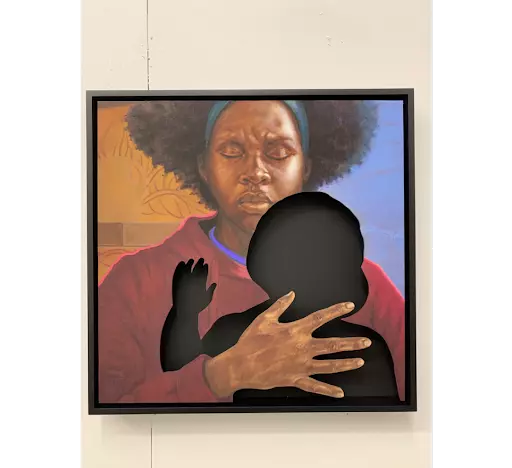 Titus Kaphar's work has not gone unnoticed in the art world. Kaphar has been the recipient of a MacArthur Fellowship, the founder of an arts program in New Haven, Connecticut, and the presenter of a TED talk. His work has appeared at The Studio Museum in Harlem, MoMA PS1, and the National Portrait Gallery in Washington, D.C. It can also be found in countless private collections around the globe. The secondary market has keenly watched Kaphar's rise. Prices for original paintings have gone up accordingly.
Among Kaphar's best-selling works are those utilizing black tar on canvas. The artist completely covers the skin of historical subjects in tar while leaving the painted clothing and backgrounds intact. An untitled oil and tar painting from 2015 currently holds Kaphar's auction record. It sold for $1,058,500 at Phillips in June of 2021, more than doubling its high estimate of $400,000. Untitled III explicitly references Marie Guillemine-Benoist's Portrait of a Black Woman (Portrait of Madeleine) from 1800. By obscuring one of the most visible Black portrait subjects in Western art history, Kaphar amplifies discussions of representation, objectification, and identity.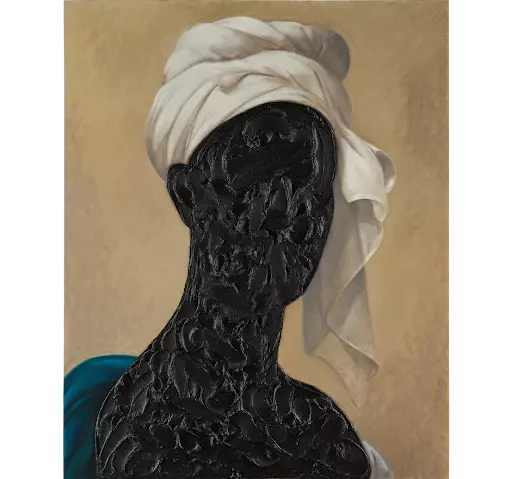 Kaphar aims to not only disrupt but also reconstruct. Some of his works require more engagement from the viewer to be understood, such as 2011's Sacrifice. This painting displays three men in a formal arrangement— two Black men standing behind an expensively-dressed white man seated on a chair. Kaphar then removed the white figure, placed him on a bare stretcher, and left behind a white space. Its message does not yield easily. The details remain ambiguous, the references obscure.
However, Sacrifice serves as a strong example of Kaphar's practice and vision. The viewer must develop their own understanding of the piece and think critically about the representation offered. It is not easy, but it is necessary. For Kaphar, the past is never lost, and forgetting is not an option. He instead challenges his audience to view historical revision as a pathway to both present and future justice.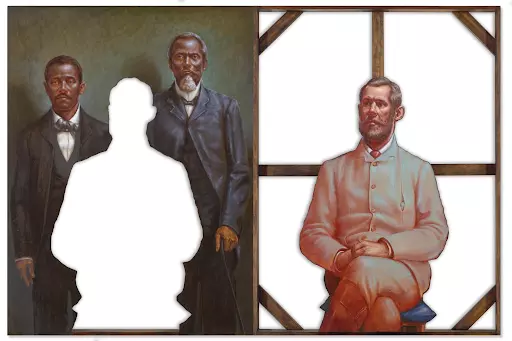 Artsy will present work by Titus Kaphar in its Baxter St Artists In Focus: Benefit Auction 2022 this February. Online bidding closes at 5:00 PM EST on February 10, 2022. Find more information and register to bid by visiting Artsy. 
February is Black History Month in the United States, Canada, the United Kingdom, and elsewhere. This article is the first in a yearly series profiling notable Black artists of the past and present. Check out our coverage of Black History Month in 2021, including the work of contemporary artist Mickalene Thomas.
Media Source
Follow
More in the auction industry