A Whale of a Sale: Christie's Auctions the Herman Melville Collection of William S. Reese
Christie's Herman Melville Collection of William S. Reese sale, held online from September 1 through September 14, 2022, made a big splash with bibliophiles worldwide. The auction featured 100 lots related to American novelist Herman Melville (1819 – 1981) from the collection of William S. Reese (1955 – 2018). Reese was an internationally-recognized book collector, dealer, and scholar who ran his business, the William Reese Company, out of a small storefront in New Haven, Connecticut. According to Christie's, the sale had a 100% sell-through rate and realized USD 2,783,214. The event included Melville materials from a number of different key categories. Here are a few highlights of note.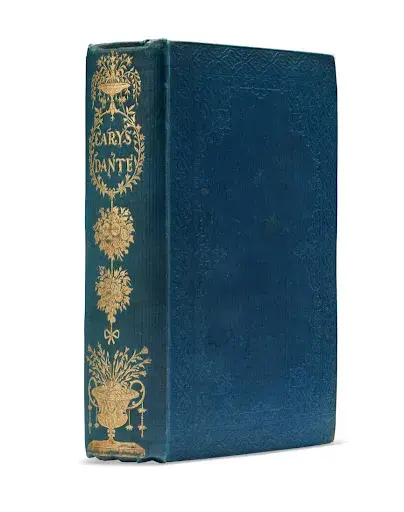 This sale featured a number of books personally owned by Herman Melville. The top lot in the auction, #667, was Melville's heavily annotated copy of Dante's Divine Comedy. It was estimated at $100,000 to $150,000 and realized $441,000. Christie's expected this tome to be a winner in this event, and it certainly did not disappoint. This copy of The Vision; or Hell, Purgatory, and Paradise, was published in London in 1847 by Henry G. Bohn. Dante's themes– including morality, justice, authority, and piety– started to appear regularly in Melville's writings around 1848, and this exact book may have been the catalyst for that.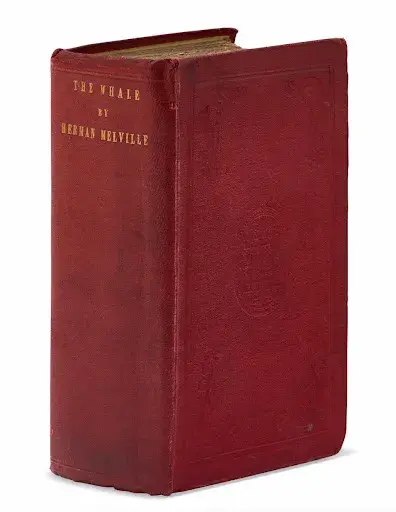 Also rising to best-seller status in this auction were books written by Melville. Lot #632, The Whale, a Bentley remainder issue, was estimated at $50,000 to $80,000 and realized $327,600. This book was published in London in 1853 by Richard Bentley and would later be known as Moby-Dick; or, The Whale. These "remainder" publications consisted of leftover copies of the first edition of The Whale bound in single volumes in red cloth. The publisher created "remaindered" books to efficiently and economically move inventory along. According to Christie's cataloging, this remaindered verison is exceedingly rare– the only other copy extant sold in 1951 at a Sotheby's auction.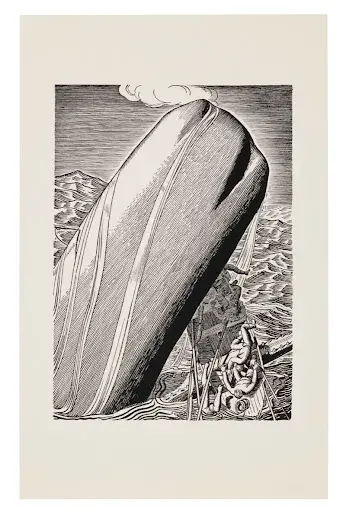 Artwork tied to Melville's legacy works also caught the eye of bidders worldwide. Lot #693, illustrations for Moby-Dick by American artist Rockwell Kent (1882 – 1971) traded hands at $201,600, more than eight times its high estimate. This collection consisted of nearly 300 original proofs of the artwork for the Lakeside Press edition of Moby-Dick; or The Whale from 1930. These include nine prints that did not appear in the book. Kent's version of this legacy novel was considered the apex of illustration and book production at the time, a status that still holds true among collectors and enthusiasts today.
Examples of Melville's personal correspondence also delivered strong results at auction. Lot #676, a letter from Herman Melville to his brother Allan reporting on travel adventures and plans, realized $40,320. This eight-page note was dated November 10th, 13th, 14th, and 15th, 1856 and covered a range of diverse topics including his Atlantic crossing to Scotland, his personal health, and future travel plans. This "travelogue" themed letter had provenance to the collection of Agnes Morewood, Melville's great-niece.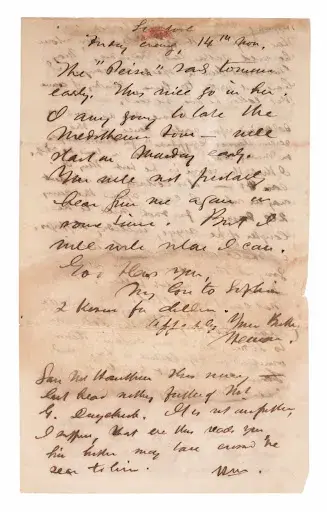 And finally, Melville-related archives took spotlight status in this important sale. Lot #696, a collection of correspondence and materials tied to Melville illustrator Rockwell Kent and his publisher, sold for $8,820. The ephemera were from the late 1920s and early 1930s and included typed, signed letters; invitations and event materials; a calling card; prints and illustrations; sales materials; and other publication items. The collection was housed together in a slipcase imprinted with the words "Four American Books."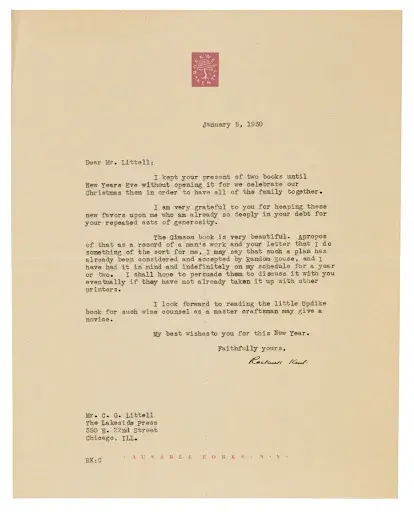 Four American Books refers to a marketing campaign initiated by Chicago printer RR Donnelley in the mid-1920s to show that American publishers could do as well or better at printing illustrated books than those produced in Europe. To prove their point, the Donnelley team chose four American books that had not included artwork in the past and invited four popular illustrators to bring the tales to life. These included Rockwell Kent for Herman Melville's Moby-Dick; W. A. Dwiggins for Edgar Allen Poe's Tales; Edward A. Wilson for Richard Henry Dana's Two Years Before the Mast; and Rudolph Ruzicka for Henry Thoreau's Walden.
For the complete auction results, visit Christie's.
Looking for more auction world news? Visit Auction Daily's news channel for the latest.
Media Source
Follow
More in the auction industry