2022 Christmas Sale Highlights
Auctions held throughout 2022 generated some breathtaking results for Christmas-related antiques, novelties, artwork, and other finds that bridged (or defied) conventional categories. In keeping with Auction Daily's annual December tradition of spotlighting holiday-themed superstar results, here are five extraordinary lots that prove Christmas rarities continue to top many collectors' wish lists– all year 'round! All sale prices noted include the auction house's buyer's premium.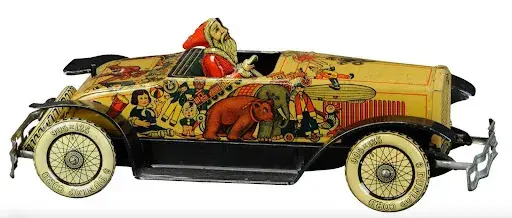 Our first 2022 Christmas sale highlight is the wheel-deal. Santa Claus is best known for traveling by sleigh, but apparently he has a driver's license as well. Bertoia Auctions of Vineland, NJ sold lot #69, a Tippco Santa Claus Driving Auto, for USD 62,500 during its November 17, 2022 event. This extremely rare German-made wind-up toy carried a presale estimate of $12,000 to $18,000 and generated 28 bids. It measured 12 inches long, was in pristine to near mint condition, and was decorated with playful images of early-20th-century toys, including dolls, Teddy bears, elephants, a train, and even a zephyr.
Tippco featured this Santa Claus vehicle in its catalog from 1925 to 1935 in a number of different versions, including one that had a full-fledged, rotating Christmas tree on its rear. Tippco, or Tipp & Co., was a prolific toy manufacturer (c. 1912 – 1971) located in the prewar "toy mecca" of Europe– Nuremberg, Germany. Fine Tippco items hold enormous interest with collectors today; on March 11, 2022, Bertoia sold a Tippco Mickey and Minnie Mouse Motorcycle from 1932 for a whopping $231,250! This appealing cross collectible had a presale estimate of $25,000 to $45,000 and generated 52 bids.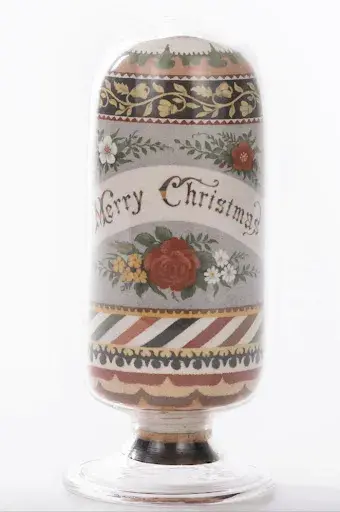 Our second Christmas sale highlight is literally sand-tastic. During its November 18, 2022 sale, Bonhams Skinner of Boston, MA sold lot #172, an impressive sand picture in a bottle by Andrew Clemens (American, 1857 – 1894) for $277,200. It was estimated at $150,000 to $250,000 and generated 12 bids. The work from 1887 was housed in a clear glass apothecary bottle measuring four inches in diameter and nine inches tall. What tied this amazingly detailed piece to the holidays was its featured text, which stated 'Merry Christmas' surrounded by flowers on one side and a very detailed view of an approaching ship at full sail on verso.
This breathtaking sand art was commissioned by Mary Walter as a gift for her son and daughter-in-law in 1887; it also appears in Roy Sucholeiki's The Sand Art Bottles of Andrew Clemens. The artist was best known for his meticulous work and ability to produce lifelike or intricate images through the precise placement of sand grains, often one at a time. These artworks were often rendered upside down, and only utilized sand and gravity to hold the designs in place. In 2021, Hindman of Chicago, IL sold one of his portrait sand pictures in a bottle for nearly $970,000!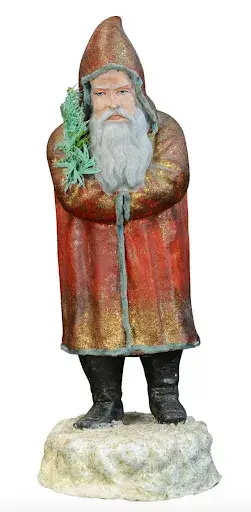 Size defies when it comes to our third Christmas auction highlight. During its November 18, 2022 event, Bertoia Auctions sold lot #1014, an extra-large Santa Claus candy container marked 1891, for $22,500. It carried a presale estimate of $4,000 to $7,000 and generated 31 bids. This serious-looking Santa measured 21 inches tall and stood on a snow mound. He wore a vintage red hooded jacket and sturdy black boots, and he carried a small green feather Christmas tree.
Candy containers did exactly as their name promised– they held or presented treats in the most visually attractive way possible. The early 1900s were the golden years for candy containers. They first appeared in the late 1800s and hit their stride in terms of design and popularity at the turn of the last century. Many of the earliest ones, such as this Santa, were of German origin and were made from papier-mâché. They were lidded in some "invisible" way and had a hidden interior storage area to house their sweet surprises.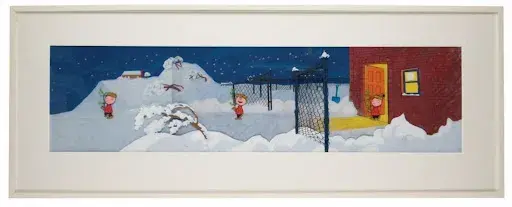 Our fourth holiday highlight will unquestionably take many readers down memory lane. Christmas is full of traditions, including media favorites. One of the most warmly anticipated television events of the year was and is the airing of A Charlie Brown Christmas. As part of its October 8, 2022 event, Van Eaton Galleries of Sherman Oaks, CA, sold lot #422, a panoramic production background with production cels from the classic 1965 TV special. Estimated at $40,000 to $50,000, the materials traded hands at $44,770 with 12 bids. According to the catalog, the background was hand-painted. This background could be seen at 22:05 through 22:24 in the cartoon; the cels also appeared during that time and through 23:02.
A Charlie Brown Christmas was shown at the holidays on the CBS network for 45 continuous years. The ABC network purchased the story in 2001 and ran it annually at Christmastime through 2020. This TV special, with the image of a spindly tree weighed down by a handful of ornaments, is deeply integrated in American popular culture.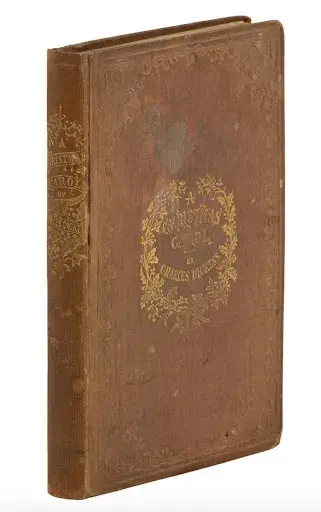 And finally, it would not be the jingle bells season without mention of Charles Dickens' legacy holiday tale, A Christmas Carol , also known as A Christmas Carol. In Prose. Being a Ghost Story of Christmas. On September 8, 2022, PBA Galleries of Berkeley, CA sold lot #24, a first edition, first issue of the novella for a jolly $8,450. It was estimated at $5,000 to $8,000 and attracted five bids.
This example, in very good or better condition, was printed in 1834 in London by Chapman & Hall. It was published on December 19 and was sold out five days later – on December 24! In 1844 alone, 13 editions were released. Clearly, this story was a grand slam right from its debut and continues to be a favorite nearly 190 years later.
How does 2022 compare to 2021 in terms of Christmas auction highlights? Check out last year's report here.
Media Source
Follow
More in the auction industry