1stbid's Exceptional Auction of Antique and Vintage Rugs
The assortment of antique to contemporary carpets available at 1stbid's Exceptional Auction of Antique and Vintage Rugs event is simply flooring! This sale will be held on October 16, 2022 at 2:00 PM EDT both online as well as live at the company's Washington, DC gallery. Over 180 fine silk and wool examples from across the globe are on offer. Here are a few highlights that truly inspire us to cut a rug.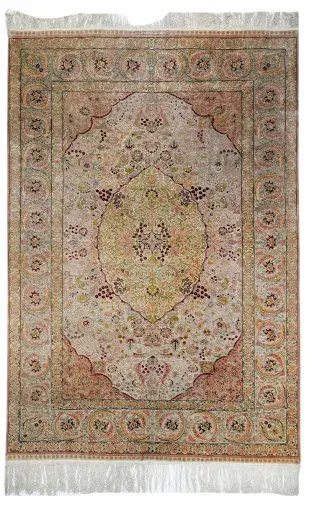 The top lot in this sale is #7048, a premier vintage Turkish Hereke silk rug. It measures 6'11" x 10'3" (or 2.11 x 3.12 M) and is estimated at USD 35,000 to $45,000. It has an opening bid of $22,500. This gorgeously rendered, fringed example is finely knotted primarily in light tan, greens, and pinks, with brown and burgundy highlights. Hereke rugs have long been made in a small town about an hour's drive from Istanbul. The factory has been in business since the mid-1800s. These rugs, often large scale and intricately patterned, are traditionally made from silk, wool, and cotton. They sometimes include metallic threads. Traditionally, they were made for royalty and produced in part as gifts for society and other high-ranking officials.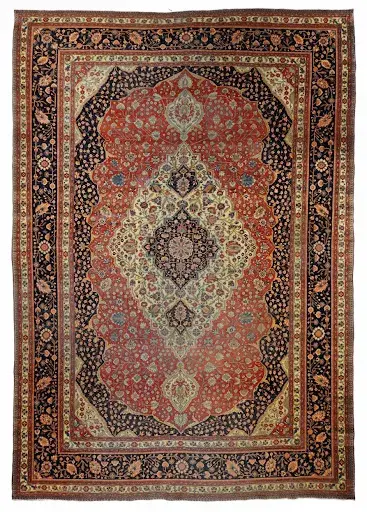 Also of palatial size and interest is lot #5073, a handsome antique Mohtasham Kashan rug. It measures 9' x 12'6" (or 2.74 x 3.81 M) and is estimated at $35,000 to $45,000. It has an opening bid of $22,000. This mostly tan, navy, and crimson stunner features countless flowers and other natural elements in concentric waves. Enthusiasts consider Kashan rugs, which are made in Kashan, Iran, to be among the most desirable and collectible types of Persian rugs produced. The name "Mohtasham" refers to a 19th-century master weaver who was known for his extraordinary craftsmanship. Like this example, Mohtasham Kashan rugs often feature bold colors and a prominent blue medallion.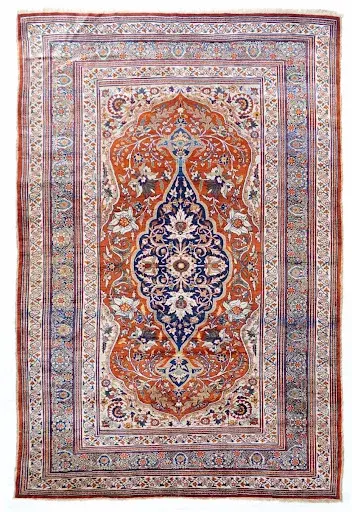 All eyes are certain to be on lot #7422, a fine antique silk Heriz rug. It measures 4'3" x 6'5" (or 1.06 x 1.46 M) and is estimated at $35,000 to $45,000. It has an opening bid of $18,000. This beautiful example features numerous cream, rust, and navy floral borders and a dramatic central medallion and pendants. Heriz rugs originate from a rural area in Northwest Persia, with the name "Heriz" being a nod to the largest town in this geography. Antique examples often feature all natural, vegetable-derived dyed fibers, which age with an elegant patina. Heriz rugs are known for their rugged durability, bold presentations, and traditional themes. They remain extremely popular today.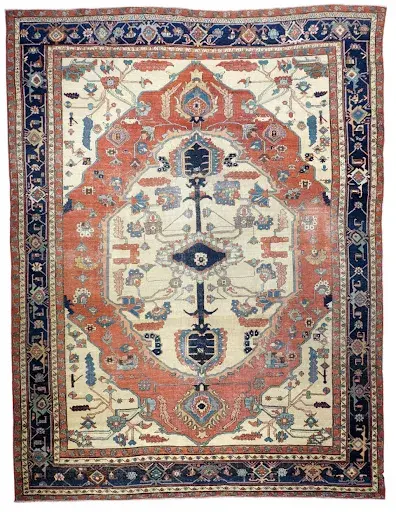 Lot #7602, an antique Persian Bakhshayesh rug, also merits highlight status. This impressive 9'4" x 12'7" (or 2.84 x 3.84 M) example is estimated at $25,000 to $30,000 and has an opening bid of $15,000. This distinctly handmade-looking example features a somewhat symmetric medallion, field, and corners in blue, cream, gray, and rust. Bakhshayesh rugs are named for the town of Bakshaish in Northwest Persia; this enclave is the oldest carpet producing area in Persian Azerbaijan. Bakhshayesh rugs are known for their abstract or freeform presentations, cultural or folkloric themes, and artistic qualities.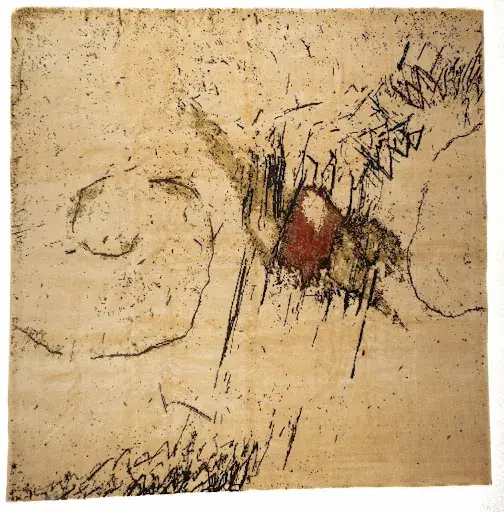 And finally, this event also features a number of mid-century to contemporary carpets. Lot #8231, a French modern design rug measuring 9'8" x 9'9" (or 2.95 x 2.97 M) is estimated at $22,500 to $25,000. It has an opening bid of $11,500. This almost square rug– a piece of art for the floor– is dramatically and finely woven in cream, black, rust, and tan fibers. Its abstract design is open to interpretation but perhaps was nature-inspired. There is no doubt that it would elevate any ordinary room into a gallery!
For more information on this finely curated rug sale, visit Bidsquare. Find continued coverage of this event on Auction Daily.
Media Source
Follow
More in the auction industry