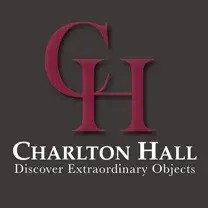 Charlton Hall Galleries Offers Van Cleef & Arpels Jewelry and More From Estate of Katrina Hickox Becker
Oct 16, 2020 11:00 EDT
Updated on
Several Van Cleef & Arpels jewelry pieces highlight the offerings from the estate of Katrina Hickox Becker, presented by Charlton Hall Galleries. This includes a Van Cleef & Arpels emerald and diamond brooch. At its center is a 3.0-carat Colombian emerald, surrounded by eight smaller emeralds and several diamonds. Also available is a platinum, emerald, and diamond ring from the French luxury jewelry company.
Fine art made available in this sale includes Ralph Eugene Cahoon, Jr.'s Interrupted Picnic. In the piece, a few aristocrats' leisurely afternoon of fishing and drinking wine comes to a halt once they spot a mermaid. The mermaid looks out at them, befuddled by their quick escape. Also available is The Forger, attributed to Sebastiaen Vrancx. Although largely known for his paintings of battlefields, this piece is one in a series of four attributed to Vrancx depicting everyday life. Vrancx's works were admired and collected by many of his contemporaries, including Peter Paul Rubens.
A Narragansett pattern serving set is also featured in the sale. First produced by the Gorham Manufacturing Company in 1884, the Narragansett pattern gets its unique look from the casting of real seashells in silver or gold. Because of its intricate design, this cutlery is only used for serving. Decorative art collectors can also consider a Sheraton secretary bookcase. Embellishments atop the bookcase include leaves and tassels. Those interested in this or any other lot can register to bid on the Charlton Hall Galleries website.
Price Range:
$100 - $200,000
Interesting lots include:
| Item Image | Item Name | Estimate |
| --- | --- | --- |
| | Van Cleef & Arpels emerald and diamond brooch | Estimate: $100,000 - $200,000 Starting Bid:$50,000 |
| | Sheraton carved and inlaid mahogany secretary bookcase | Estimate: $40,000 - $60,000 Starting Bid:$20,000 |
| | Van Cleef & Arpels platinum, emerald, and diamond ring | Estimate: $30,000 - $50,000 Starting Bid:$15,000 |
| | Sebastiaen Vrancx (attributed to) | Estimate: $20,000 - $40,000 Starting Bid:$10,000 |
| | Evgeni Alexandrovich Lanceray | Estimate: $15,000 - $25,000 Starting Bid:$7,500 |
| | Ralph Eugene Cahoon, Jr | Estimate: $10,000 - $20,000 Starting Bid: $5,000 |
| | Gorham Narragansett pattern sterling silver salad serving set (2pcs) | Estimate: $10,000 - $15,000 Starting Bid:$5,000 |
Contact Info
Charlton Hall

7 Lexington Dr., West Columbia, South Carolina 29170
803-779-5678