Warhol's Diamond Dust Shoes Highlight Bonhams Post-war & Contemporary Sale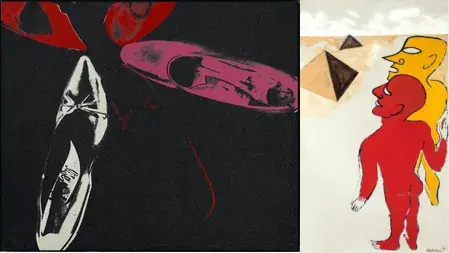 New York – An exceptional painting, Diamond Dust Shoes, (1980) by Andy Warhol (1928-1987) will be presented at Bonhams Post-War & Contemporary sale on November 16 in New York. The work, estimated at $1,200,000 – 1,800,000, is from a series of nearly 50 paintings which perfectly demonstrate the qualities that made Warhol the icon he is today: seriality, repetition, and an everyday item being elevated to high art status. The diamond dust effect gives the surface of his works a shimmering effect reminiscent of his use of gold leaf in the late 1950s, creating a magical touch of glamour.
An exceedingly rare oil painting by Alexander Calder (1898-1976) is an additional highlight of the sale. Estimated at $700,000 – 1,000,000, Untitled (1956) depicts two pyramids, off in the horizon, with the two anthropomorphic, alien figures gazing out over them and is an exquisite illustration of Calder's exploration of shape and color typically seen in his world-renowned mobiles and monumental stabiles. Also featured in the sale is Untitled (Radiant Baby) from the Grace House Mural (circa 1983-1984) by Keith Haring (1958-1990), estimated at $700,000 – 1,000,000. A succinct and impressive encapsulation of the artist's legacy and practice, the work was a part of Haring's mural in New York City's Grace House Church which was meticulously excavated and first presented at Bonhams in 2019.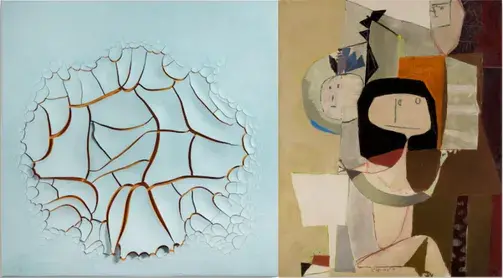 A section of early examples by the titans of 20th century art, Mark Rothko (1903-1970) and Roy Lichtenstein (1923-1997), further enforces the substantial offerings in the auction. The three works included in the sale by the pop art master, Lichtenstein, come from the esteemed collection of H. Lee Turner while In Limbo (1941-1942) by Rothko, estimated at $120,000 – 180,000, similarly comes with extensive provenance and exhibition history.
Additional sale highlights:
Rue Song (2018) by Adriana Varejão (b. 1964). Estimate: $300,000 – 500,000.
Cherries (2005) by Takashi Murakami (b. 1962). Estimate: $400,000 – 600,000.
Theresa (circa 2006) by Jenna Gribbon (b. 1978). Estimate: $40,000 – 60,000.
Untitled (2021) by No Martins (b. 1987). Estimate: $20,000 – 30,000.
Bonhams, founded in 1793, is one of the world's largest and most renowned auctioneers, offering fine art and collectables, motor cars and a luxury division, including jewellery, watches, wine and whisky. The main salerooms are in London, New York, Los Angeles, Paris and Hong Kong, with auctions also held in Knightsbridge, Edinburgh, and Sydney. With a worldwide network of offices and regional representatives in 22 countries, Bonhams offers advice and valuation services in 53 specialist areas. For a full list of forthcoming auctions, plus details of Bonhams specialist departments, please visit bonhams.com
Media Source
Follow
More in the auction industry