Toomey & Co. Auctioneers To Hold Modern Design + Post-war & Contemporary Art Sale On August 24
Oak Park, IL — On Wednesday, August 24, 2022, Toomey & Co. Auctioneers will hold a Modern Design + Post-War & Contemporary Art sale with over 350 lots by influential figures from the mid-20th century to the present. Items on offer include paintings, prints, sculptures, furniture, lighting, metalwork, pottery, glassware, and more. Along with examples by artists and designers from Chicago and the Midwest, the sale features works by a range of American and global innovators. Preview details and bidding instructions follow the auction highlights below.
Highlights of Modern Design + Post-War & Contemporary Art on August 24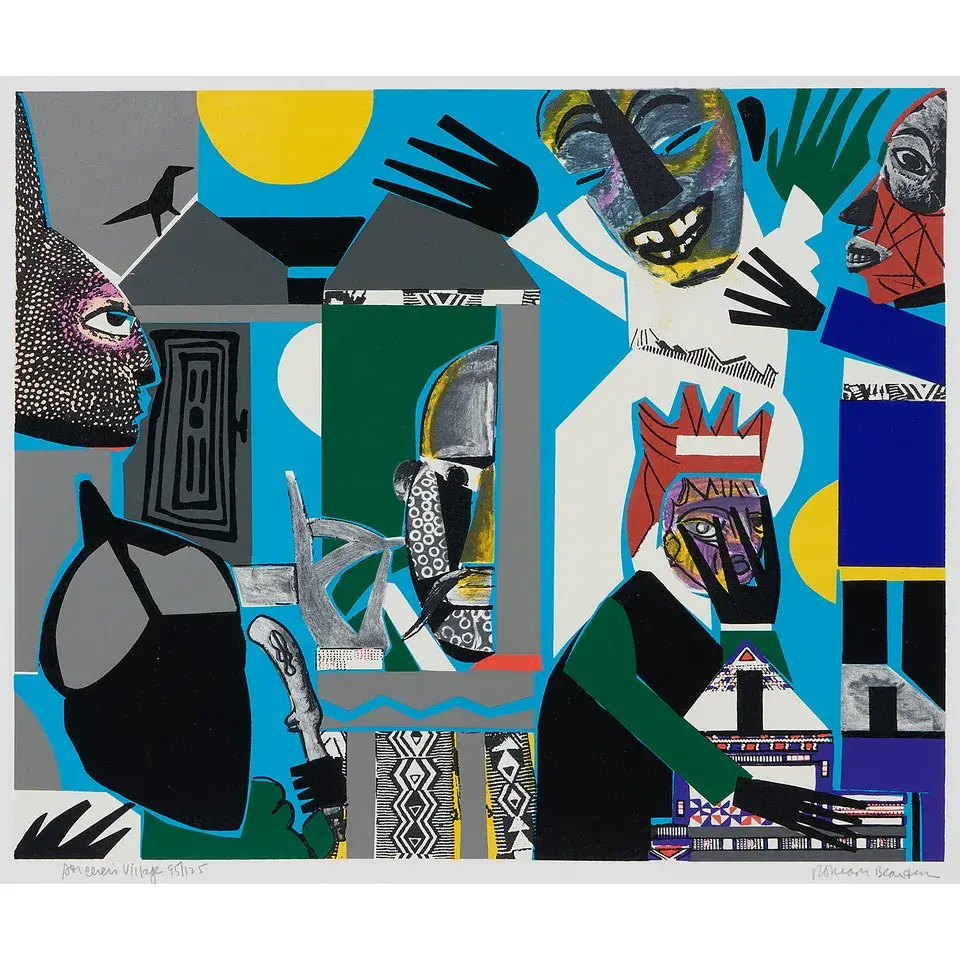 Paintings, Drawings, Prints & Sculptures
One of the standout works on August 24 is an oil on canvas by celebrated Mexican painter Rodolfo Morales, Plaza in Four Parts (estimate $20,000-30,000), which combines elements of magic realism and surrealism to portray a traditional village scene. Robert Lostutter also draws on fantasy and the sale includes three of his watercolor and pencil drawings and an etching with unusual creatures (highest $3,000-5,000). Other illustrations of note are Patrick Nagel's drawing for COQ magazine and Bernar Vernet's conceptual, geometric work (each $4,000-6,000). Black artists with examples in the auction include Romare Bearden, Jacob Lawrence, and Margaret Burroughs (highest $4,000-6,000). Two figural ceramic plaques will be up for bid by Marcello Fantoni and Clyde Burt and several steel sculptures by James Bearden will be offered (highest $7,000-9,000). The auction also has works by many other notable artists, such as: Marc Chagall, Alex Katz, Robert Rauschenberg, Sol LeWitt, Andy Warhol, Keith Haring, Peter Max, LeRoy Neiman, and Banksy (highest $1,500-2,500).
Modern American Design
American design features two pine display tables by Donald Judd selected by architect John Pawson for Calvin Klein NYC (each $10,000-20,000). Another statement-making form is Vladimir Kagan's Cloud sofa for Directional ($6,000-8,000). Several classic, mid-century furniture lines are available from Edward Wormley and Paul McCobb (highest $5,000-7,000). Iconic examples from Herman Miller and Knoll will likewise highlight the sale. From George Nelson, the auction includes a Home Office desk, X-Leg dining table, and CSS wall unit (highest $4,000-6,000). Charles and Ray Eames are well represented with four DKW-2 chairs, a 670 / 671 lounge chair and ottoman, and a Compact sofa (highest $2,500-3,500). Various seating options from Bauhaus architect Mies van der Rohe are part of the sale, in particular, two Barcelona lounge chairs and two ottomans offered together and a custom, four-seat sofa (higher $4,000-6,000). Bronze furniture designs will also be available from Walter Lamb and Paul Evans (highest $4,000-6,000).
Modern European/International Design
Scandinavian modern design includes a pine Utö table by Axel Einar Hjorth, a rosewood sideboard by Arne Vodder, Wing lounge chairs by Hans Wegner, and a 10-light chandelier by Erik Höglund (highest $10,000-20,000). Swiss designer Ubald Klug's Terrazza sofa in brown leather for De Sede has the striking appearance of a terraced landscape ($2,500-3,500). Two other bold seating examples are a mahogany armchair attributed to Hungary's Llonka Karasz and a 10-UNIT SYSTEM modular bench by Japanese architect Shigeru Ban (higher $5,000-7,000). Italian modern design boasts three playful designs by Gaetano Pesce, one of which is a desk from the TBWA Chiat Day advertising offices in New York City that he designed in 1994, and Gianfranco Frattini's Sesamo swiveling desk (higher $4,000-6,000). There will be several impressive Murano art glass forms in the auction by the likes of Ercole Barovier, Fulvio Bianconi, Anzolo Fuga, and Dino Martens along with Gio Ponti's sterling silver Diamond flatware service for 10 (highest $4,000-6,000).
Preview and Bidding with Toomey & Co. Auctioneers
Modern Design + Post-War & Contemporary Art will be held on Wednesday, August 24 at 10:00 a.m. Central Daylight Time at Toomey & Co. Auctioneers, 818 North Boulevard, Oak Park, Illinois. The auction is open to the public and preview is available both in person and virtually by emailing [email protected]. Bidders may also participate by phone (708-383-5234) or leave absentee bids ([email protected]). The catalog is posted online at toomeyco.com and early registration is recommended. Alternatively, bids may be placed via two real-time, third-party platforms (LiveAuctioneers and Invaluable).
Upcoming Auctions and Consignments
Toomey & Co. Auctioneers will conduct multiple sales this fall with material in a wide variety of categories. Consignments are invited for upcoming auctions and photographs of items may be sent to [email protected] for estimates. To learn about past or future sales, please visit toomeyco.com.
About Toomey & Co. Auctioneers
Located just west of Chicago in Oak Park, Illinois, Toomey & Co. Auctioneers holds several carefully curated auctions annually with material sourced from six departments: Fine Art, Early 20th Century Design, Modern Design, Fine Furniture & Decorative Arts, Silver & Objects of Vertu, and Fine Jewelry & Timepieces. Recent schedules have presented single-owner and special sales drawn from important estates and private collections.
Media Source
Follow
More in the auction industry