The Story Behind the Two "Dogs Playing Poker" Paintings Auction Sale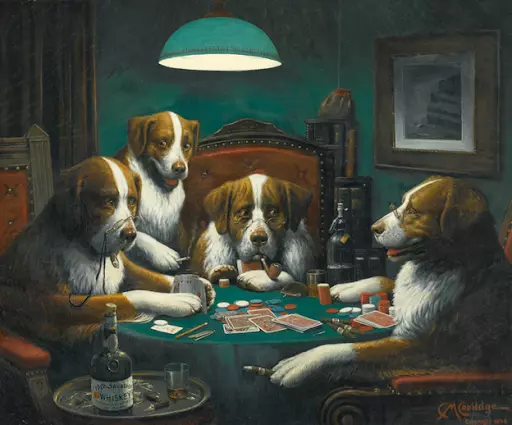 It was 1638 in Venice, Italy when the first casino opened its doors. Since then, casinos have served as popular recreational establishments for people from all walks of life. And naturally, with this long history has come an endless stream of different types of casino memorabilia and gaming relics. There have been iconic photos of celebrities at Las Vegas card tables; there are antique chip sets and cards that sell for fortunes; and books like The Expert at the Card Table have been passed from one generation to the next.
Two of the most noteworthy examples of this sort of casino memorabilia are the Dogs Playing Poker paintings that were auctioned off for an astounding USD 590,400 at Doyle New York's annual Dogs in Art Auction in 2005. But what is it about these paintings that enticed the buyers to bid such an extraordinary amount of money? Read on for the story behind these two paintings.
The Rise of Dogs Playing Poker
American artist Cassius Marcellus Coolidge, also known as C. M. Coolidge, began painting the Dogs Playing Poker series in 1894. Altogether, he composed 18 signature pieces that make up the entire collection. The series depicts anthropomorphized dogs playing poker, smoking cigars and pipes, drinking whiskey, wearing glasses, and collecting chips–– all parts of what once might have symbolized American leisure and social activity (or possibly Coolidge's life).
Through the years and from one generation to the next, these works of art slowly gained fame and developed a distinct reputation for their unique and original qualities. Coolidge's ability to be playful with his creations–– combined with keen humor, attention to detail, and an amazing gift of connecting to the American psyche–– led to the sale of his works.
A Record-Breaking Sale
Prior to the Dogs in Art Auction, it was estimated that the Dogs Playing Poker series paintings would sell for between $30,000 and $50,000. After numerous rounds of fierce bidding, the paintings, titled A Bold Bluff and A Waterloo, sold for a grand total of $590,400, setting a new record for Coolidge's works. After the astronomical sale, the Dogs Playing Poker theme gained even more popularity worldwide.
Cultural Impact on Americans
The Dogs Playing Poker theme has become a part of American culture, and with good reason. These paintings represent an era during which poker was played in back rooms. Today, we think of the in-person variety of the game as something played in Vegas poker rooms like those at the Bellagio, the Aria, the Venetian, and the Wynn. These are famous, larger-than-life venues that possess vague vintage echoes of bygone eras, but also distinctly modern vibes. Part of the appeal of the paintings is that they capture those eras–– when poker was a little more underground and a little more social. They are, in a sense, time capsules.
In Las Vegas, interestingly enough, Dogs Playing Poker murals are painted on the exterior wall of the Gamblers General Store. The store owners adopted Coolidge's ideas and took inspiration from him as they also love animals (especially dogs). The theme carried over to many other forms of memorabilia as well, like themed cards, t-shirts, even iPhone cases. All of this has helped the art become even more intertwined with modern card and casino culture.
Ever since Coolidge created his works, they have been showcased in advertisements, movies, cartoons, and even music videos (like Snoop Dogg's "What Is My Name?" from 1993). Perhaps it should come as no surprise that unique paintings that represent a deep part of American culture have gained so much value over time. And bear in mind there are many other pieces to the collection–– so keep an eye out to see how high the next bidder will take the price!
Media Source
Follow
More in the auction industry