The Rise and Fall of Shin-Hanga Japanese Prints
The short-lived yet distinguishable shin-hanga Japanese art movement portrayed a romanticized image of Japan that appealed to the world. Prints from that era are available in an upcoming auction by Things Japanese Gallery, Ltd.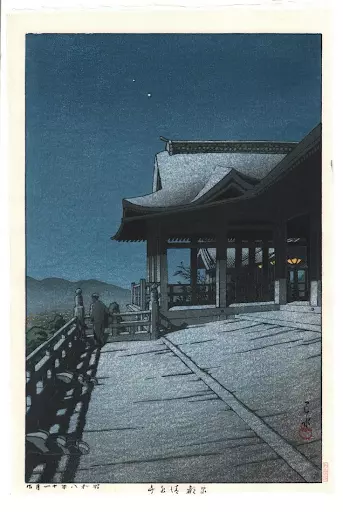 Japanese print publisher Watanabe Shozaburo pioneered the woodblock printmaking movement, shin-hanga, in 1910. Shin-hanga, meaning "new prints," evolved from the traditional ukiyo-e system, another well-known Japanese painting and woodblock print style.
Things Japanese Gallery, Ltd.'s upcoming Live Internet Auction of 2022 will highlight Japanese woodblock prints from the 18th through 20th centuries. Shin-hanga prints and lots featuring the earlier ukiyo-e designs will be featured in this event. Learn more about shin-hanga before the sale begins.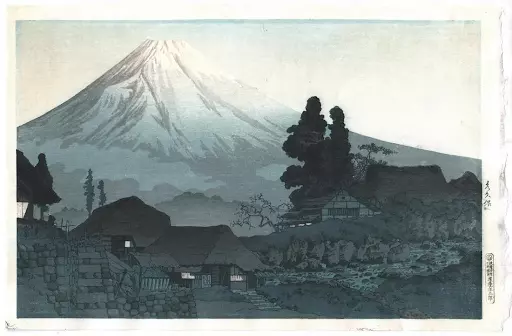 The shin-hanga art movement flourished during the early 20th century. After seeing a spike from 1915 to 1942, shin-hanga's popularity plummeted for a few years. It later resumed on a small scale after World War II until the 1960s.
Landscapes, famous places, women, actors, birds, and flowers were some of the common subjects of shin-hanga prints. Even though European Impressionism inspired its style, shin-hanga made strict use of traditional Japanese themes. Their romanticized representation appealed to a Western audience. For example, a 1935 woodblock print by Takahashi Shotei (Hiroaki) glorifies the view of Mount Fuji as seen from Mizukubo (estimate: USD 850 – $950). The mountain is cloaked in light and contrasts with the dark houses below.
Art dealers, magazine articles, and international exhibitions popularized shin-hanga in the foreign market. The Toledo Museum of Art in Ohio staged two large international showcases of shin-hanga prints, further spreading their influence among Western consumers.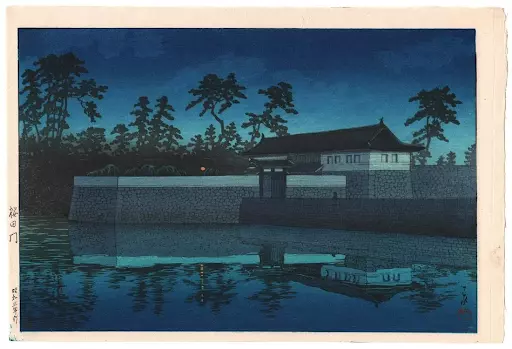 Similar in process to ukiyo-e, shin-hanga too required the collaboration of a publisher, an artist, a block-cutter, and a printer. What distinguished the two print movements was the look of traditional versus Western, black outlines verus gradients that added depth and naturalistic light around the subject. This effect can be seen in a woodblock print by Hasui Kawase from 1933 (estimate: $1,200 – $1,400). It depicts a stone wall and gate that stand next to a body of water. Hasui was one of the most prolific printmakers and an influential designer of the shin-hanga movement. Another point of difference between ukiyo-e and shin-hanga was the quality of the paper and pigments.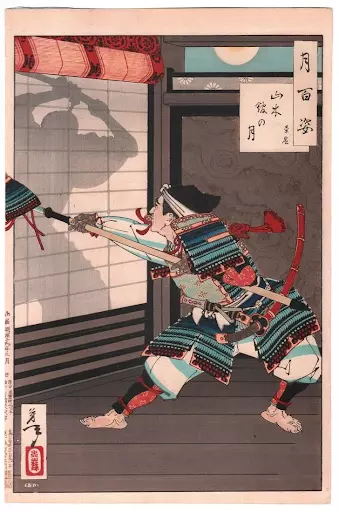 Domestically, shin-hanga never surpassed ukiyo-e as the preferred method. Even after the modernization of the Meiji era, ukiyo-e was viewed as the superior style. It also inspired Western European artists in the 19th century. A Tsukioka Yoshitoshi ukiyo-e print from 1886 is available in the upcoming sale (estimate: $800 – $900). Yoshitoshi is often referred to as the last great master of the ukiyo-e genre of woodblock printing.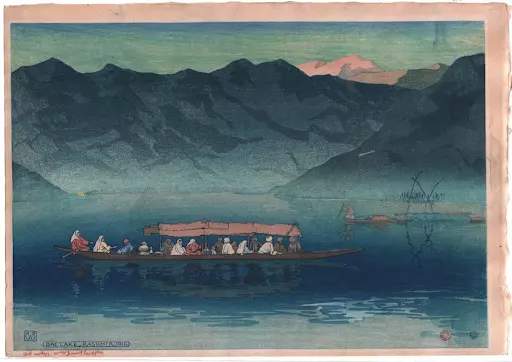 In 1923, a massive earthquake shook Japan. A fire during this incident destroyed Watanabe Shozaburo's atelier, which stored several wooden plates for printing and distributing shin-hanga works. Therefore, shin-hanga prints from before this incident fetch a higher premium in the art industry. Several lots in the upcoming Things Japanese Gallery, Ltd. sale date prior to this event, including a Charles Bartlett woodblock print of Dal Lake, Kashmir (​​estimate: $1,000 – $1,200).
In the following years, the Japanese military's control of fine arts and culture during the war, the invasion of China, and the 1941 attack on Pearl Harbor collectively ensured the demise of shin-hanga. Yet the style lives on in museums and private collections, illustrating the last remnants of ukiyo-e and traditional Japanese woodblock printing.
Things Japanese Gallery, Ltd. will auction numerous works of shin-hanga and ukiyo-e on January 23, 2022. The sale starts at 3:00 PM EST. View the full catalog and register to bid on LiveAuctioneers.
Read more about the history, style, and characteristics of ukiyo-e, the art movement that preceded shin-hanga, on Auction Daily.
Media Source
Follow
More in the auction industry