The Coeur d'Alene Art Auction Returns with Charles M. Russell Paintings and Western American Fine Art
This year's Coeur d'Alene Art Auction of Fine Western & American Art presents a curated and highly anticipated selection of fine art from both historical and contemporary artists. It will take place in Reno, Nevada on July 23, 2022, starting at 3:00 PM EDT. Those interested in participating remotely can place an online bid with Bidsquare.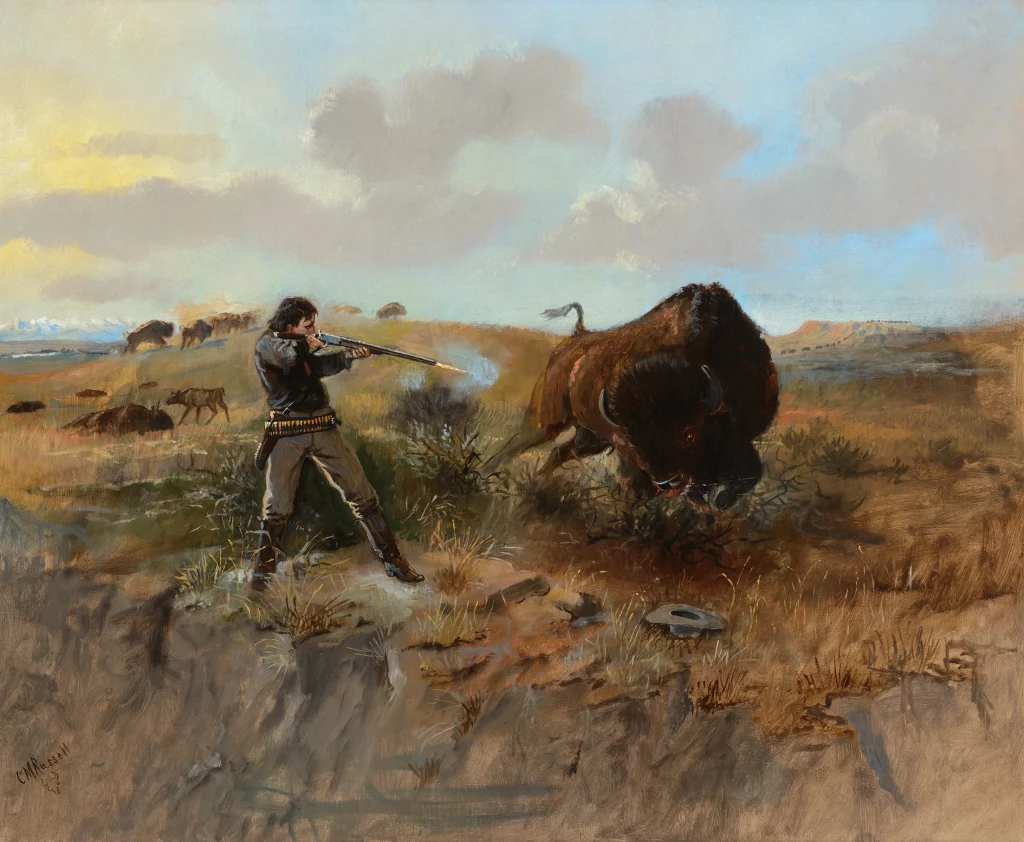 Leading the 2022 edition of the Coeur d'Alene Art Auction is a hunting painting from Charles M. Russell (lot #165; estimate: USD 400,000 – $600,000). Completed around 1892, this oil on canvas pays homage to Buffalo Bill Cody, the iconic American showman and Old West legend. Buffalo Bill stands on the rolling Montana range, taking aim at a rollicking bison. However, the scene was likely inspired by a hunting story about Theodore Roosevelt. Russell executed this painting shortly before he turned away from the cowboy life to pursue art in earnest. "Early works such as Shooting the Buffalo anticipated Russell's rise over the next thirty years to become the most beloved and famous Western American artist," says Russell biographer Dr. Larry Len Peterson.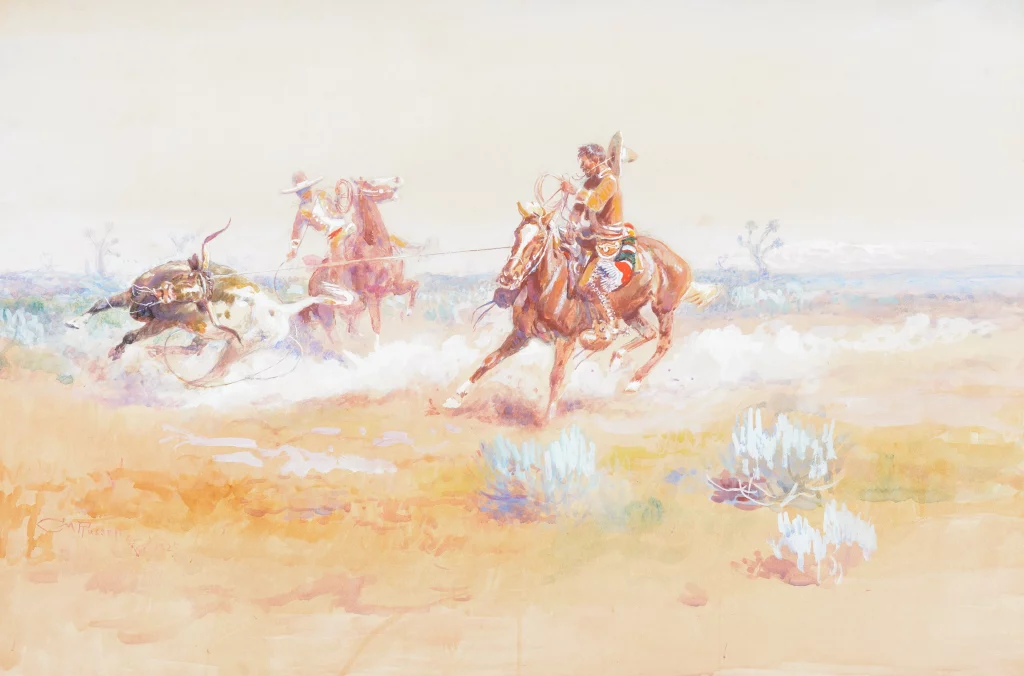 Several additional works by Charles M. Russell will cross the block this summer. Two notable examples come from the artist's later career. Mexican Vaqueros Roping a Steer from 1925 comes to auction with an estimate of $400,000 to $600,000 (lot #44). Executed in delicate watercolors, the lively scene centers on a Mexican rider in a dusty desert landscape. The piece resulted from a trip south that Russell and his family took in 1906. The artist stayed on the largest ranch in Mexico, absorbing a different style of "cowboying" that he would later incorporate in his art. Also available is Russell's Scouting the Camp, which likely dates back to the mid-1890s (lot #215; estimate: $200,000 – $300,000).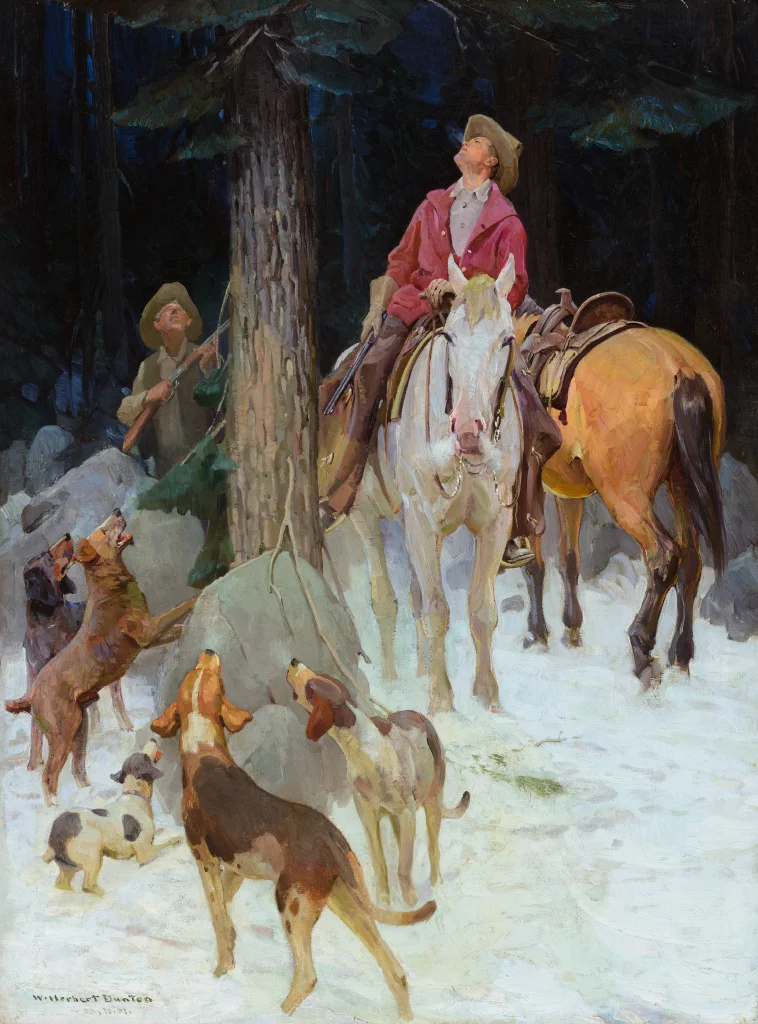 The upcoming Fine Western & American Art event offers several other major works by American Western artists. Particularly notable is William Herbert Dunton's Treed from circa 1915 (lot #85; estimate: $400,000 – $600,000). Described as "a true outdoorsman," Dunton regularly took inspiration from his daily life as a cowboy and hunter. Collectors will also find three major paintings by Philip R. Goodwin: Between the Devil and the Deep Blue Sea (lot #183; estimate: $150,000 – $250,000), On the Edge (lot #206; estimate: $80,000 – $120,000), and Quenching Two Thirsts (lot #75; estimate: $60,000 – $90,000).
Other key lots in this year's Coeur d'Alene Art Auction include:
Edgar Payne's Land of the Navajo (lot #124; estimate: $300,000 – $500,000)
Gerard Curtis Delano's Misty Morning (lot #207; estimate: $300,000 – $500,000)
Harvey Dunn's The Homesteaders (lot #103; estimate: $150,000 – $250,000)
Frederic Remington's A Peccary Hunt in Northern Mexico (lot #109; estimate: $150,000 – $250,000)
Robert Griffing's Only a Matter of Time (lot #65; estimate: $80,000 – $120,000)
Over the last few years, the annual July event from Coeur d'Alene Art Auction has seen increased digital engagement, coordinated previews, and special appointments. The event drew over $1 million in absentee bids alone in 2020. Last year, sales totaled over $17.5 million.
The 2022 Coeur d'Alene Art Auction will take place on July 23, 2022. Live bidding will start at 3:00 PM EDT. Interested collectors may attend live in Reno, Nevada, or online via Bidsquare.
About Coeur d'Alene Art Auction
Coeur d'Alene Art Auction specializes in the finest classical Western and American Art representing past masters and outstanding contemporary artists. The auction principals have over 100 years of combined experience in selling fine art and have netted their clients over $325 million in the last 15 years alone. Significant works by artists such as Charles M. Russell, Frederic Remington, Albert Bierstadt, Thomas Moran, Maynard Dixon, Oscar Berninghaus, Frank Tenney Johnson, and Howard Terpning, amongst many others, are consistently featured in the company's auctions.
Media Source
Follow
More in the auction industry