Stephenson's to auction estate goods including fine art, platinum/diamond jewelry, mid-century estate furniture, Oct. 14
Featured: Painting of Amish barn-raising by acclaimed Pennsylvania Dutch artist Abner Zook
SOUTHAMPTON, Pa. – Philadelphia's most active estate specialists, Stephenson's Auctions of suburban Bucks County, will conduct a Friday, October 14 sale featuring fine and folk art, platinum and diamond jewelry, and an extensive array of mostly mid-20th-century furniture and decorative accessories, including porcelain and glass.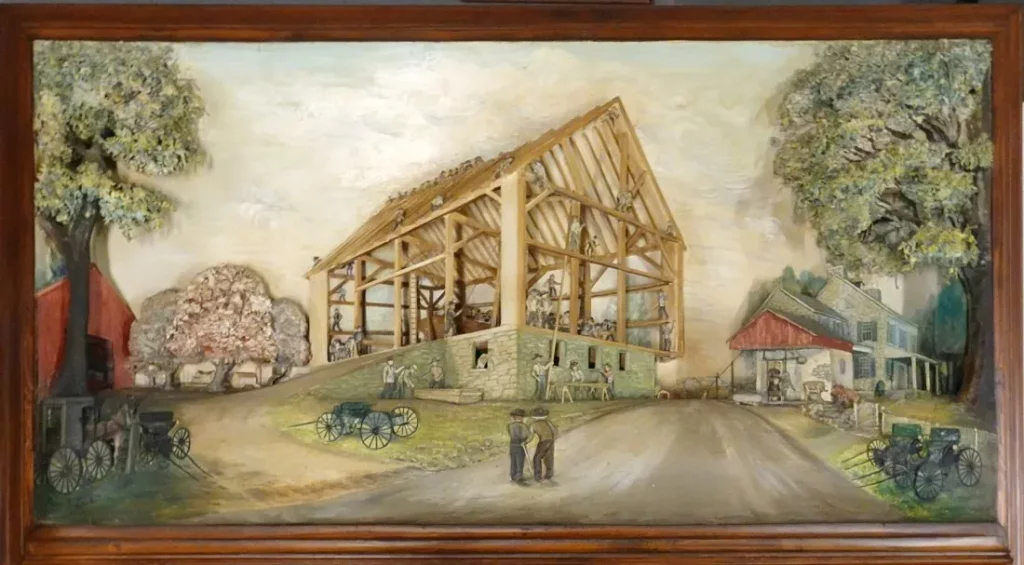 "On a regular basis we are called to visit residences in the Pennsylvania, New Jersey and Delaware tri-state area to evaluate antiques, art and furniture we think would do well at auction," said Cindy Stephenson, owner of Stephenson's Auctions. "Throughout the year, we will set aside artworks or other items to offer in particular sales. Our October 14th sale is our Fall Decorative Arts Auction, and it contains many of the special items we reserved especially for this sale. Some things have come from estates, while others are from residences whose owners are downsizing. There are some treasures to be discovered."
Pennsylvania folk art, originally appreciated by those living in the traditionally Amish counties of the Keystone State, has gained a much wider following, with prices steadily increasing for the work of one particular artist: Abner Zook (Lancaster, Pa.; 1921-2003). Zook's paintings are distinguished by the fact that they were carved, then painted, to render a three-dimensional look and that their subject matter consistently reflected traditions of Amish life.
Stephenson's is pleased to offer as a highlight of its October 14 sale an original Abner Zook painting of an Amish barn-raising, sized 49¾ by 25¼ inches. It is accompanied by a four-page typewritten and hand-signed letter dated December 25, 1967, which the artist sent to the buyer who commissioned the artwork. In the letter, Zook describes every aspect of the barn-raising scene, the subjects shown, and the methods that would have been employed in such a barn's construction. The letter even lists in scrupulous detail the food that typically would be served to men constructing such a barn. The Zook painting is expected to sell for $10,000-$15,000.
Also of regional interest, an Arthur Meltzer (Bucks County/Montgomery County, Pa; 1893-1989) oil-on-canvas titled Aunt Rose's Samovar is signed at lower right and dated 1914. It measures 24 by 17 inches (sight) and has an artist's tag with title and date on verso, as well as an artist's signed note describing the composition and commenting that he remembered drinking tea from the samovar. Estimate: $600-$1,000
The sale features four paintings by portrait artist Benjamin Eggleston (NY/Minnesota, 1867-1937). Among them is a gritty depiction of the Apache leader and medicine man Geronimo dressed in fringed buckskin and brandishing what appears to be a Colt revolver. The 10- by 9-inch oil on wood panel is signed at lower left, with the artist's name, title information and abn early auction number on verso. The painting comes to Stephenson's from a Bucks County, Pennsylvania, private collection and is estimated at $600-$1,000.
Another fine-art highlight from the same Bucks County collection is a beautiful golden landscape by Ralph Albert Blakelock (Calif./NY, 1847-1919). The oil-on-board sized 7- by 8½ inches (sight) is presented in an ornately carved, gilt wood frame with placard, and is signed at lower right. Estimate: $3,000-$6,000
Fine jewelry is a staple in Stephenson's sales, and its in-house department dedicated to the specialty is renowned for its accuracy. For the October 14th event, the company offers many stunning rings, including two exceptional platinum and diamond engagement rings. One of them features a 1.87ct round brilliant-cut diamond, clarity SI1, color light faint brown, with a tapered baguette to each side. It will convey to the new owner with its GIA report. Estimate: $3,000-$5,000. The second example is an antique creation set with a 6.5mm European-cut center diamond, two accent baguette diamonds measuring 3.0 x 1.5mm (each), and round accent diamonds. Its estimate is $2,000-$3,000.
A two-piece set of finely carved green jade and platinum consists of an elegant pendant and ring. The pendant's prong displays four 1.0mm rose-cut diamonds, while the bezel-set ring features six accent diamonds burnished to each side. The duo is estimated at $1,500-$2,500.
The trend toward purchasing classic furniture and decorative accessories rather than buying new continues to gain huge momentum, not only because vintage furniture is so well constructed but also because it's a way of reducing one's carbon footprint. The auction features many midcentury-modern productions from brands whose designs have withstood the test of time. The list includes: Eero Saarinen, Dan Grabowski for Herman Miller, Bernhardt, Heywood-Wakefield, Knoll, Teknion, Davis Furniture Industries and more. There are two lots of Jens Risom furniture – a pair of circa-1960s upholstery and chromed steel lounge chairs, $600-$1,000 the pair; and a teak desk, $500-$1,000. There are also four lots of popular Ralph Lauren mahogany furniture and several lots of traditional pieces.
Stephenson's Friday, October 14, 2022 Fall Decorative Arts Auction will be held live at the company's gallery, starting at 2 p.m. ET. Remote bidders may participate by phone, live online through LiveAuctioneers or by leaving an absentee bid. Goods may be inspected at the gallery on auction day from 12 noon till 2 p.m. Stephenson's Auctioneers' gallery is located at 1005 Industrial Blvd., Southampton (Bucks County, metro Philadelphia), PA 18966.
For additional information on any lot in the sale, call Cindy Stephenson at 215-322-6182 or e-mail [email protected]. Visit Stephenson's Auctioneers online at www.stephensonsauction.com. View the auction catalog online at www.LiveAuctioneers.com.
Media Source
Follow
More in the auction industry