Sotheby's Offers a 555.55-Carat Black Diamond That May Be From Outer Space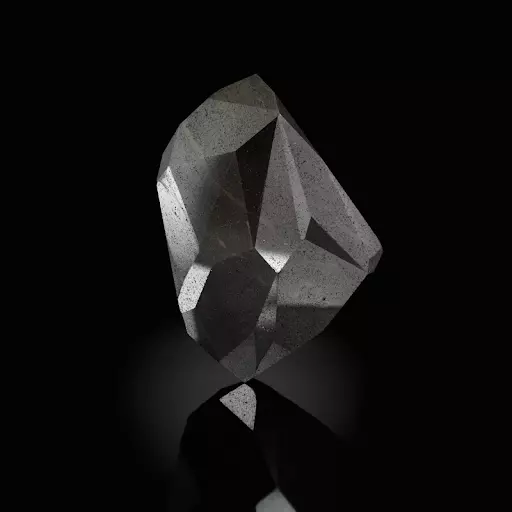 Natural black diamonds have always been in the limelight for their aesthetic and spiritual qualities. From engagement rings to statement pieces, these unique minerals are known to make every ornament they decorate headline-worthy. Recently, an extremely large black diamond has been turning heads in the auction world. The reason: Sotheby's claims that it's from outer space.
'The Enigma,' a 555.55-carat fancy black diamond, is an extremely rare carbonado type black diamond that is currently on offer with Sotheby's. The Gemological Institute of America (GIA) and Gubelin have termed it the largest fancy natural color diamond on Earth. According to Guinness World Records, it is also the largest cut diamond in the world.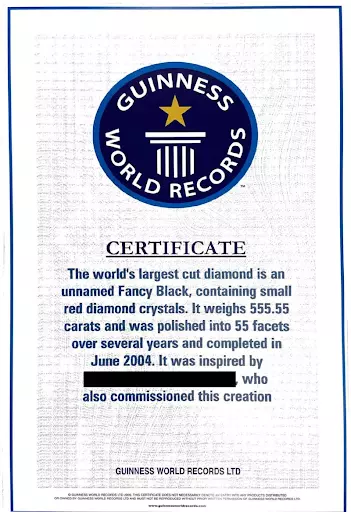 There are two main reasons to believe that this gemstone is from outer space. Firstly, there is the build. Unlike the typical minerals found in Earth-mined diamonds, the chemical composition of carbonado-type diamonds shows traces of nitrogen, hydrogen, and a particular type of osbornite, a mineral found only in meteors.
The second piece of evidence supporting outer-worldly origins is the geographical area where the Enigma was found. Carbonado-type diamonds are found almost exclusively in Brazil or the Central African Republic. Billions of years ago, which is also the estimated age of most carbonado-type diamonds, this geographical belt comprised the supercontinent Rodinia. The land formation was particularly prone to meteorite falls. The remains of these meteorites are believed to be the reason carbonado diamonds are abundant in the area. No other conventional diamond mine on Earth has even been able to yield a mineral of this species.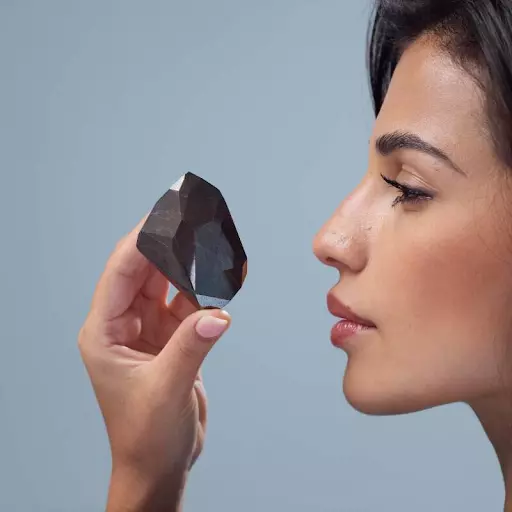 Carbonado black diamonds have a polycrystalline yet porous structure that makes them almost impenetrable and tough to cut and polish. Weighing over 800 carats when it was first found in the late 1990s, the Enigma was crafted to reach the precise weight of 555.55 carats with 55 facets using extreme levels of technical talent and creativity.
In the past, only a handful of natural black diamonds have witnessed the spotlight. Most black diamonds available in the market are artificially colored to achieve high intensity and luster. A natural faceted black diamond of this size can be a once-in-a-lifetime find. The Shanghai Expo exhibited a replica of the Enigma black diamond in 2010.
The price of the Enigma is available upon request. At the time of writing, the current bid is GBP 300,000 (USD 408,000). Following exhibitions in Dubai and Los Angeles this January, Sotheby's will host a final showing in London before auctioning this black diamond. Bidding for the Enigma closes at 9:00 AM EST on February 9, 2022.  Interested bidders can visit Sotheby's to learn more.
This is not the auction industry's first brush with the extraterrestrial. Check out our category spotlight on meteorites at auction, including details about the selling prices of meteorites, their frequency at auction, and tips for preservation.
Media Source
Follow
More in the auction industry