Ski Poster Artists of the 20th Century Took Art and Sport to the Next Level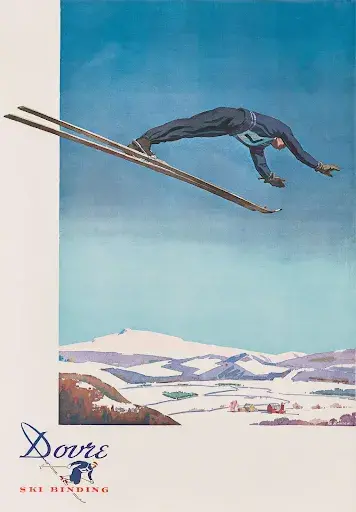 Travel posters have continuously evolved over the last 100 years. The first travel posters followed the Art Nouveau style and featured flowing lines and curving letters. Ski posters were a notable sub-category of travel posters from this era. After skiing became a popular recreational activity in the 1920s, countless winter attractions popped up across Europe. To lure tourists to their slopes, resorts in and around the skiing destinations often hired artists.
On January 12, 2023, Lyon & Turnbull will offer a curated selection of vintage ski advertising posters, featuring a range of destinations including Scotland, Austria, France, Norway, and more. Travel posters by Wilhelm Friedrich Burger, Alfons Walde, Alex Walter Diggelman, Bernard Villemot, and other significant artists will be featured. This upcoming winter-themed event includes about 50 vintage travel posters.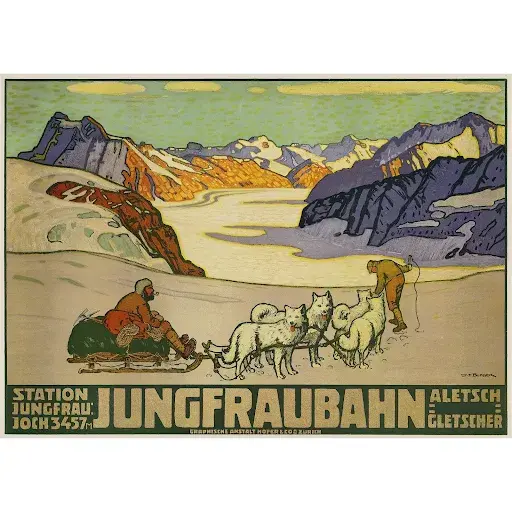 Swiss artist Wilhelm Friedrich Burger (1882 – 1964) created many iconic ski posters that are considered more valuable than his oil paintings. Their appeal is as strong today as it was nearly six decades ago.
Burger was best known for his ski and travel posters. His signature style integrated playful colors and chic destinations in an appealing fashion. He created posters for electric railways, luxury watchmaker Zenith, the pen brand Waterman, and Post Telephone Telegraph (PTT) over the course of his career. Burger's famous ski poster Jungfraubahn shows a sleigh being pulled by dogs amid beautiful scenery. This work remains one of the best-known Swiss travel posters and aided in the promotion of Swiss tourism. A lithographic poster of this work will be available in Lyon & Turnbull's 2023 Ski Sale (estimate: GBP 5,000 – £7,000 / USD 6,000 – $8,500).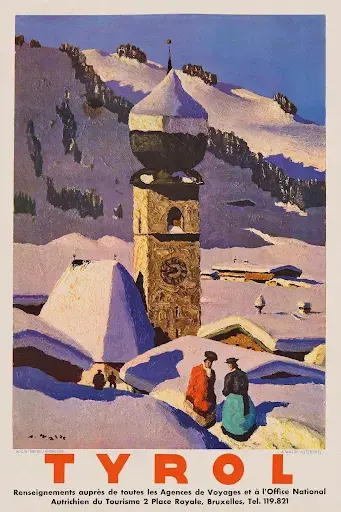 Alfons Walde (1891 – 1958) was another poster artist famous for his depiction of winter sports, remote mountain huts, and the snow-covered Tyrolean Alps. An architect, graphic designer, and publisher, Walde designed posters for sports equipment companies like Lackner-Schuh, Oberschi, Schlechter, and others. His postcard publishing house set up in 1923 sold more than a million color postcards and 200,000 color prints of his works for several years. Walde's works have been exhibited at the State Gallery of Contemporary Art, St. Pölten, Austria; Leopold Museum, Vienna; and the ESSL Museum of Contemporary Art, Klosterneuburg, Austria. A 1932 offset lithographic ski poster by Walde is available in the upcoming sale (estimate: GBP 5,000 – £7,000 / USD 6,000 – $8,500).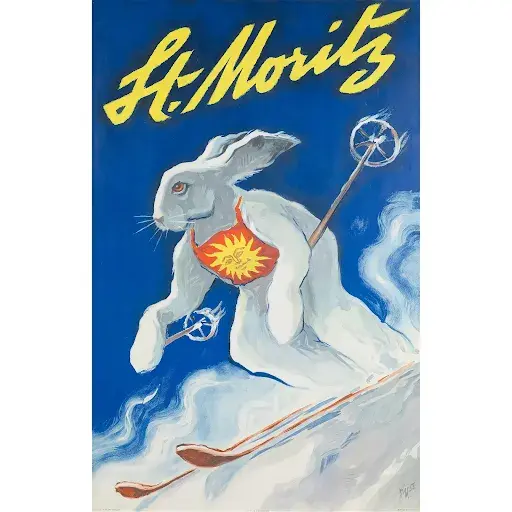 Like Burger and Walde, Alex Walter Diggelmann (1902 – 1987) was a leading graphic designer known for his creative posters. Born in Switzerland, Diggelmann became the official designer for the 1948 Winter Olympics in St. Moritz, where he made the event's poster and special celebratory stamps. His most notable work was his sports posters and Red Cross posters during the Second World War. One of Diggelmann's St. Moritz ski posters will soon cross the auction block with an estimate of GBP 3,000 to £5,000 (USD 3,600 – $6,000).
Scottish auction house Lyon & Turnbull hosted its largest Ski Sale last year. The 2022 Ski Poster Sale that began on January 18, 2022 featured nearly 100 vintage posters showcasing Austrian, Swiss, French, and Norwegian ski resorts. Among other notable lots, it successfully sold Gstaad by Alex Walter Diggelmann from 1938 for GBP 12,500 (USD 15,100) inclusive of buyer's premium. 
The upcoming Ski Sale is presented in partnership with art advisory firm Tomkinson Churcher. Find the full listings and register to bid on LiveAuctioneers.
Want to know more about vintage travel posters? Check out Auction Daily's profile of noted 20th-century poster artist David Klein.
Media Source
Follow
More in the auction industry