David Klein: The Mid-century's Gold Standard Travel Poster Artist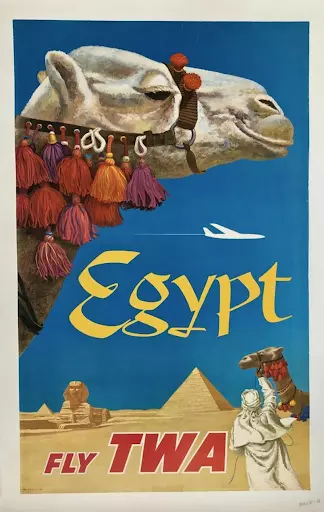 With the dark and cold days of January upon us, taking a trip to someplace warm, different, or new is certainly on the minds of many folks now. Although in reality the COVID-19 pandemic has restricted or even eliminated some adventures, dreaming about getting away is still free and without boundaries. In the early postwar period, airline posters featuring aspirational destinations were integral in glamorizing air travel. They also got "everyday" people excited about visiting places they had only read about or seen on television. David Klein (1918 – 2005), an American commercial artist and illustrator, created many of the iconic images featured on these posters during the third quarter of the 20th century. Their appeal is as strong today as it was nearly six decades ago.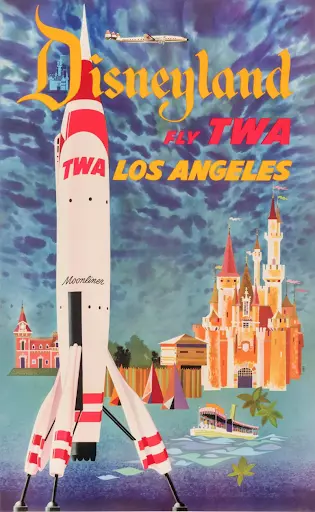 David Klein is best known for his work for Trans World Airlines (TWA), although he also did travel-related assignments for Amtrak, Cunard, Holland American Cruises, and Orbitz over the course of his career. After a stint in the U.S. Army during World War II as an illustrator, Klein moved to New York. He worked at a theatrical advertising agency designing posters and window cards for Broadway shows.
Starting in the 1950s, Klein began creating travel posters for TWA, the airline owned by Howard Hughes at the time. Klein's signature style integrated bold colors and iconic landmarks or destinations in an exciting, abstract, "can't look away" fashion. His work caught fire and became a de facto face, direction, and standard of the travel poster industry for several decades. Klein went on to win many prestigious national and international industry awards for his illustrations. Examples of his work are part of the permanent collection of the Museum of Modern Art in New York City as well as the U.S. Department of the Interior Museum in Washington, D.C.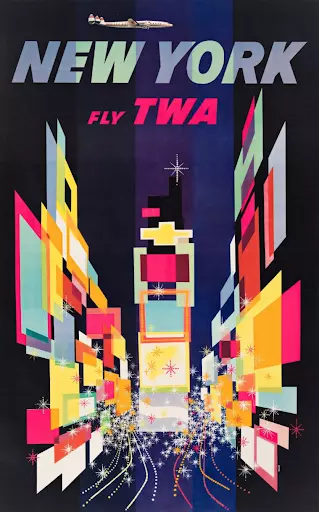 Today, David Klein's work is highly collectible, perhaps because its imagery is timeless and so well executed. And it aligns perfectly with the universally popular mid-century modern decorating aesthetic. Examples spotlighting New York City and Disneyland attractions seem to generate the most interest at auction. In 2020, Swann Auction Galleries of New York City sold a 1956 first printing example of Klein's New York / Fly TWA poster featuring an abstract vista of Times Square for USD 13,000. This appears to be the current world record price for a Klein travel poster.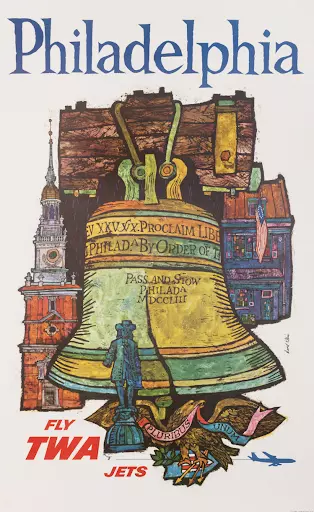 Are you ready to feather your nest with some outstanding mid-century imagery? Your timing couldn't be better! Travel posters by David Klein are featured at Potter & Potter Auctions' signature winter Vintage Poster sale to be held on Saturday, January 29, 2022. This upcoming event includes about 20 of Klein's posters promoting domestic and international destinations. Particularly eye-catching examples include:
* Lot #198, Klein's iconic daytime to nighttime poster promoting 24/7 activities in Las Vegas from 1957.
* Lot #188A, his 1958 poster for Egypt spotlighting two camels in full headdress, the Sphinx, and pyramids.
* Lot #190, his 1960s-era broadside for Philadelphia illustrated with a compendium of Philadelphia's historical highlights.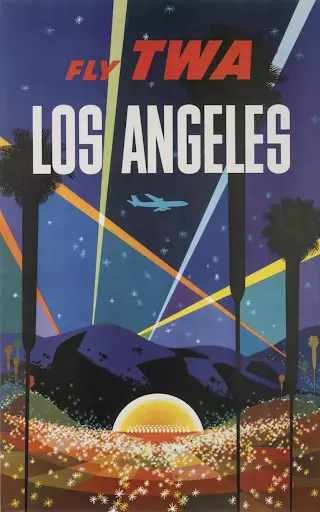 Potter & Potter Auctions has a long and successful track record of selling David Klein posters. During a July 2021 sale, a copy of Klein's Disneyland Fly TWA from 1955 realized $8,125. This was one of the first posters advertising a Disney property as a tourist destination and featured Howard Hughes' Moonliner rocket as a central image. Potter & Potter Auctions also sold a copy of Klein's circa 1958 TWA / Los Angeles for $3,750 in May of 2021. It featured an abstract interpretation of the iconic Hollywood Bowl, Klieg lights, and a TWA airplane. And in a December 2018 sale, a copy of Klein's Fly TWA / San Francisco traded hands for $3,250. This 1958 love letter to the Golden City featured a bold, mid-century view of the Golden Gate Bridge and the surrounding areas.
Potter & Potter Auctions' latest poster auction is scheduled for January 29, 2022 at 11:00 AM EST. Find the full listings and register to bid on the Potter & Potter Auctions website.
Interested in the history of poster art? Last year, Auction Daily dove into the aesthetics of psychedelic posters from 1960s-era San Francisco.
Media Source
Follow
More in the auction industry