Saving the Best for Last, Lark Mason Associates Adds More Treasures to Their Asian Art Sale on iGavelAuctions.com
New York:  One of the advantages of the online sales platform is the ability to include items that come in at the last minute. Such is the case with the latest additions to the current sale of Asian, Ancient and Ethnographic Works of Art presented by Lark Mason Associates now open for bidding on iGavelAuctions.com through April 26th. 
"We are delighted to bring these highly desirable and rare objects to the market for our clients," says Lark Mason. "Our streamlined sales process and ability to quickly pivot benefit both consignors and buyers."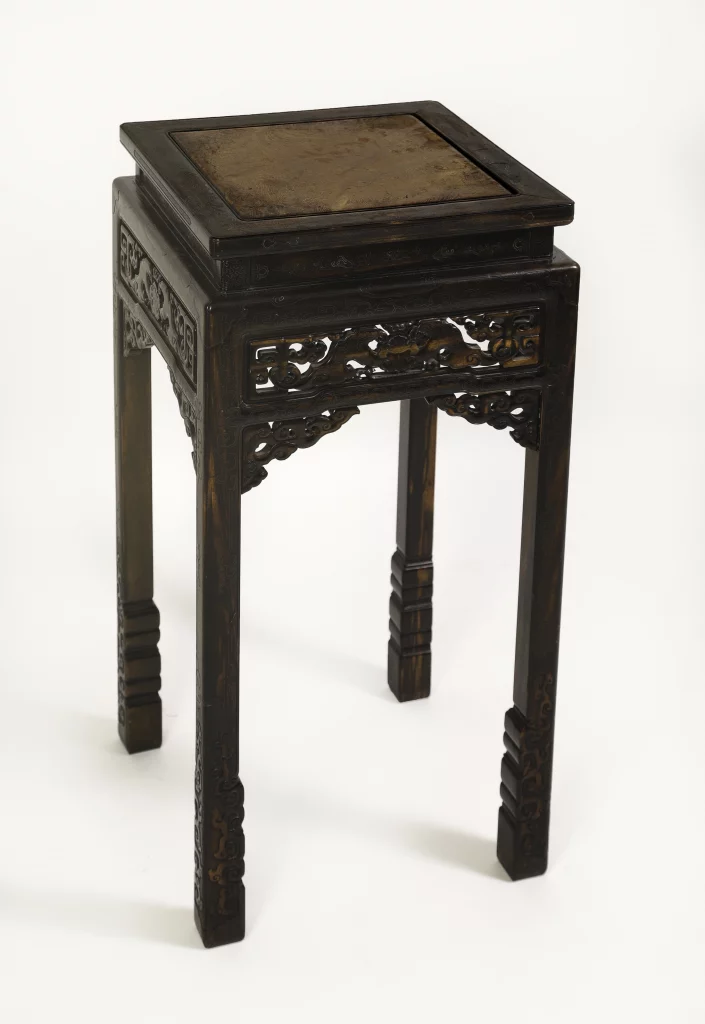 One of the most exciting additions to the sale is a rare Chinese Gold and Silver Wire Inlaid Table, Qing Dynasty (Estimate: $30,000-50,000). According to Mason, this masterwork was made either in the Imperial workshops in Canton or in Beijing and its journey to the United States is a mystery. How did such a finely crafted table, obviously created for a very specialized purpose, find its way from China to the West?

Says Mason: "Unlike many objects whose past is lost, we have clues with this table that illuminate some of its history. I first encountered it in 1993, before the internet, when old school research was the norm. I could verify that it previously appeared at auction because it was consigned to Sotheby's Chinese department during the summer of 1993 when I researched and prepared it for a sale that took place on November 30. At the time, I remember puzzling over its background, fully aware of the high-quality and likely imperial association but not able to discover much about it. Though I could not prove an imperial provenance, it realized a very strong price that was well over the estimate range, totaling over $18,000 in the auction sale."
This extraordinary table is not only rich in decoration, but in provenance as well.
John Edward Taylor, 1791-1844 was a successful cotton manufacturer in Manchester, England and founder in 1821 of the Manchester Guardian. His son, the likely owner of this table and seller in the Christie's auction of 1912, was also John Edward Taylor (1830-1905) and went by Edward. By 1856, he was the sole owner of the "Manchester Guardian" and by 1868, the owner of the "Manchester Evening News" until his death in 1905. His estate was sold by Christie's in a spectacular sale of Old Master Paintings, French Furniture and Works of Art, and Chinese Works of Art, which realized over $2,000,000.00 and garnered front-page articles in "The New York Times" and other publications.
Among the Korean pieces recently added are ceramics from the collection of Dr. Chang, who has donated items to various cultural institutions around the United States. The top two lots are a Korean Blue and White Porcelain Vase with Bats, Joseon Dynasty, 19th Century and a Korean Inlaid Celadon Bowl, Goryeo Dynasty, late 12th -13th century each estimated to bring $5,000-8,000 at auction.
In the 20th century, starting from the 1920's European and American jewelers started to prize Chinese jade, jadeite, and hardstone carvings as well. In the 1920's and 1930's Cartier was one of the first western jewelry companies to start using Chinese carvings in their jewelry. Since then, several high-end jewelers have followed suit. In the 1970's, David Webb became inspired by Chinese culture, and he created a high-end line of jewelry that incorporates Chinese stone carvings. Among the pieces is a celadon and russet jade stylized dragon plaque set into an 18-karat gold mount fluted coral pendant with two high quality sapphire cabochons (Estimate: $40,000-60,000) and a Chinese Celadon Jade Belt Hook, 18K Gold, Diamond, and Coral Brooch (Estimate: $3,000-5,000).
Another late addition to the sale is a group of 11 Indian and Persian miniature paintings from a variety of schools, including Mughal and Deccan. Most of them date to the 18th century. The highlight from the collection is an Indian miniature painting depicting a lady dressed in western garb carrying a libation cup and wine flask, estimated at $2,000-3,000. The metalwork pieces include pieces from Qajar, Surahi, and Fars, including a 14th-15th century Fars Bowl from West Iran, estimated at $4,000-6,000.
The objects are on view at Lark Mason Associates, at 210 West Mill Street, New Braunfels, TX. The exhibition is open Tuesday-Saturday 10:00 a.m.-4:00 p.m. and by appointment only in the New York salesroom, at 229 East 127th Street. For more information
visit: www.igavelauctions.com
About Lark Mason
With locations in New Braunfels, Texas and New York City, Lark Mason Associates, the eponymous, auction house specializing in Asian, ethnographic, and ancient works of art, was founded by Lark Mason after many years as an expert at Sotheby's New York.
Mason served as a General Appraiser from 1979 until 1985, and as a Senior Vice President and specialist in Chinese art with Sotheby's Chinese Works of Art Department from 1985-2003. From 2000-2003 he concurrently was a Director of Online Auctions for Sothebys.com. He also served as a consulting curator at the Trammel and Margaret Crow Collection of Asian Art in Dallas, Texas from 2003-2009. He is a generalist in American and European works of art and paintings, as well as an expert in the field of Chinese art and has valued and advised many private collectors and institutions.
Lark Mason Associates regularly hosts auctions on the iGavel Auctions platform and has an established history of record sales of Chinese and other works of art and holds the record for the highest price achieved for any work of art in an online sale, for a painting sold in May 2014 that realized close to $4.2m. Mason, the owner and CEO of iGavel Auctions, is noted for his regular appearances on "The Antiques Road Show."
Media Source
Follow
More in the auction industry