Rare Collection of Chinese Archaic Jades and Southeast Asian Art Associated with Jim Thompson Headline Lark Mason Associates Two-part Sale of Asian, Ancient, and Ethnographic Works of Art on iGavelAuctions.com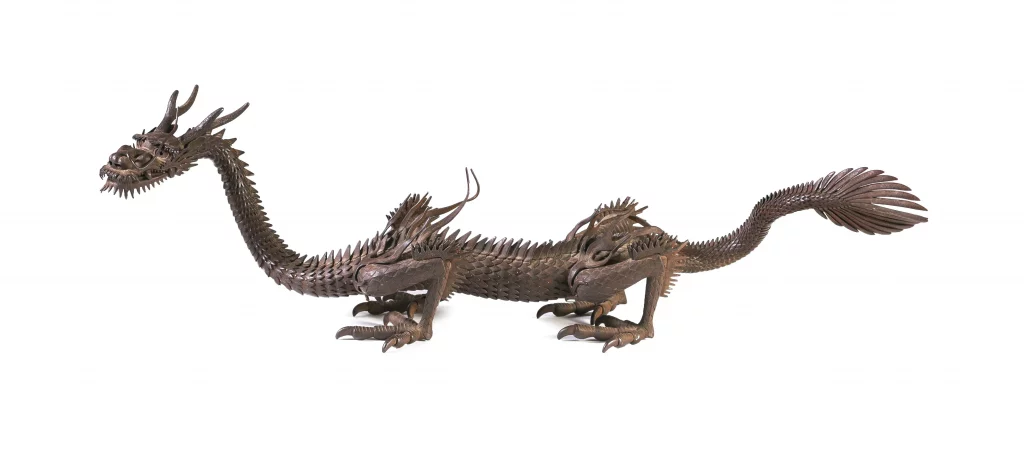 New York: Lark Mason Associates is pleased to announce that the first part of their fall sale of Asian, Ancient, and Ethnographic Works of Art opens for bidding on October 6th to 25th on iGavelAuctions.com. Over 500 lots from China, Japan, Korea, and Southeast Asia represent a range of categories, including fifty Chinese archaic jades from the property of Sam and Myrna Myers, the renowned Parisian dealer and collector, who gifted the Musée Guimet. Several of these pieces have been exhibited at the Kimbell Art Museum, Fort Worth, Texas, the Pointe-A-Calliere Museum, in Montreal, the Fondation Baur Musee des Arts D'Extreme-Orient, in Geneva, Switzerland, and the Asian Art Museum in Nice, France.
Among the archaic jades are a Chinese Brown Jade Huang with Dragon Head Terminals (Estimate: $30,000/50,000); a Yellow Chinese Jade Dragon Pendant (Estimate: $15,000/20,000); a Brown and Black Chinese Jade Tiger Form Pendant (Estimate: $30,000/50,000); a pair of Jade Dragon Form Pendants (Estimate: $35,000/45,000); a Brown Chinese Jade Dragon Form Pendant (Estimate: $20,000/30,000); and a Chinese Brown Jade Carved Pendant (Estimate: $20,000/40,000); a set of four Chinese Bronze Knives with Jade Pommels, (Estimate: $60,000/90,000); and a Chinese Carved Green Jade Huang, (Estimate: $10,000/15,000).
The second sale, Asian Works of Art, will open for bidding on October 11th to
27th and includes a large selection of works from the collection of George Barrie, the business partner of Jim Thompson, who mysteriously disappeared in the jungles of Southeast Asia, leaving Barrie to take over the company, expanding it to become the largest producer of raw silk in Southeast Asia. Included in the sale from his collection is the important Portrait of Merchant Howqua, School of Lamqua (Chinese 1801-1860) (Estimate: $30,000/50,000); a 16th/17th century Burmese Sandstone Buddha Footprint Buddhapada, carved with 108 Buddhist symbols; and a pair of Thai Carved Wood Chora Architectural Spires,or "sky tassels, often used as spires which often adorned the roofs of temples and palaces and thought to bring good luck and ward off evil spirits.
Other star lots include a Japanese Articulated Iron Dragon Sculpture Jizai Okimono, Myochin School, Munekazu, Edo period (Estimate: $50,000/70,000); a Korean Yayoi Polished Stone Dagger, 1000-500 BC (Estimate: $20,000/30,000); a Chinese Carved Green Jade Huang (Estimate: $10,000/15,000); Chinese Zitan Cosmetic Box, Qing Dynasty (Estimate: $20,000-30,000); a Chinese Iron Seated Figure, Yuan/ Ming Dynasty (Estimate: $30,000-50,000) and a Large 18th century Chinese Cloisonne Enamel Charger with Phoenix and Peony (Estimate: $10,000/15,000.
Says Lark Mason: We are thrilled to present the collection of George Barrie whose connection to Jim Thompson was so instrumental in driving interest in Asian art to audiences in Europe and the United States, as well as presenting the wonderful group of early jades from the Sam and Myrna Meyers. With the recent strong results of sales, we expect these and other items with their important provenances will attract a great deal of attention and competitive bidding."
The salesroom in New York is open by appointment only, while the New Braunfels exhibition, located at 210 W. Mill Street, is open Tuesday through Saturday, 10 a.m. to 4:00 p.m. For more information, phone 212-289-5588.
About Lark Mason
With locations in New Braunfels, Texas and New York City, Lark Mason Associates, the eponymous, auction house specializing in Asian, ethnographic, and ancient works of art, was founded by Lark Mason after many years as an expert at Sotheby's New York.
Mason served as a General Appraiser from 1979 until 1985, and as a Senior Vice President and specialist in Chinese art with Sotheby's Chinese Works of Art Department from 1985-2003. From 2000-2003 he concurrently was a Director of Online Auctions for Sothebys.com. He also served as a consulting curator at the Trammel and Margaret Crow Collection of Asian Art in Dallas, Texas from 2003-2009. He is a generalist in American and European works of art and paintings, as well as an expert in the field of Chinese art and has valued and advised many private collectors and institutions.
Lark Mason Associates regularly hosts auctions on the iGavel Auctions platform and has an established history of record sales of Chinese and other works of art and holds the record for the highest price achieved for any work of art in an online sale, for a painting sold in May 2014 that realized close to $4.2m. Mason, the owner and CEO of iGavel Auctions, is noted for his regular appearances on "The Antiques Road Show.
Media Source
Follow
More in the auction industry