Quinn's to host April 21 auction of African, Asian and Pre-Columbian ethnographic art with important provenance
Featured: Unique, published example of a stunning Iraqw (Tanzania) beaded hide and fiber skirt
FALLS CHURCH, Va. – Quinn's April 21 Ethnographic Arts Auction, the next specialty event in its popular Collectors Series, shines a spotlight on the art and relics of some of the world's greatest cultures and civilizations. The curated selection includes antiquities, tribal treasures and ancient art from Asia, Africa and the Americas. Some of the works are "published" examples and many come with provenance from distinguished collections.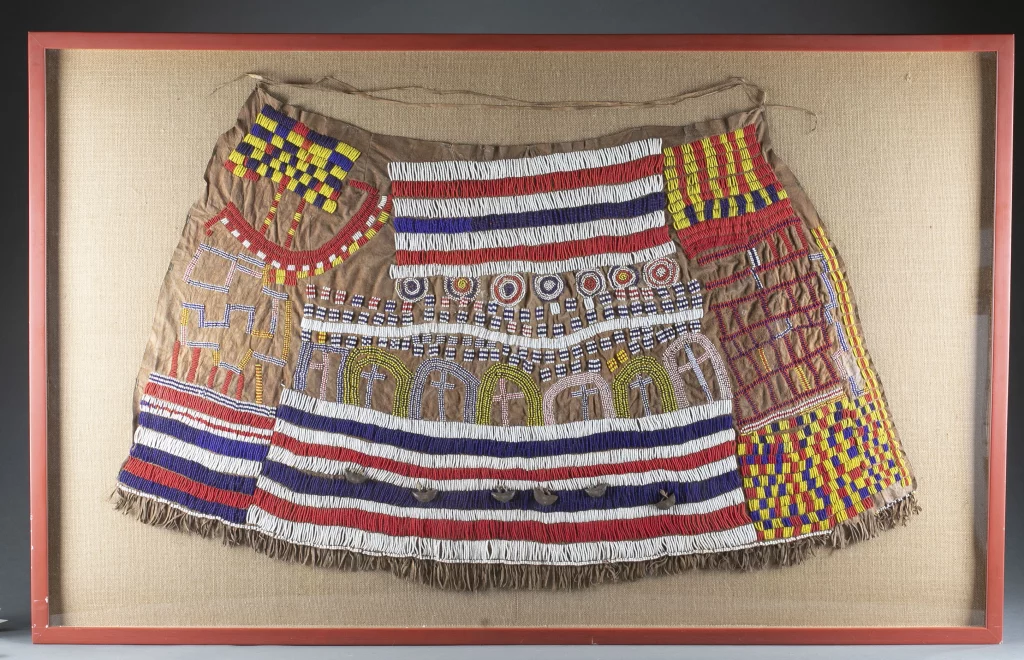 Among the top lots is a stunning Iraqw (north central Tanzania) beaded skirt constructed from natural fibers and animal hide. Iraqw skirts are amongst the most elaborately decorated textiles to emerge from eastern Africa. Each creation is unique, reflecting the skill of the individual maker and the resources available to them. Typically, the skirts consist of four panels made from cow- or goat-hide, with thousands of beads attached using a lazy stitch to create the characteristic long bands and geometric motifs. In historical examples, such as the one offered by Quinn's, the beads are typically white, red, blue and black, with some to accent in yellow. Those made in later decades incorporate other colors, such as light blue and green.
The auction example, which is mounted, framed and estimated at $3,000-$5,000, comes from the Estate of Dr Giraud V Foster of Baltimore, Maryland. A medical doctor, archaeologist, photographer and world traveler, Dr Foster was employed as the personal physician to the last king of Yemen, Al Imam Ahmad bin Yahya Hamiddin.
The auction lineup includes several outstanding masks of African tribal origin. A 20th-century Songye Kifwebe mask from the Republic of the Congo is composed of wood, feathers, pigment and fibers. A sizable piece, it measures 46 inches long and 12 inches across. Its provenance includes, most recently, the Estate of Marshall and Shirley Jacobs of Germantown, Maryland. It holds the distinction of having been featured in the August issue of AmericanStyle magazine. Estimate: $2,000-$4,000
Also from the Democratic Republic of Congo, a Ngongo Munene copper mask, associated with a Dinga earth chief, would have been used ceremonially during funerals, commemorations, and initiation rites for young boys. "Dinga masks like this very fine example, which was held in a Texas private collection, are extremely rare," said Quinn's Ethnographic Arts cataloger, Corrie Brady. She anticipates the mask will sell in the $1,500-$2,000 range.
A highlight of the Asian section is an early 20th-century gilt bronze temple guardian lion. Originating in Thailand, the 13-inch-tall lion has a proud stance and fearsome expression with bared teeth. From a Bethesda, Maryland, private collection, it is conservatively estimated at $200-$400.
Moving the focus to Central America, two pottery highlights are worthy of special note. Both come from western Mexico and most recently were part of the Boeckman collection of Dallas, Texas. An extremely attractive Colima "melon" vessel, dating from 100 BCE to 200 CE, is encircled with convex adornments in the shape of cantaloupes or a similar type of fruit. Measuring 7 inches by 9 7/8 inches, it has a $300-$600 estimate. A second creation from western Mexico is a pottery and pigment figure of a seated female with hands resting upon her legs. Originating in Nayarit, a small state nestled between the forested mountains of the Sierra Madre Occidental and the Pacific Ocean, the 10½-by-6½ -inch figure is entered in Quinn's sale with a $260-$500 estimate.
The Boeckman collection was also the source for several exciting Pre-Columbian ceramics from the Moche people of north coastal Peru. Three wonderfully designed and pigment-decorated vessels – each its own distinctive design – were acquired in 1970 through the Denver Art Museum and came with provenance from the May collection of St. Louis. A 9-inch Moche stirrup vessel in the form of man holding a cup dates to 200 to 500 CE. It is estimated at $400-600. Both a 10¾-inch Moche shaman vessel with a jaguar headdress, 200-500 CE; and a fine-line Moche stirrup vessel depicting scenes of warriors and animal forms, will cross the auction block with individual pre-sale estimates of $300-$500.
Quinn's Thursday, April 21, 2022 Ethnographic Arts Auction will begin at 2 p.m. ET. No in-person floor bidding will be available. All bidding will be remote, either by phone, absentee, or live via the Internet through Quinn's website, LiveAuctioneers or Invaluable. An open preview (masks required) will be held at the auction gallery (360 S. Washington St., Falls Church, VA 22046) from 11-4 on Friday, April 15; Monday, April 18; and Tuesday, April 19. For additional information about any item in the auction, call Corrie Brady at Quinn's, 703-532-5632, ext. 572; or email [email protected]. Visit Quinn's online at www.quinnsauction.com.
Media Source
Follow
More in the auction industry