Preview the Lots: 2022 Coeur d'Alene Art Auction Features Rare Works by Masters of Western Art
The 2022 edition of the Coeur d'Alene Art Auction will bring the finest works of American Western art to the auction market. The recently released preview lots offer glimpses of rare works by Gerard Curtis Delano, William Herbert Dunton, Edgar Payne, and Charles M. Russell, among other artists. In 2021, sales at the Coeur d'Alene Art Auction totaled over USD 17.5 million. This year, the event will take place on July 23 at the Grand Sierra Resort in Reno, Nevada.
Here are some of the key preview lots by the masters of Western art.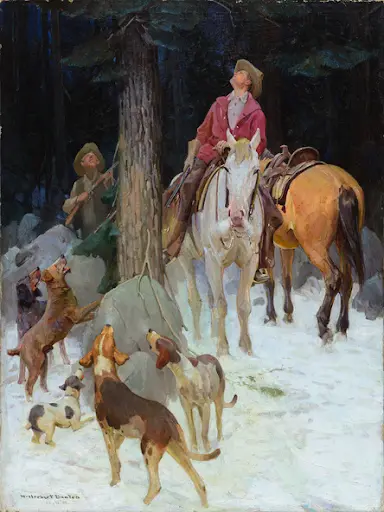 William Herbert Dunton, Treed (c. 1915)
Renowned for his Western art paintings, William Herbert Dunton was also a founding member of the Taos Society of Artists. The group, established in Taos, New Mexico in 1915, was composed of member artists with an interest and aptitude for Native American paintings. Dunton resigned from the group in 1922 following a personal conflict.
Treed is an example of Dunton's hunting paintings that were inspired by his time working as a professional guide and hunter in New Mexico. The circa 1915 work depicts a group of young hunters and hunting dogs in action during a mountain lion chase. In 1922, Dunton wrote to his friend, the Texas-based artist H. D. Bugbee, advising him about how to construct his paintings: "You also have got to arrange them so that they form artistic masses along the lines of which the eye is unconsciously led through and back and fourth [sic] across the canvas – never out of the picture."
The painting is being offered from a private collection and has an estimate of $400,000 to $600,000. Other William Herbert Dunton paintings, including Crest of the Ridge (estimate: $200,000 – $300,000) and The Hunter's Return (estimate: $200,000 – $300,000), will be available in the 2022 Coeur d'Alene art auction.
Gerard Curtis Delano, Misty Morning
Selling at auction for the first time is Gerard Curtis Delano's oil on canvas titled Misty Morning. The painting was part of a private collection passed over as inheritance from when it was created. The painting features a Native American rowing a canoe with a dog seated inside. It has an estimate of $300,000 to $500,000.
According to Richard G. Bowman, a collector of Delano's work, the artist specialized in capturing the lives of Native Americans. Between 1936 and 1940, Delano created a series of stories and drawings for a Colorado-based publisher titled Story of the West, a body of work that brought fame and fulfillment to the artist's life. The use of the Saguaro cactus as a symbol of the American West can also be traced back to Delano's 1944 painting, Navajo Shepherdess. It is believed to be the first illustrative use of the plant to symbolize the American West.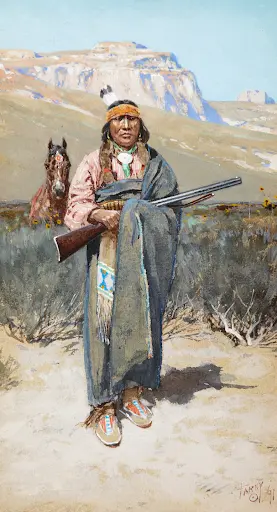 Henry Farny, Indian Brave (c. 1891)
As a young immigrant from France, Henry Farny was fascinated by Native Americans and their lifestyle. In 1881, Farny made several trips to the American West to collect inspiration and material, which he would later use to illustrate his Native American subjects.
A Henry Farny artwork from 1891 titled Indian Brave is available at the upcoming Coeur d'Alene art auction. It features a Native American man wearing traditional attire and holding a rifle. A horse stands in the background. It has an estimate of $70,000 to $100,000. Farny's artworks continue to fetch record prices year after year. One of his paintings, Southern Plains Indian Warrior, sold at auction for more than three times its original estimated value.
Other featured lots include Edgar Payne's Land of the Navajo (estimate: $300,000 – $500,000) and On the Edge, a 1909 painting by Philip R. Goodwin (estimate: $80,000 – $120,000). Visit the Coeur d'Alene Art Auction website to view other preview lots and follow sale updates.
Media Source
Follow
More in the auction industry