Potter & Potter Auctions' Enter the Matrix: The Wachowski Collection Event to Offer Memorabilia, Props, Awards, and Concept Art From The Archives of Celebrated Film Directors, Writers, And Producers Lana Wachowski and Lilly Wachowski
This sale includes items from cult-classic movies including The Matrix, V for Vendetta, Sense8, Jupiter Ascending, and Cloud Atlas, with all profits going to the Protect and Defend Trans Youth Fund which provides direct services and funds to at-risk trans youth throughout the country.
Chicago, Il, April 22- Potter & Potter Auctions is pleased to announce this can't miss sale to be held on Thursday, May 12th, 2022, starting at 10am CDT. The event will be held online and live streamed, with a limited number of bidders physically allowed in the gallery as determined by current Illinois public health attendance guidelines. Please call the auction house, located at 5001 W Belmont Avenue in Chicago, at 773-472-1442 to reserve seats. Bidding will take place through Potter & Potter's website, at www.potterauctions.com. Phone and absentee bids are also welcome. All items are available for in-person preview, by appointment only.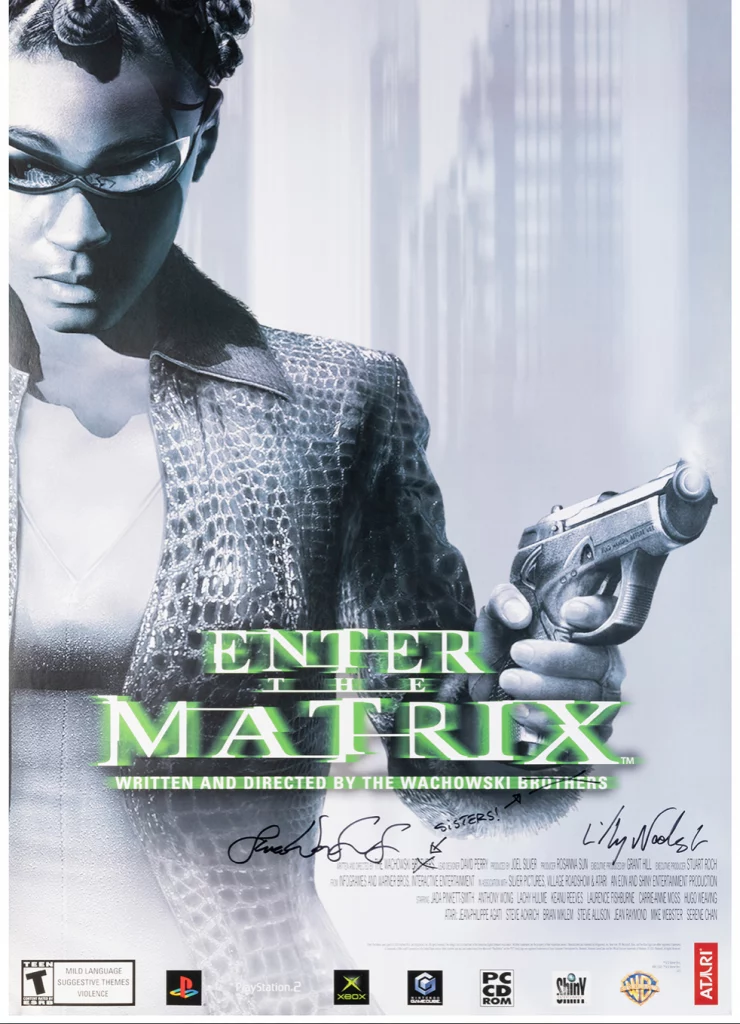 Iconic, screen used props from the Wachowskis' signature films take several of the top lot slots in this star-studded sale.
Lot #4, a Neo-Seoul Speeder from Cloud Atlas, is estimated at $6,000-8,000. This original police speeder with attachments was used by authorities in the futuristic dystopian city of 2144 Neo-Seoul and can be seen during Sonmi-451's (Bae Doona) escape. It measures 103 x 45 x 51".
Lot #114, a purple Segway scooter from Speed Racer, is estimated at $3,000-5,000. This modified transporter appeared in the 2008 film and measures 51" high.
Lot #47, a lightning rifle prop from The Matrix, is estimated at $2,000-4,000. This resin, rubber, and foam weapon was wielded by Cypher (Joe Pantoliano) against Tank (Marcus Chong) and Dozer (Anthony Ray Parker) when he reveals himself as an ally of Agent Smith (Hugo Weaving). It measures 18 x 28 x 10" and includes a barcode identifying it as property of Ravenswood Kinowerks, Inc.
Lot #13, a stone table from Cloud Atlas, is estimated at $1,500-3,000. This original wooden prop is inlaid with pastel sea glass and appears inside of the Abbess' (Susan Sarandon) dwelling during the final segment of the film. It measures 64 x 37-½ x 31".
Lot #53, a Viking bust from The Matrix Reloaded, is estimated at $1,500-3,000. This plaster prop appears in the foyer of The Merovingian's chateau during Neo's battle against his henchmen. It has a barcode identifying it as property of Ravenswood Kinowerks, Inc. The Viking's face was modeled after that of supervising art director Hugh Bateup, who cast his own face into the bust. It also appeared in Speed Racer, making it the only prop to appear in two different Wachowski films. It measures 31 x 24 x 14".
Screen worn costumes and accessories from the Wachowskis' collection are also expected to take the spotlight in this auction.
Lot #26, a Balem Abrasax Royal Guard costume from Jupiter Ascending, is estimated at $800-1,200. This outfit includes an ornately decorated red silicone mask, a cape, pants, chest plate, shirt and boots as worn by Eddie Redmayne, Emperor of the House of Abrasax. The size 13 boots were made by Mountain Horse and are modified with red, silver, and black paint with futuristic 3-D detailing.
Lot #23, a Balem Abrasax necklace from Jupiter Ascending, is estimated at $400-600. This gold painted, resin necklace was worn by the Emperor of the House of Abrasax and measures 5-½" in diameter.
Lot #111, a full Ninja costume from Ninja Assassin, is estimated at $300-500. This outfit includes a mask, robe, sash, cloth gauntlets, and boots. It was worn by stunt performer Kim Do Nguyen during action sequences in the film. Nguyen is one of the most in-demand stunt performers today, having appeared in The Falcon and the Winter Soldier, Alita: Battle Angel, The Avengers, and Tron: Legacy.
Also well represented at this event are promotional posters for many of the Wachowskis' signature movies.
Lot #125, a group of 33 Matrix Reloaded character posters, is estimated at $800-1,200. The collection includes a variety of seven different one-sheet posters depicting Neo (Keanu Reeves), Trinity (Carrie-Anne Moss), Morpheus (Laurence Fishburne), Agent Smith (Hugo Weaving), the Twins (Neil and Adrian Rayment), Niobe (Jada Pinkett Smith), and Persephone (Monica Belluci). Each measures 40 x 27" and is signed by the Wachowskis.
Lot #120, a group of five Enter the Matrix posters, is estimated at $200-300. These one sheet posters for the 2003 video game depict Jada Pinkett Smith as Niobe with a smoking gun in her hand. Each measures 40 x 27″ and is signed by the Wachowskis.
Lot #130, a group of eight lenticular Speed Racer posters, is estimated at $200-300. These are produced on plastic backing and measure 40 x 27".
Now let's focus on this event's intriguing selection of original concept art, maps, and drawings related to the Wachowskis' portfolio of work.
Lot #63, a Burly Brawl production concept blueprint from The Matrix Reloaded, is estimated at $400-600. This paperwork details the stage set on which the Burly Brawl scene was filmed. It is accompanied by three blueprints of buildings in Australia on which the set was based – for reference use by the set designers during the initial stages of production. The largest measures 33 x 42".
Lot #65, production freeway chase scene maps and diagrams from The Matrix Reloaded, is estimated at $400-600. This 90 page collection consists of maps and diagrams laying out the details of the chase between rebels and their pursuers from the film. Pages includes notations on timing, vehicle positions, camera angles, and digital effects. Each page measures 12 x 18" and is marked with the EON Entertainment of Venice, CA logo.
Lot #72, a collection of about 100 pages of concept art and drawings from The Matrix Reloaded and The Matrix Revolutions, is estimated at $400-600. The grouping features hand-drawn, printed, and computer-generated concept artworks and storyboards depicting Club Hell, the Keymaker's Cell, the Dock, the Hand of God, and others. Many are by artist Mark Gabbana, whose other notable projects have included Hellboy, Beowulf, and the Star Wars prequel trilogy.
Awards, souvenirs, and other industry related treasures from the Wachowskis' collection round out this brush-with-fame event.
Lot #117, a display from V for Vendetta, is estimated at $1,200-2,000. It includes a plastic mask as sent by V (Hugo Weaving) to the citizens of London in preparation for his final destruction of the Houses of Parliament, framed in a shadow box with a prop British Freight Company box, a ticket to the premiere of V for Vendetta, and an invitation to the afterparty.
Lot #148, an American Cinema Editors Award for Best Edited Feature Film Awarded to Zach Staenberg for The Matrix in 1999, is estimated at $1,000-2,000. This figural statuette of a muscular man holding the A.C.E. logo high above his head is mounted on a wooden base and measures 21″ tall. Staenberg won an Academy Award for Best Editing for his work on The Matrix this same year.
Lot #173, stone poi and ring pounders gifted to the Wachowskis by Keanu Reeves, is estimated at $600-800. These symbolic and meaningful food preparation implements are used in traditional Hawaiian culture. They were personally gifted by Keanu Reeves to the Wachowskis during production of the first three Matrix films.
According to Gabe Fajuri, President at Potter & Potter Auctions, "We're excited to work with the Wachowskis on this project. Their worldwide fanbase and visionary filmmaking helped reshape the look of Hollywood. And the results of this auction will not only bring tangible evidence of their success and artistry to the collectors that adore their work, it will help raise funds for a good cause. It's a win-win auction all the way around."
Potter & Potter, founded in 2007, is a Chicago area auction house specializing in paper Americana, vintage advertising, rare books, playing cards, gambling memorabilia, posters, fine prints, vintage toys, and magicana – antiques and collectibles related to magic and magicians. Follow us on Facebook (potterandpotterauctions) and Instagram (potterauctions).
Media contact:
Gabe Fajuri, President of Potter & Potter Auctions
email: [email protected]
Phone: 773- 472- 1442
Media Source
Follow
More in the auction industry